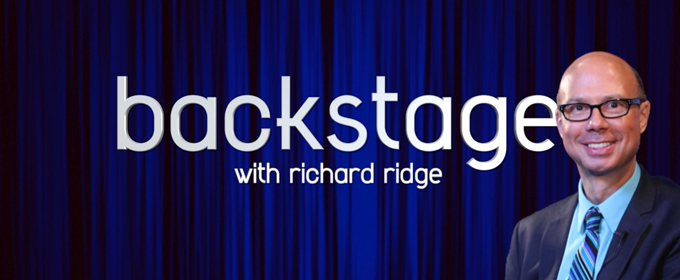 Click Here for More Articles on BACKSTAGE WITH RICHARD RIDGE
Backstage with Richard Ridge: Cooper & Vosk & Ridge, Oh My! Getting Candid with the Witches of WICKED
A whole lot happened in Oz before Dorothy dropped in, and Wicked has been telling that story to Broadway audiences for 15 years at the Gershwin Theatre. The milestone won't go by uncelebrated, as in just days, NBC will throw a joyous Halloween party for the ages, featuring songs from the blockbuster musical hit and a cavalcade of special guest stars, including Tony Award winners Idina Menzel and Kristin Chenoweth. Additional guest performers include Ariana Grande, Adam Lambert, Ledisi, Pentatonix and the current Broadway company of "Wicked." "A Very Wicked Halloween" airs Monday Oct. 29th at 10PM ET/PT on NBC.
As we await the reunion of our favorite original witches, Richard Ridge is checking in with the current leading ladies of Wicked- Jessica Vosk (Elphaba) and Amanda Jane Cooper (Glinda). Watch as they tell their stories of how they joined the show, why going green (and pink!) has become so special for them, and so much more!
Vosk joins the Wicked Broadway family after having spent the last year playing Elphaba in the national tour of Wicked. She most recently starred in the NYC Ballet Jerome Robbins tribute Something to Dance About, directed by Warren Carlyle, and re-created the role of Fruma Sarah in the most recent revival of Broadway's Fiddler on the Roof. Other Broadway: Finding Neverland, The Bridges of Madison County. She starred as Anita in the Grammy-nominated San Francisco Symphony West Side Story. Debut Solo Album Wild and Free available for purchase at www.jessicavosk.com.
Cooper is making her Broadway debut in Wicked after starring in the 1st and 2nd national tours of Wicked (Glinda). NYC: Letter From Algeria; BUNKED! A New Musical. Regional: Bye Bye Birdie at Sacramento Music Circus (Kim MacAfee), What the Butler Saw at PICT (Geraldine Barclay). Select TV/film: "Glee," Disney's "Jessie," "CSI," "Bones," ABC's "Selfie," HBO's "Hello Ladies," "Smart People." BFA, Carnegie Mellon University.
Related Articles