Review: The Dance Gallery Festival Celebrates its 10th Anniversary
The Dance Gallery Festival began ten years ago with the vision of Astrid von Ussar, Founder and Artistic Director. Their stated "mission is to provide everything that choreographers want, need, and dream of in a professional setting: industry standard lighting, publicity packaging, and ample time for tech rehearsals." Born of necessity, this collective, following von Ussar's vision, recognizes these lacks to be common to most aspiring and working choreographers (those not working with major, funded dance companies). Funding comes primarily from family and friends. This is an extraordinary find in the dance community; and one that begins to fill a void that has existed for far too long.
On Friday November 11, 2016, I attended their "Best of 10" Gala performance, the first of four performances this weekend, at Manhattan Movement and Arts Center, NYC, NY. Seven pieces by seven choreographers were presented. It was a pot pourri of experience and points of view, so, it stands to reason that an individual may not be drawn in by every contribution.
Enzo Celli's Disgelo - solar, to a text by Celli, appeared to be a couple's interdependence/relationship. Shadows of the dancers, Elizabetta Minutoli and Celli of Enzo Celli Vivo Ballet, against a projection at the back of the stage, were a part of the theatrical experience. Their look was somewhat disheveled. Toward the end of the work, the words "I commit myself" repeated and repeated. The program note gives us: Solar is the second show that forms the diptych of Disgelo (Thawing). Solar studies the individual prospect of the interior melting, examining the personal repercussions that emerge from it, up to reaching and discovering the "other me". I would not have seen that until I read it.
Sidra Bell, a choreographer whose name has grown in familiarity in recent years, brought hero studies with her company, Sidra Bell Dance New York, performing to various music. She also used spoken words, first in German, later in English. This work, I'm sorry to say, seemed sophomoric with its loud talk of genitals and use of swear words. The short, sheer white shirts and thongs or dance belts on both male and female dancers gratuitously exposed the buttocks of these lack luster dancers throughout.
Another dance for two, A Caretaker's Vow, choreography by Marcus Jarell Willis, music by Laura Mvula, spotlighted dancers Demitia Hopkins-Greene and the choreographer. The two emoted to the songs. As I'd predicted, the dancers partnered each other, in the end.
The fourth piece on the program awakened me with fun music and accomplished dancers, in Coyotes Tip-toe, choreography by Joshua L. Peugh, company, Dark Circles Contemporary Dance. Dancers with skill and personality, Cody Berkeley and Chadi El-Khoury gave strong performances to "Walltz" from"Suite for Jazz Orchestra", 1934 by Russian Philharmonic Orchestra & Sergei Skripka; "Goldberg Variations, BWV 988; Aria da capo" (1981 Version) by Glenn Gould; and These Foolish Things Remind Me of You)" by Etta James.
Celebration (Edit 2016) of choreographer/dancer Manuel Vignoulle was an absolute delight. The music by Layla Project was nearly trance-like. Vignoulles choreography gave us riveting rhythms and marvelous musicality. The movement flowed easily, engaging the three male dancers, Vignoulle with Alex Beigelson and Isaies Santamaria. There was a high level of professionalism among the performers, keeping the audience's unwavering attention from first note to last. I see growth and evolution in Vignoulle's choreography and look forward to following his work in the future.
The third piece that grabbed my attention was Gabrielle Lamb's Bewilderness (Work in Progress - preview of excerpts), to music of Henry Purcell and Joan Cambon. Six dancers, dressed in subdued colors (the first colors of the evening), wearing stretch jeans and t-shirts or leotards, seemed to be exploring the elasticity of communication via movement, whether touching or not. Their exchanges excited me to see the full work, premiering November 18, 7PM at Baruch Performing Arts Center.
Last on the program was Flash Burn, by choreographer and Co-Artistic Director of NobleMotion Dance, Andy Noble. The eleven dancers performed to the music of Michael Gordon, while snow fell and sirens blared throughout. It seemed rather apocalyptic and unnerving. No doubt, this was intended, but it did not give me a good feeling leaving the theater. In these times, I would, personally, prefer not to be attacked this way, although I respect everyone's right to free speech/dance.
I am, never-the-less, reminded that The Dance Gallery Festival is a marvelous opportunity for choreographers to shape their works and to give them advantages they might not otherwise have found. Bravo to the concept and to the execution
Photo credit: Charles Rousel

Related Stories
Rose Marija has always been focussed on ballet and contemporary ballet: training, performance, health, prevention and rehabilitation of injuries. She shares her expertise and point of view wit... (read more about this author)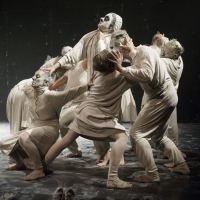 BWW Review: Naia Productions And La Compagnie Maguy Marin Present M at Virtual

July 23, 2020

Maguy Marin, L'Urgence D'Agir (A Time to Act), 2019 is a powerful and riveting film, directed by David Mambouch, giving the viewer a fascinating glimpse into the career and unique choreographic mind of Maguy Marin.
---
BWW Review: KEMP - My Best Life Is Yet To Come

July 23, 2020

This documentary film, created and directed by Edoardo Gabbriellini, Italy, 2019, 64m, was presented on Dance Films Association and Film at Lincoln Center and premiered on Sunday, July 19, 2020. It is a well-made biopic about a choreographer/actor/dancer/mime/burlesque performer, Lindsay Kemp. At the age of 80, Kemp reflects on his life and career and states his views along with his recollections. We are treated to interviews and film clips from his career.
---