Click Here for More Articles on DEAR EVAN HANSEN
BWW Review: Taylor Trensch Brings Darker Shades To The Title Character of DEAR EVAN HANSEN
One of the great characteristics of live theatre is that, as opposed to film and television, no matter how iconic a performance is, no matter how indelibly attached an actor may seem to a role, there will be other actors playing it.
And with those other actors come new interpretations, altered nuances and sometimes even ways to see the entire theatre piece differently.
Perhaps more than any stage actor in recent memory, Ben Platt has been indelibly attached in the public's eye to a role, the title character of Benj Pasek, Justin Paul and Steven Levenson's exhilarating and original Dear Evan Hansen.
A unique role for a presentational art form like musical theatre, Evan Hansen is a socially awkward introvert who inadvertently becomes the center of a nationally exploding social media movement promoting outreach to people like him and like his classmate, Connor, who recently committed suicide.
Due to a misinterpreted piece of evidence, the deceased boy's family believes that Evan was Connor's best friend and was able to connect with their son in a way they never could. Evan can't bring himself to correct them, and soon a great deal of good is accomplished based on Evan's initial lie of omission and his mounting lies to sustain it.
A strong actor capable of impassioned pop rock vocals, Platt's performance also displayed an open-faced helplessness that endeared Evan to audiences.
But with Taylor Trensch, fresh off a delightful turn as lovestruck Barnaby in HELLO, DOLLY!, the character is decidedly less lovable and that's a very effective take.
Trensch is certainly a fine actor and singer, and audiences are sure to admire the strength he brings to the role, but this is an Evan who is more on the defensive.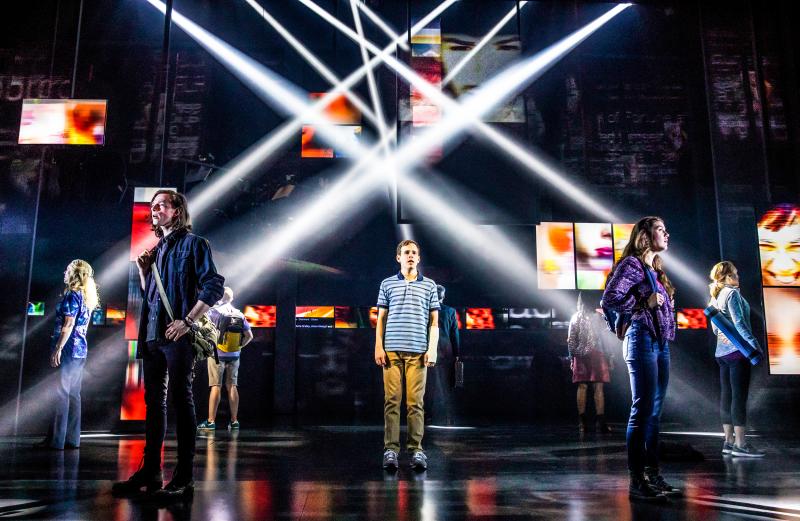 The physical tics and stammering vocal inflections that drew audiences into Platt's Evan are now kept to a minimum, and Trensch's grim stare can seem cold by comparison. But it's just that this Evan has constructed thicker protective barriers; not just between him and the other characters, but between him and the audience as well.
In a musical that's quite daring to begin with, this realistic approach that requires the audience to work harder to feel empathy is another daring move.
The rest of the original Broadway cast has remained with the musical and is sharp as ever, highlighted by Rachel Bay Jones' beautiful, Tony winning performance as Evan's single mom, who does her best to raise him in the little time she has left after attending school and working full time.
With social media becoming more and more instrumental in making the public aware of issues that affect people's everyday lives, Michael Grief's outstanding production is in itself a social commentary, with scenic designer David Korins' moving panels and Peter Nigrini's projections creating a world of sensations flying too quickly for Evan to comfortably deal with, simultaneously displaying the intimacy of the story contrasting with social media's explosive reactions.