BWW Review: Sexual Sparks Ignite When Tennessee Williams Meets William Inge in Philip Dawkins' THE GENTLEMAN CALLER
The setup would make a hell of a piece of theatrically-minded erotica. Call it Cat (On A Hot Tin Roof) and Mouse, as sexual sparks ignite when elegant playwright on the verge of stardom, Tennessee Williams, visits the home of shy aspiring playwright William Inge for a newspaper interview to promote the Chicago opening of what would be his landmark Broadway success, THE GLASS MENAGERIE.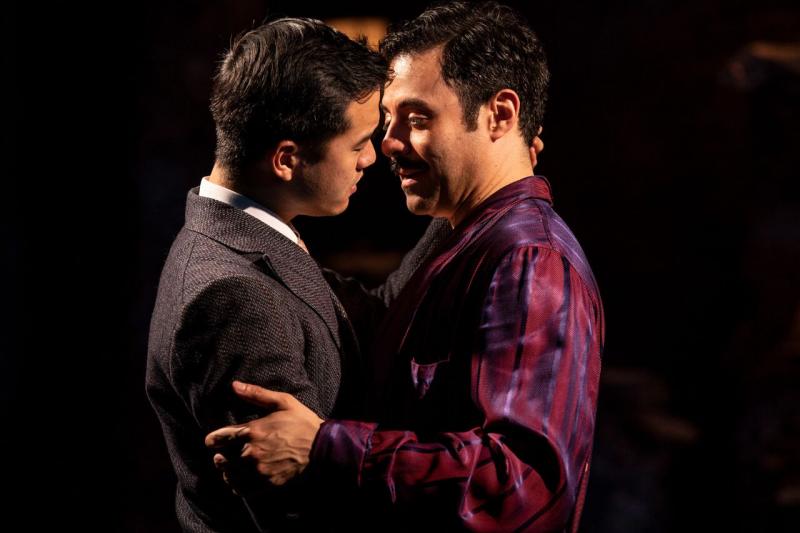 That bit of business actually happened one afternoon in 1944, when Inge was an arts journalist for the St. Louis Star-Times but the rest of Philip Dawkins' THE GENTLEMAN CALLER, which takes its name from a previous title for MENAGERIE, is the contemporary playwright's fiction. He cleverly justifies his invention by framing the play with Williams addressing the audience much in the same way as his GLASS MENAGERIE narrator, Tom. And as with Williams' piece, THE GENTLEMAN CALLER is a memory play that tests our trust of the memories.
The first of the two acts has the nervous Inge greeting his dapper guest. After some obligatory cocktailing and some small talk about how his nephew would love an autographed copy of Williams' publicity photo (He signs it, "Dear boy, You're a hot piece of ass. Regards, Tennessee Williams") the host attempts to make a picnic of his visitor's privates, lunging to pull down the pants of his gentleman caller.
Williams is amused by the awkwardly passionate gesture, but insists they first get down to the business of the interview.
The second act takes place that New Year's Eve, and Inge has traveled up to Chicago to see Williams' hot ticket. The attraction between them is still present, but the young unknown is also anxious to learn if the rising star has found his play FARTHER OFF FROM HEAVEN (which would eventually be reworked as THE DARK AT THE TOP OF THE STAIRS) good enough to forward to his literary agent, the legendary Audrey Wood. If the mouse hasn't fully become the cat, he's at least turned a little kittenish.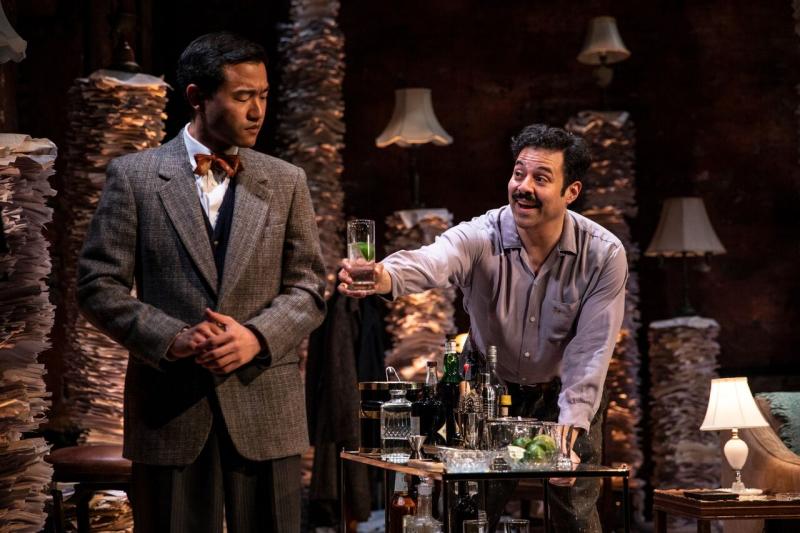 Under Tony Speciale's direction, the two actors give delightful performances. As Tennessee Williams, the zesty and playful Juan Francisco Villa confidently strides across the stage and gleams with a cultured presence. Daniel K. Isaac's William Inge is charming in his polite introversion and nerdy attractiveness.
In keeping with the evening's GLASS MENAGERIE parallels, designer Sara C. Walsh's set mixes realism with cloudy memories by providing columns made of stacks of playscripts topped by various lamps.
With its sharp dialogue and sly references to its two celebrated characters' careers, THE GENTLEMAN CALLER is a more entertaining play than it is a deep one, but with its minimal production requirements and two roles that provide a fun and sexy showcase for its actors, this one will probably be produced around the country frequently once rights are available.
Related Articles
After 20-odd years singing, dancing and acting in dinner theatres, summer stocks and the ever-popular audience participation murder mysteries (try improvising with audiences after they?ve (read more...)