BWW Review: Quiara Alegría Hudes and Erin McKeown's MISS YOU LIKE HELL Explores The Emotional and Political Walls That Can Separate a Mother and Daughter
The current American president is never mentioned in bookwriter/lyricist Quiara Alegría Hudes and composer/lyricist Erin McKeown's lovely and touching chamber musical Miss You Like Hell. But even though the piece has been in development well before anyone thought of the former reality TV star as a serious candidate, his presence is well-felt in their story of an undocumented Mexican-American mom who is facing deportation while trying to rebuild her relationship with her citizen daughter.
This is especially true in a scene set in Friendship Park, where a tall wall separates the two countries at the continent's west coast and extends into the Pacific Ocean.
With access to the American side open to the public for only four hours on Saturdays and Sundays, this is a place where separated families make whatever contact they can through the wall's slotted openings.
A character describes how a woman she meets has border brunch with her husband every Sunday, and how a child's birthday party is celebrated with family members eating cake on both sides.
As scripted by the Pulitzer-winner Hudes, there is enormous power in the short scene's directness and simplicity.
Daphne Rubin-Vega, an actor/singer who consistently exposes guts and determination matched with a sleeve full of vulnerability, stars as Beatriz, who opens the musical singing to herself. "I am a lioness / I am a warrior" to psych herself up for a difficult mission ahead.
Eight years ago, Beatriz separated from her husband, a U.S. citizen, with him receiving custody of their six-year-old Olivia and her receiving no visitation rights. Although the father allowed her weekends with their daughter, Olivia grew tired of bouncing from one parent to another and at age twelve asked her mother to stop visiting. Beatriz left the two in Philadelphia and ventured off to California.
And although they haven't remained in touch, mom has been following her daughter's thinly veiled Tumblr page, which lately has been a platform for her suicidal thoughts. With dad asleep, Beatriz shows up in the middle of the night, having driven non-stop to Philly in a beat-up truck, pleading for a chance to "mommy the fuck out of" Olivia on a seven-day road trip to the west coast.
A finely-written character solo for the daughter has her recalling Sunday afternoon museum visits with her mother, and how she was affected by the suffering subject of Rubens' "Prometheus Bound," contrasting with the carefree Saturdays they spent improvising songs and dances.
"Please don't be mad," reads the end of the text she sends her father as the two drive off.
With a powerful singing voice and acting skills that mix teenage angst with the anger of a troubled soul who felt forced into early adulthood, Gizel Jiménez is a formidable Olivia.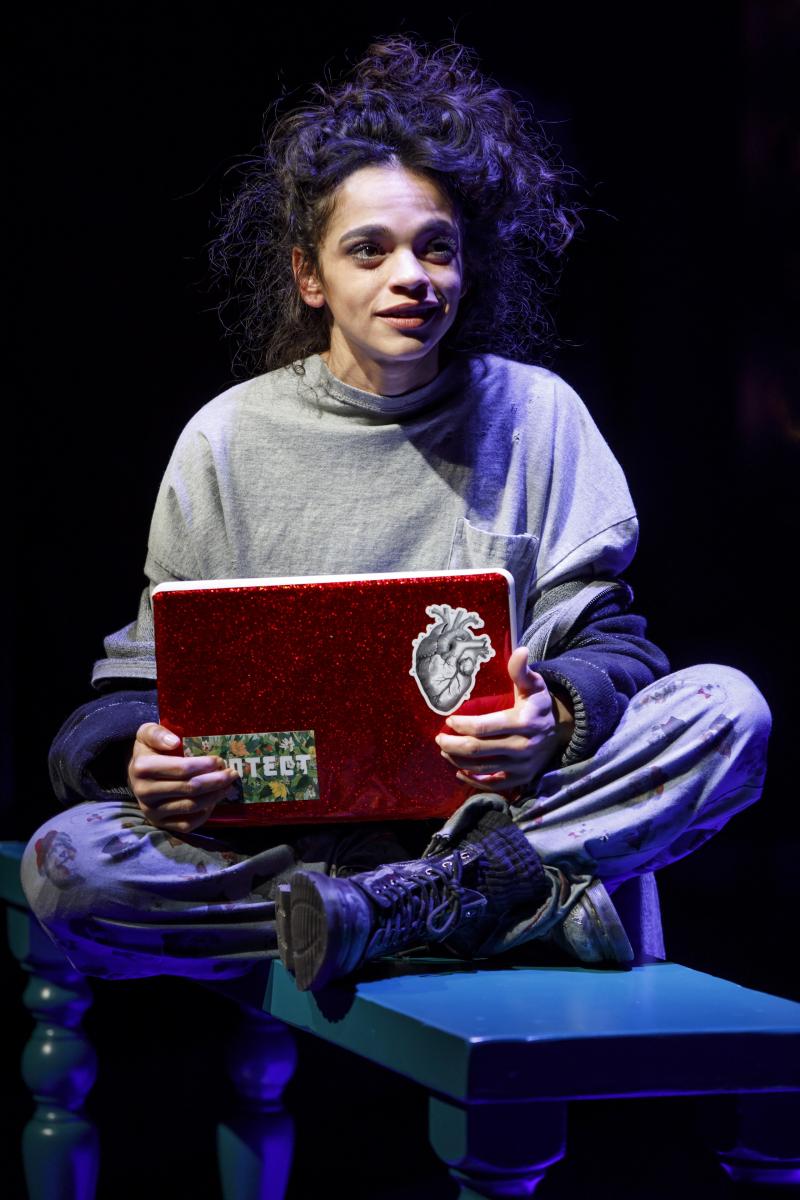 Though the energetic, passionate Beatriz is determined to break down some of the emotional walls built by her darkly intellectual daughter, her more immediate problem is that a marijuana possession charge from years ago is being used as grounds for deportation. Her lawyer (Marinda Anderson) suggests a court appearance by Olivia may work in her favor.
With an eight-member ensemble acting as a Greek chorus and designer Riccardo Hernandez offering a sparse setting, director Lear deBessonet's production suggests classical drama set to a folk/rock score that mixes poetic imagery with vernacular jauntiness. ("Be with me, ancestors / Be with me, witchy witches / I call upon the feminine divine / Yo, back me up, bitches!")
In fact, their road trip does suggest Homer's "Odyssey," with its episodic encounters with characters such as park ranger Pearl (Latoya Edwards), a fan of Olivia's blog who encourages her to visit her at Yellowstone, David Patrick Kelly and Michael Mulheren as bikers Higgins and Mo who are motoring to every state in the union to renew their marriage vows, and Manuel (Danny Bolero), a tamale salesman who sings of the memories contained in the tastes of our favorite foods.
While the detours can get a little sluggish, Miss You Like Hell is gripping stuff when focused on Beatriz and Olivia, especially with Rubin-Vega and Jiménez giving such strong performances. And its topicality adds to the impact.
Related Articles
After 20-odd years singing, dancing and acting in dinner theatres, summer stocks and the ever-popular audience participation murder mysteries (try improvising with audiences after they?ve (read more...)