BWW Review: Prospective In-Laws Clash Over Religion In THE PROFANE
From ABIE'S IRISH ROSE to LA CAGE AUX FOLLES and beyond, the conflicts that arise when future in-laws meet for the first time have been a traditional source of comedy for both stage and screen.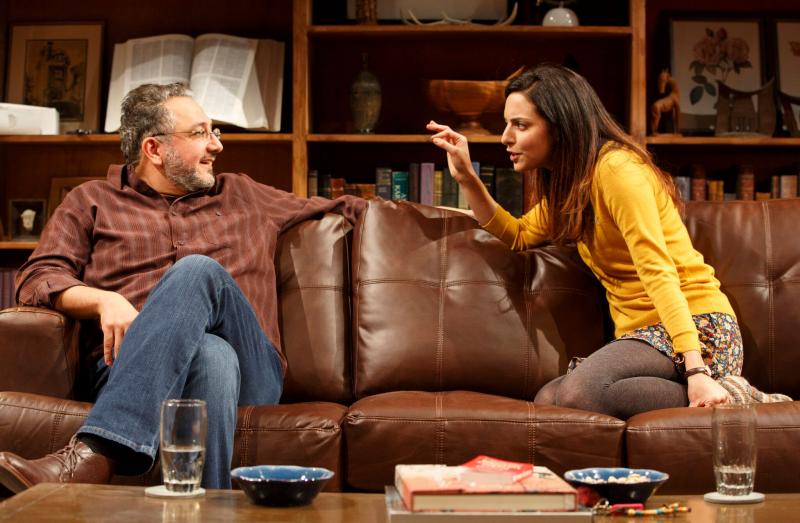 But Zayd Dohrn takes a dramatic twist on the subject with The Profane, which deals with issues between two families which, at least in the eyes of one character, have gravely serious implications.
No national origins or religions are specified for anyone in the play. The author simply describes them in his script's notes as being Americans who look Middle Eastern.
The first act takes place in the New York apartment of Raif and Naja Almedin. Raif is a well-known novelist, popular for his satirical books about his immigrant experiences. As played by Ali Reza Farahnakian, he has that slightly neurotic feel of the Upper West Side intelligencia.
Naja (Heather Raffo), the more balanced of the pair, is a dance instructor who admits to only modest success in her younger days as a ballerina. Living with them is their hip and outgoing daughter Aisa (Francis Benhamou), who studied modern dance but now works late hours as a bartender.
The problems begin when younger daughter Emina (Tala Ashe) visits from college to introduce the family to her boyfriend Sam (Babak Tafti), short for Basam. They appear to be a perfectly pleasant and intelligent young couple, but Raif is reserved to the friendly fellow, knowing in advance that his daughter's new beau is from a family of religious conservatives.
When the kids announce their intention to marry, Raif is furious that his daughter, having been born with the freedoms of being an American, would voluntarily marry into an arrangement where he imagines she would be expected to be subservient to her husband.
Naturally, the second act takes place in the home of Sam's parents, the Osmans of White Plains. Ramsey Faragallah plays successful businessman Peter Osman as a jovial bear of a man. He and his quiet wife Carmen (Lanna Joffrey) obviously have a marriage based on traditional gender roles dictated by their heritage, but, within those parameters, their relationship seems mutually respectful.
The stage directions don't identify the ornately bound book with gold leaf pages prominently displayed in their home.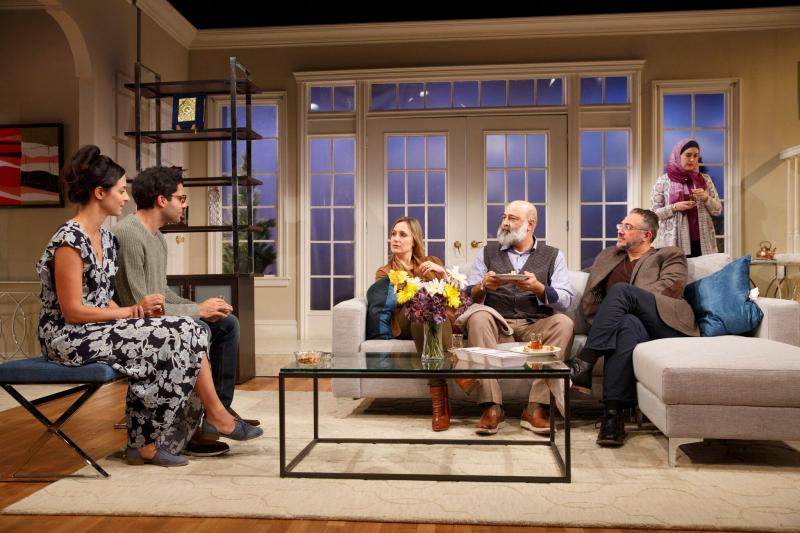 When he arrives with Naja, Raif is immediately suspicious of Peter's over-the-top friendliness and his sarcasm suggests that he suspects his hosts are hiding something. Indeed, something is being hidden, although to the Osmans there's a reasonable explanation.
Back in New York, the final scene, between Raif and Aisa, seems to have the father trying to deal with his own prejudices, though it doesn't quite land. It seems the more needed choice would be to have a scene between Raif and Emina.
Director Kip Fagan's production is brisk and simple and features a fine cast. While The Profane has a very interesting setup, the text, while entertaining, needs to dig a little deeper to bring out the layers of its subject.