Click Here for More Articles on MIKE BIRBIGLIA'S THE NEW ONE
BWW Review: Mike Birbiglia's Musings on Fatherhood, THE NEW ONE, Moves To Broadway
Though it often involves individuals speaking prepared material into a microphone in front of paying customers who may be enjoying a libation or two, and though generating laughter is usually a good sign of success, the art of storytelling should not be confused with stand-up comedy.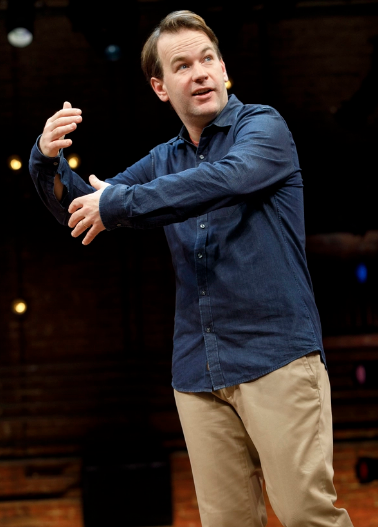 Oh, there are similarities, to be sure, but as regarded by the form's most famous developmental organization, The Moth, storytelling is more of a spoken literary work, focused on first-person narrative and personal growth. Tell the audience how you've gone from point A to point B.
Author/performer Mike Birbiglia, making his Broadway debut with the transfer of his Off-Broadway hit, THE NEW ONE, is a popular veteran of both the standup comedy circuit and the storytelling scene, but if an artist's work must be labeled you might want to lean a bit towards classifying this as the latter.
The subject is fatherhood, or, more specifically, how he went from being a happy man with no desire to have children, married to a woman (his wife, poet Jennifer Hope Stein, has contributed some material) who shared that lack of desire, to being half of a couple trying to have a baby.
"But first I wanna tell you about my couch," he says at the outset.
For single men, as he explains, buying a couch is an early sign of maturity; of being able to commit to something. But it's not as deep a commitment as, say, a bed.
"Beds are comfy but they know it. They're like, 'I'd like to be called a king. I'm gonna need a box spring (so) I don't touch the floor.'"
Couches, on the other hand, are more focused on your needs. "It's a bed that hugs you. It's like, 'You wanna watch TV? You wanna eat pizza? You sure do like eating. But I like that about you!'"
What does this have to do with having a baby? Well, if you're into symbolism, you've probably figured it out after reading "outset."
After witnesses how the responsibilities of fatherhood have sapped all the spontaneity from his brother's life, Birbiglia panics when his wife reveals that she's changed her mind about not wanting children. He comes up with a list of personal flaws that should prevent him from fathering.
This includes revisiting the subject of a previous Mike Birbiglia stage story (which was adapted for film), SLEEPWALK WITH ME, where he describes the movement-restricting device he must wear to bed because of a sleep disorder that once caused a near-death incident.
The birth of their daughter Oona creates a family dynamic that Birbiglia observes changes their marriage from being an equal partnership to one that raises the status of his wife.
"You're this pudgy milk-less vice president of the family. Huge title, no power... Your whole job is to be around and have no opinions."
To avoid making this a completely one-sided affair, we also hear bits of poetry Stein has written about the experience. They're touching, insightful, and maybe a little snarky.
Under Seth Barrish's direction, THE NEW ONE keeps a steady, casual tone consistent with Birbiglia's genial, nice-guy persona. The 80-minute piece is very funny on a sweet, realistic level. The only moment of shear theatricality, a really good one, comes from set designer Beowulf Boritt. I'll leave it to the storytellers to present you with that one.