BWW Review: Dominique Morisseau's Captivating Jazz Noir Drama, PARADISE BLUE
Depending on how snobby you are about the belief that no American play can truly be said to have premiered until it has opened in New York, Paradise Blue, the ravishing new jazz noir drama by Dominique Morisseau is either the second or third installment in the playwright's trilogy set in her hometown of Detroit.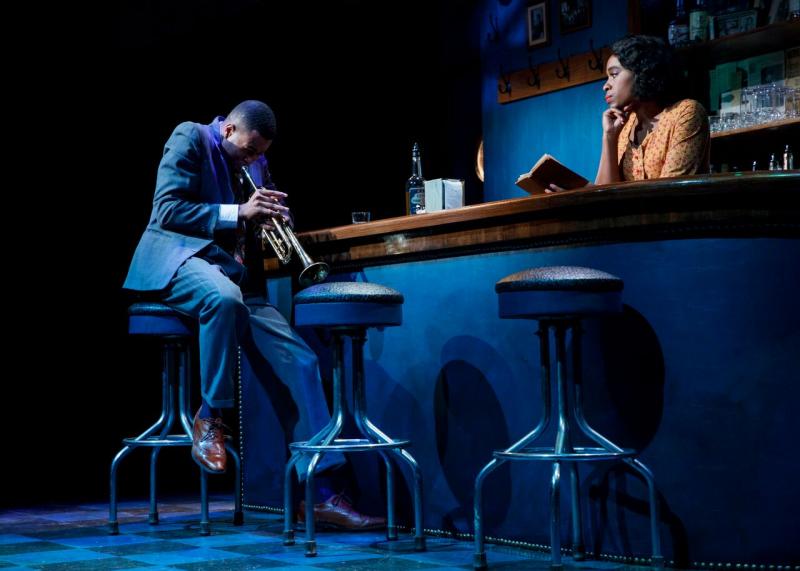 It was five years ago when the initial piece of the project, DETROIT '67, set at the start of the five days of rioting that brought the city's institutionalized racism into the headlines, played The Public Theater. Atlantic Theatre audiences then saw Morisseau's SKELETON CREW, officially the third contribution, which dealt with auto workers facing a failing industry.
Coming at the heels of last season's Lincoln Center production of PIPELINE, about severely inadequate public schools in American cities that help increase prison populations, Paradise Blue, which was first seen in 2015 at the Williamstown Theatre Festival, firmly establishes Morisseau as one of the most exciting voices to be heard at New York theatres; a playwright who firmly tackles controversial issues through realistic characters while embracing the varying linguistic tones of urban America.
The story takes place in 1949, when Detroit's incoming mayor, Albert Cobo, was preparing to fulfill his campaign promise of stimulating urban renewal with a plan that included the destruction of the largely African-American Black Bottom neighborhood, an area known for the music venues in its cultural hub, Paradise Valley, where the greats of jazz and blues regularly performed.
Set designer Neil Patel places the audience on two sides of an intimate jazz club, Paradise, owned by Blue (introspective J. Alphone Nicholson), a talented trumpet player whose personal sound needs to push its way past his personal demons.
His girlfriend Pumpkin (terrifically nuanced Kristolyn Lloyd), a decidedly sweet and gentle young woman, cooks and serves at the club, as well as cleaning the rental rooms upstairs.
If the presentation of a gifted but troubled male artist and the nice, nurturing woman who loves him seems bit familiar, it's not a flaw in the proceedings. Morisseau's beautifully stylized piece embraces this, and other character depictions, as antiquated classics and hints at the changes ahead for urban African-Americans and in relationships between men and women.
Director Rubin Santiago-Hudson, a master of mood pieces such as this, keeps the atmosphere fluid and darkly dreamy, aided considerably by lighting designer Rui Rita and sound designer Darron L. West.
After a foreshadowing prologue, we get a taste of Pumpkin's passion for the work of Harlem Renaissance poet Georgia Douglas Johnson. Enter two of the club's house musicians, Percussion Sam, who goes by the nickname P-Sam (nervy Francoise Battiste), and the philosophical Cornelius, better known as Corn (wonderfully mellow Keith Randolph Smith), with news that their regular bassist has quit after Blue refused to start paying him up front.
With tensions at Paradise already on the rise due to the city's offer of $10,000 to buy the club from Blue, the entrance of a slinky stranger name Silver (smoothly seductive Simone Missick) fuels the fire by requesting a room for a long-term stay. Though she attracts, for different reasons, the fascination of both Corn and Pumpkin, the reason for her visit is a proposition for the owner.
As the players interact under the cloud of "progress" that will change their neighborhood forever, each is in search for their individual state of contentment that Corn refers to as "Love Supreme."
PARADISE BLUE is the first production presented in Morisseau's five-year residency with Signature Theatre Company and will be followed by two premieres by this increasingly captivating playwright.
Related Articles
After 20-odd years singing, dancing and acting in dinner theatres, summer stocks and the ever-popular audience participation murder mysteries (try improvising with audiences after they?ve (read more about this author...)