Click Here for More Articles on PRETTY WOMAN
BWW Review: Bland PRETTY WOMAN Is Not An Affair To Remember
With an innocuous book more focused on moving to plot points than creating interesting leading characters and a platitude-heavy score that tends to linger on moments instead of expanding on them, Pretty Woman, based on the hit 1990 film, is the blandest musical to hit Broadway in recent memory.
Oh, there have been more inept trods across the boards, for sure, but despite the efforts of a cast full of talented seasoned professionals (It's never the cast's fault, is it?) this creation of four accomplished writers who have never penned a Broadway musical before (having a couple of songs you've written included in a jukebox musical doesn't count) lacks empathy, wit and dramatic energy as it emphasizes what's familiar to fans and occasionally bold-faces its small revisions that may or may not satisfy those who felt that the source material's antiquated attitudes towards women in general and women sex workers in particular would be unacceptable if recreated for this 21st Century adaptation.
This reviewer will leave it to the better qualified to judge how well the entirely male creative team did in that department.
Sharing bookwriting credit with the film's director, the late Garry Marshall, screenwriter J. F. Lawton's story involves the romance that develops when corporate raider Edward Lewis (Andy Karl), after a satisfying one-night transaction, hires Hollywood Boulevard prostitute Vivian Ward (Samantha Barks) to stay with him at the Beverly Wilshire Hotel for six days while he finalizes a takeover. He throws in a shopping spree on Rodeo Drive so that he may have a suitably-attired escort for the week's social functions, without any distracting emotional complications.
As expected, it's a life-changing week for the both of them, but though pictures may speak a thousand words on film, on stage it's the words that do the talking, and Pretty Woman is cursed with flat, didactic dialogue and dull attempts at banter. When the characters sing, composer/lyricists Bryan Adams and Jim Vallance provide what is mostly a simply-rhymed (sometimes slant-rhymed) collection of pop songs that don't tax the brain with anything resembling character development.
Vivian's first solo, establishing that she wants more out of life, is written without any regard to being specific to her situation. ("I can feel something coming / I long to be free / I just wanna be / Anyplace but here.")
It's eventually revealed that Edward loves opera, so it might have been nice if some of that passion and complexity were revealed in his musical language. Instead, he's stuck with stalled expressions of emotion like, "There's something about her / She's charming, no doubt / There's something about her / I don't know what it is / But I guess that I'll find out."
When given the opportunity to utilize his sly comic sense and sexy showmanship Andy Karl is a top-shelf musical theatre performer. We do get tantalizingly brief displays of his star quality when Edward decides to cut loose a bit, but for most of the show, Karl is regulated to playing straight for the very energetic Barks.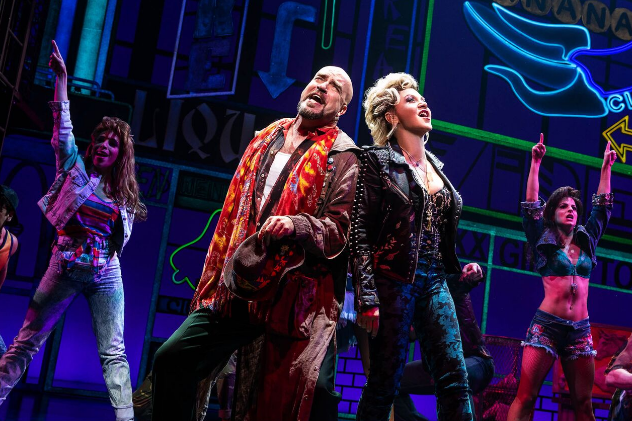 Better opportunities are offered to supporting players. Knockout belter and ace comic Orfeh is well showcased as Vivian's wise-cracking prostitute mentor Kit, and Eric Anderson scores nicely as both a friendly Hollywood Boulevard Street hustler and the dapper and compassionate hotel manager. The two of them lead a lively act two number about never giving up on your dreams that has nothing to do with anything going on at the moment.
The beautiful singing voice of the very fine Broadway musical actor Jason Danieley is barely used in his small role as Edward's lawyer; limited to a featured solo in the second act's opening number, which takes place at a polo match. It's a scene staged with a hat tip to MY FAIR LADY's "Ascot Gavotte," elbowing viewers in the ribs with the story's thin similarities to George Bernard Shaw's PYGMALION.
The highlight of director/choreographer Jerry Mitchell's work is the grandly comical ballroom dancing lesson Anderson and a male ensemble give to Barks, but despite the competence displayed throughout the production, Pretty Woman never rises above its uninspired material.