BWW Interview: From the Underworld to Imperial Russia- Damon Daunno Makes His Move Off-Broadway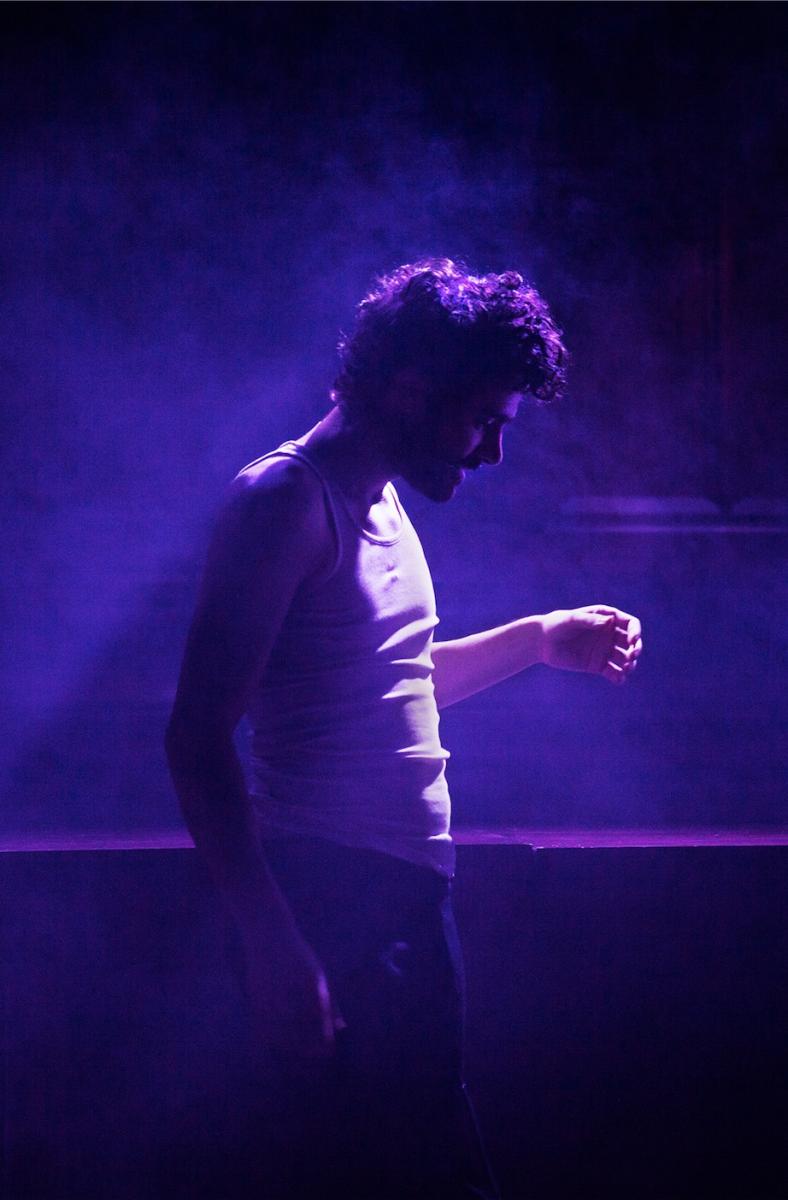 Pipeline Theatre Company is currently presenting Beardo, with book and lyrics by Jason Craig (Beowulf - A Thousand Years of Baggage), music by Dave Malloy (Natasha, Pierre & The Great Comet of 1812), and direction by Ellie Heyman (The Traveling Imaginary) at St. John's Lutheran Church (155 Milton Street, Brooklyn - G Train, Greenpoint Stop).
Beardo is a Russian indie rock musical from the outrageous minds that brought us Beowulf - A Thousand Years of Baggage and Natasha, Pierre & The Great Comet of 1812. Beardo explores the mad inner workings of Rasputin, the infamous mystic who sexed his way to the fall of the Russian monarchy. Join Pipeline Theatre Company this February and catapult through the mysterious ascent of one of the most peculiar and seductive figures in modern history.
In the title role is Damon Daunno, who was last seen playing "Orpheus" in Anaïs Mitchell and Rachel Chavkin's Hadestown at New York Theatre Workshop. Daunno just chatted with BroadwayWorld about his latest role just before opening night and you can check out the full interview below!
---
How have performances been going so far?
They've been going really well, every night it's been a giant leap forward, which is inspiring. Audiences have been really curious and along for the ride, which is also really inspiring. It's a real trip to work on something for a while and then hear people sort of laugh at strange moments you didn't realize were funny or maybe the opposite or something like that. But you learn a ton once people start showing up and it's been good. It also just really helps solidify it. Certain things get eliminated or "we need to work on that" or "hey that was really working." So every night it gets a little bit closer.
I heard you guys have already extended, so that has to be a good sign!
Yeah absolutely. It's been a nice turnout.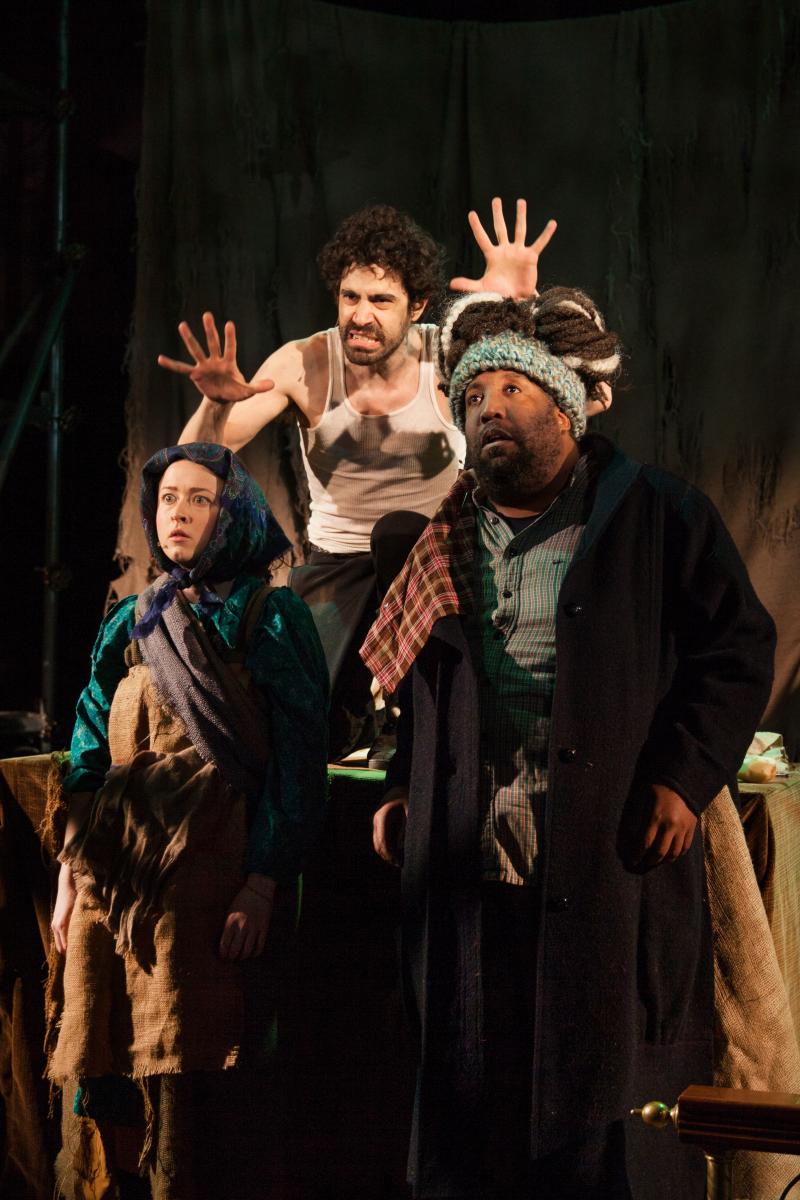 I know that you're doing it in a church, right? That must give it all a unique vibe...
Yeah it's really wild. It's at St. John's Lutheran Church in Greenpoint and that's where we rehearsed it and before the set was built, it was just this sort of stage just with the alter, where services are held. And I thought to myself, how are we going to do this? Then they built this crazy scaffolding with different platforms and installed all these lights and really transformed the space to the point where I'm like, "This church should really think about keeping this architecture!" [Laughs] It's really really cool. I've never performed in a church before and it's unlike anything I've ever experienced. There's something about singing in a church, it's deeply moving and sort of puts you in a different space. It's really special, I highly recommend it.
And it's still a functioning church, right?
Yeah, they have services every Sunday. Like I was saying with the set building, I was like "Do they take this down, or they're now just doing services in the middle of the Beardo set?" And they're like, "No, the patrons love it." [Laughs] They just have service right in the middle of our set.
So you play the title character, who is Rasputin, is that all right?
Yeah, it's sort of abstracted a bit. The character Beardo is certainly based off the lore of Rasputin, but it's slightly abstracted for theatrical purposes. It's the story of this peasant with strange mystical and healing abilities, who finds himself in the city of St. Petersburg and in the castle of the Tsar, and because of his healing abilities is able to help their hemophiliac son. He slowly starts to have influence over the Tsar on political levels, while at the same time cultivating these notorious sexual exploits and gets himself in trouble a bit. Most of the people start to really turn against him to the point where he is eventually brutally murdered.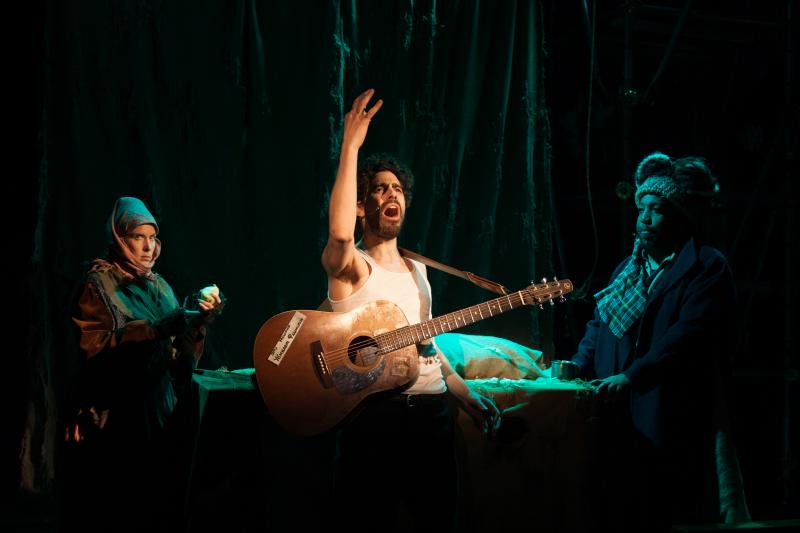 I would imagine that for portraying someone like him, that any research that you might have done may have been contradictory. Was that a challenge?
That was really exciting. I really enjoyed getting into this in the beginning. I watched a ton of Rasputin documentaries and listened to podcasts and read articles and you get these different takes depending on who's telling the tale, was he good or was he bad? To make sense of this sort of thing, you have to find the good. You have to understand your man a little bit. All of the propaganda around him at the time said, "He's the devil" and "he's the reason Russia is falling," but I choose to believe that he did what did because he thought was helping, but much like any human he is deeply complex and has some crazy tendencies.
There was this one story that I read about his time at this dinner party. He was sort of obsessed with this writer woman because she wouldn't fall for his antics, because at that point he was infamous. It was a little bit before his death. His power was failing him and he was becoming untethered. That to me really spoke to his vulnerability and his desire to be accepted. I think a huge part of this play is about the ways we compensate to join the club. It's a big class issue. He came from nothing and was labeled dirty and drunk and perverse. I think he was in a strange way just trying to connect with people and help people. A lot of people really were obsessed with him. People were really passionate about his abilities and followed him blindly and other people were completely put off and not under the spell. I think ultimately he was just a person trying to contribute to his environment in a really strange way.
And it's musically very eclectic as well...
Yeah absolutely. The music is unbelievable and it's written for a string quartet. There's times where, during the rehearsal process I'd have to remind myself that Dave Malloy actually wrote this, that this isn't a pre-existing classical piece. But then five minutes later there's this techno-rock tune called "Ladies" that turns into sort of a giant orgy. That vastly contrasts the beautiful concerto you just heard. Ten minutes after that, I play a little song on the ukulele. So it covers a lot of ground, dramaturgically and musically.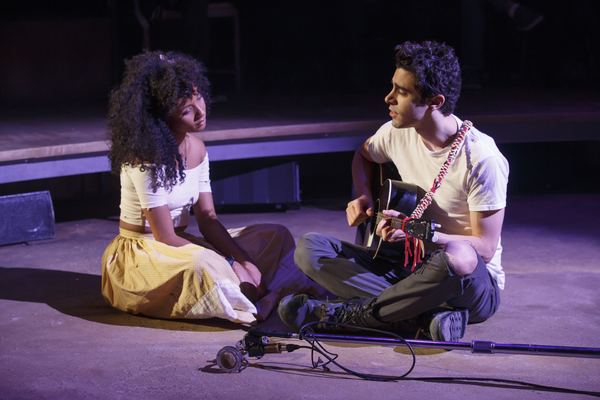 You've been having a big year, having wrapped Hadestown not that long ago. Has it all been kind of like a whirlwind time for you?
It's been great. It's been a great time in theatre for people who like to sing and play stuff. For a long time, to become a musician as well, it was confusing. I was like, "Do I have to stop one to really do the other?" But nowadays there are beautiful opportunities for actor-musicians and I'm super grateful for the opportunities that I have gotten recently- getting both of my loves in one show. I say bring it on, because it's a funny old business and you can go from high to low pretty quickly. So I'm just happy to keep going with it!
---
Tickets can be purchased at www.pipelinetheatre.org/tickets. Tickets range from $25 to $60. Beardo will be performed Tuesday through Sunday. All shows are at 7:30PM.
Photo Credit: Suzi Sadler

Related Articles
Originally from Pittsburgh, Pennsylvania, Nicole began writing for BroadwayWorld in 2010. She currently resides in New York City, where she gets to enjoy far more (read more...)