Click Here for More Articles on CHARLIE AND THE CHOCOLATE FACTORY
BWW Interview - Debut of the Month - CHARLIE AND THE CHOCOLATE FACTORY's Yesenia Ayala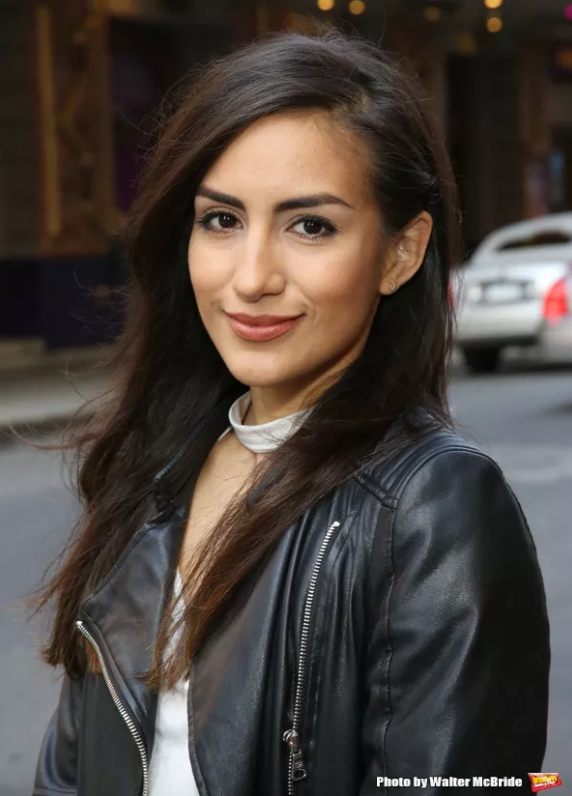 Yesenia Ayala makes her Broadway debut portraying various roles in the new musical adaptation of Roald Dahl's treasured tale, Charlie and the Chocolate Factory. The story follows world famous candy maker Willy Wonka, who opens the gates of his mysterious factory to five lucky winners of the golden ticket. As the visitors embark on a mesmerizing journey through Wonka's wondrous world of chocolate waterfalls, nutty squirrels, Oompa-Loompas and great glass elevator, their lives will be changed forever!
Today, Ayala speaks exclusively to BWW about making her Broadway debut and living out her own "American Dream."
[NOTE: BroadwayWorld's fabulous photographer Walter McBride captures images of the Broadway stars profiled in our monthly column in a special photo shoot. Check out the pics of Ms. Ayala throughout the feature!]
Were you familiar with the book and/or the films prior to your casting in the show?
Oh yes, I grew up watching 'Willie Wonka and The Chocolate Factory." I hadn't seen the Johnny Depp version, which is actually much closer to the book. In fact it wasn't until I was hired for this that I watched that film and I read the book, and it was very interesting to see the similarities and differences between the two. I think it's a brilliant book that offers something for everyone. It's just a great story.
What were your initial thoughts when you heard the story was going to be adapted to the stage?
I think the story is so creative and fun and theatrical that it easily translates to stage and screen, as we've seen with the movies, the West End production and now our show.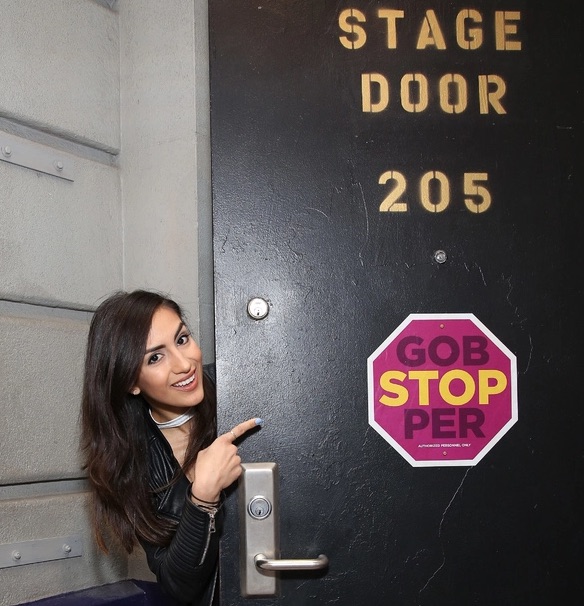 They've all been different but all have the same core. And with this musical, I think that they did a great job in incorporating Christian [Borle] from the beginning of the show because the audience gets to see him and Charlie develop this wonderful relationship.
This story is beloved by so many. Does that put extra pressure on the cast and creative team to uphold people's expectations?
Absolutely. I think that is something that has been the biggest challenge, this attempt to uphold everyone's expectations but also to do it in a way that has them come with us on this journey, because it is so different. So yes, I think that there are high expectations because of the book, because everyone loves Gene Wilder, because everyone has this idea, this strong connection to the story, and therefore they come in expecting what they remember. And I feel that [director] Jack O'Brien has really done a great job of not only giving the audience some of the things they are expecting, but also making this version our own and telling our own story and breathing fresh life into something that's so familiar to so many people.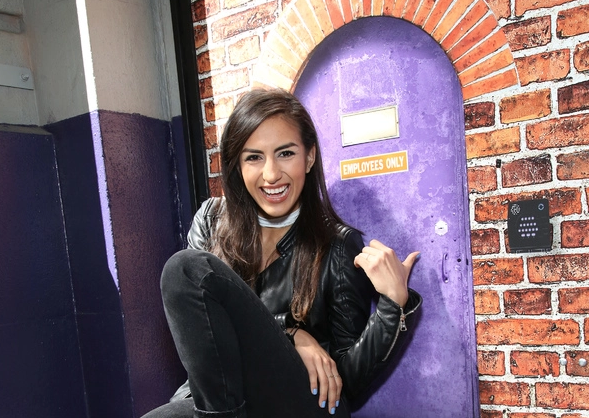 How much fun is it to transform into one of the Oompah Loompahs every night?
You know I wasn't really sure what I was getting myself into when I signed on for this show! [laughing] Honestly, I don't want to say too much about the Oompahs because we want to keep them a delicious surprise. What I can say is it's not how you would typically execute dance choreography. So for those sections, [choreographer] Josh Bergasse had Basil Twist to help translate his choreography to the methods specific to the physicality and mechanics of the Oompah Loompahs. So it's been really interesting and really challenging but it has really paid off in the end because they seem to be a crowd favorite. Everyone in the audience is waiting to see what the Oompahs are going to be and judging from the responses we've been getting every night, they're not disappointed!
You actually play multiple characters in the show. Is that difficult, and is there one scene in particular that you enjoy most?
It's actually a lot of fun to be an ensemble member because you get to create the world in which the main characters can live and tell their story. From being a townsperson, to a Bavarian dancer, to a cheerleader and a reporter, we get to play such different
characters and do so many styles of dance. And in the case of the Oompa Loompas, we acquired skills most of us never knew we had! My favorite number in the show is probably "It Must Be Believed to Be Seen" which is the end of Act One. It's the most typical big Broadway song and dance number. It's also the moment when we meet the Willy Wonka that we all know and love. And the music is just so good.
What do you think the overall message of the show is?
I think what was so fun about watching the movie as a kid and now watching our show is seeing these bratty kids get what they have coming! And then of course seeing Charlie, who is genuinely kind and giving, actually be rewarded for that in the end. The show has so much heart and humor, it really has something for all ages. Also, one of the things that Jack always talked about, which was kind of the foundation for his vision of the show, is the line when Willy says, "it must be believed to be seen." As a performer, that is something I take away from the show because really that's what our job is every night. We have to believe what we're doing on the stage in order for the audience to believe us and see the world that we are creating together.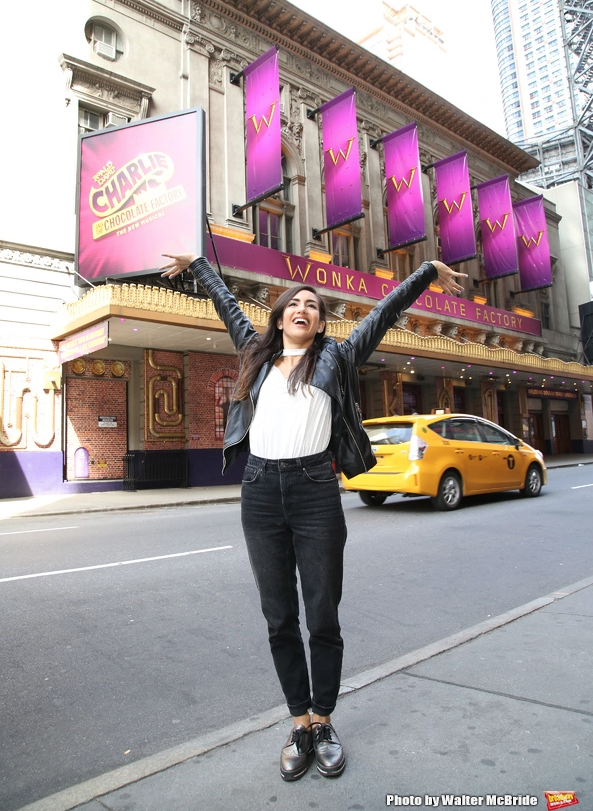 What was it like to make your Broadway debut in CHARLIE AND THE CHOCOLATE FACTORY?
It was a dream, too many feelings! Working with this incredible creative team, being part of an original cast, recording a cast album, understudying a principal role, being with a cast and crew of such wacky, fun, supportive people, it's all a dream. I come from two immigrant parents and always thought I had to be a doctor when I grew up. That's the 'American Dream.' Lucky for me, my parents put me in dance at a very young age and midway through college I decided to pursue Musical Theatre as a career instead of Biology. They weren't very happy at first, but here I am and they couldn't be happier. It's my American Dream - Broadway!
BWW congratulates Yesenia Ayala on her Broadway debut! Her off-Broadway credits include SWEET CHARITY (The New Group), TRIP OF LOVE. Tour credits include WEST SIDE STORY. Other theater credits include BOMBSHELL: In Concert. She has also appeared in the RADIO CITY CHRISTMAS SPECTACULAR and is a 2016 Astaire Award nominee.