Click Here for More Articles on THE BOOK OF MORMON
BWW Interview: Broadway's Chris Rice Gets #TAPPY and Talks BROADWAY BACKWARDS
Photo from Dancers of NY
Chris Rice, a current swing in the Broadway company of "The Book of Mormon" had no idea that when he uploaded his tap video of Anna Kendrick's "Cup Song" on YouTube it would go viral, three years later is has accrued over three million views.

I was lucky enough to chat with him, during an evening performance he was not swinging in, about his current choreography project featured in "Broadway Backwards" a fundraiser to benefit Broadway Cares: Equity Fights Aids and the LGBT center in Manhattan, also teasing his newest dance video.
Christopher Castanho: Why don't you give us some background on where you're from, where you went to school--
Chris Rice: I grew up in Edmond, Oklahoma and I went to school at the University of Oklahoma. Actually, when I auditioned for colleges I almost didn't get in anywhere, and the one school that I did get into was out of state and I couldn't afford it. So at first I went to the University of Oklahoma as a drama student and after re-auditioning and getting waitlisted I found out that they had a spot in the Musical Theatre program for me. I trained as Musical Theatre major for four years and had a good time there. I started tap dancing more thoroughly in college, I took some tap in high school, but I really got whipped into shape in college. I came to New York the summer after my senior year. [Laughs] My first week in the city I auditioned for the Broadway National Tour of West Side Story and was fortunate enough to book that. I went on the road almost immediately playing Baby John and I covered the role of Tony, which was cool. I did that for a year across the US, we also played Canada and closed in Japan. A few months later I was in the ensemble on the national tour of White Christmas, which was a lot of fun. We closed on the seventh of January and on the seventh of February I got the call about [Book of] Mormon, so it was crazy for a little bit. I'm very blessed it all worked out the way it did. I've been with The Book of Mormon for about four years now.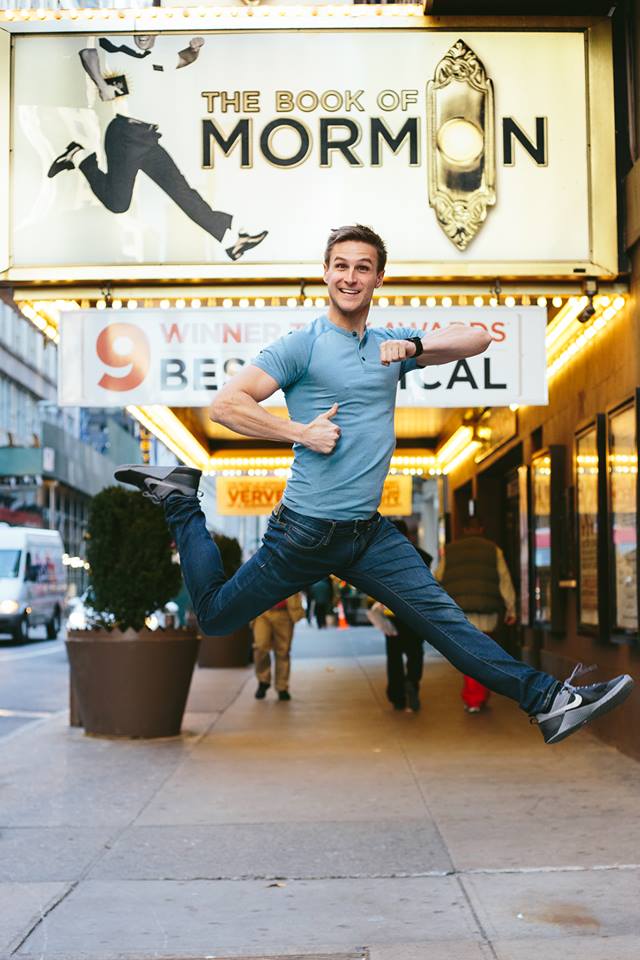 CC: So you're a swing at The Book of Mormon, how often do you go on?
CR: It really depends. Some months it's most shows, some months it's less. I would say I'm on stage a quarter to a third of the time. I go on whenever people get hurt, sick, they lose their voices, they get stuck on the train, or when they have vacation or personal days planned. I cover seven different people and for me: it keeps the show fresh because I'm always on for someone different and when I do go on it's not like the same thing every night. Four years of anything would probably drive me crazy, but the fact that I get time off, I'm in the building every show, but the chance to have my brain go elsewhere when I'm not performing is nice, and then when I am on stage it's not the same thing over and over again.
CC: Did you create these tap videos because of the downtime you had?
CR: It wasn't even initially going to be videos, but I was backstage during my first 'dry-spell'- if you will- of not having a lot of performance days at Mormon and I was so restless, looking through some songs to mess around with and Anna Kendrick's version of "Cups" from the Pitch Perfect film came up. I thought "Oh, everybody does the cup challenge" as it was like a viral thing at the time. "Surely someone has done this with tap dancing". So I googled it and nothing came up and long story short- I put together two little sections of the dance. I had a couple friends meet me at a local studio and I taught it to them. I filmed it with my iPhone, and it was something I felt like sharing with people. So I asked some other friends to join in, we put together a little video, I'm talking like we pressed record, ran around, and danced in front of the camera- nothing fancy. We even ran out of memory and I had to run downstairs. One of our girls was the dance captain for Cinderella and the night before filming she got pulled into running auditions all day so we only had her for like forty-five minutes to an hour and we had to film it really fast. But it kinda took off, we put it online and got fifty-five or sixty thousand hits and within eight days it had a million views. That was the first tap video I've put together, which took me a couple months to produce, film, and edit. The most recent one was more complicated, as I had to find a location, learn the choreography, as it's the first dance I hadn't created myself--I was nervous because I had never tried to recreate any of Gene Kelly's choreography; it's so untouchable so I didn't want to fail just because I wasn't Gene Kelly. But with Debbie Reynolds passing I thought it was a cool way to show our respect and thank her for her legacy for the countless people she's inspired, including myself and the two other people in the video. That process was very quick, I had the idea on a Monday, filmed the following Monday, I had to go find a couch, secure a space, costume the whole thing, find a videographer, record the audio for both singing and tapping, and we had it out two days after we filmed it. It was a good time.
Rice's first viral video- "'Cups' Tap Dance- Anna Kendrick (Pitch Perfect)"
CC: Have you ever recreated other iconic choreography before?
CR: I haven't, but I've challenged myself to learn combinations from YouTube videos. Never "Singin' in the Rain" specifically. I was obsessed with that movie in college and I had "Moses Supposes" and "Good Mornin'" recorded from my TV on my iPhone and I'd watch them while I was waiting for class to start or in the waiting room at the doctor's office. I've probably watched those dances hundreds of times but never tried recreating it. It was intimidating but also satisfying because I've spent so much time with the material in my life and letting it inspire me. It was cool to dive in and finally work on it.
CC: I also saw that you edit all of your videos? Did you teach yourself how to edit?
CR: I was probably the only sixth grader I knew that was going to be a movie star, that's what I thought I was going to be. And of course, I had to write my own movies and star in them to prove to everyone 'Look at me, I'm a movie star.' So I would write these terrible scripts, like a Christian version of Star Wars, to get my friends involved and play it at my Sunday School class. We bought fog machines, we had magic tricks, it was a big deal. I would edit with my camcorder plugged into the VCR and I'd press record and stop, go to the next camera angle and press record. After doing that for a while and it not looking very good I saved up and bought the worst editing equipment that I've ever come in contact with, but it was $150 at Best Buy and from then on I taught myself how to piece together clips. Thankfully, I do it all now on my computer a lot quicker than that. One reason I choose to edit it, besides the fact that paying for an editor is really expensive, is the fact that I'm a 'tap-sounds nazi', and if the sounds don't match up with the feet perfectly I go crazy. [Laughs] So I always spend a lot of time with the sound up and zoomed up into the feet.
CC: What's the next #Tappy Video you plan on creating?
CR: I haven't decided on the next tap video, I have one dance video already choreographed, we're waiting for the weather to get nice outside because it's more 'Fred & Ginger' where it's partnering. So that one's on the way and my current project that's taking all of my focus is Broadway Backwards, which is a one night only fundraiser for Broadway Cares and the LGBT center in Manhattan. It's a star-packed night, tickets are to raise money, so it's a pretty special event. Last year I helped in pre-production: making sure all of the numbers were ready to go when we brought in the star and ensemble to learn the number. I'm doing that this year as well, in addition to doing my own opening tap number with twelve of my own dancers and a star- to be announced. It's the first time I've been asked to choreograph a tap number, I've done recitals here and there, but this is the first time I get to pick my own dancers and have my choreography showcased on a Broadway stage, so I'm very excited for that.
CC: Will your boyfriend Clay [Thomson] be featured in some of the numbers?
CR: He actually is, he most recently was on tour with Wicked. He finished up right before Christmas, but right now he's in the city and I've wrangled him into doing this tap number, so he'll be on stage. As of right now I'm not in it I'm just setting the number, but who knows that could always change.
CC: I love following you and Clay on social media because I admire your relationship.
CR: Aw thank you, I appreciate that. I had never really thought of it that way. I grew up in a very lovingly sheltered environment. So when it came time to come out to my family it was not a smooth process, they've come a long way in a lot of ways, hopefully there's more change on the way. But a mom came up to me after the show Sunday night and she said "My son came out to me a couple months ago and I was really scared at first, but then I started to look to you and Clay, and I would show my son your pictures saying 'Look you will find somebody out who will make you happy.'" And I guess her son wants to move to New York City and it's a little less daunting knowing that we're making it out here together. Which was really cool to me because as a child I always looked up to people who were on Broadway because that's where I wanted to be, so I guess I assumed that's how someone could admire me, but I had never thought of someone keeping up with my relationship and looking up to me in that way. I was really humbled to hear that.
CC: I'm super excited to see what you do next, thank you again for chatting with me.
CR: Thank you, I so appreciate it.
---
Be sure to get tickets to see Rice's choreography in Broadway Backwards on Monday, March 13th at 8pm featuring Sierra Boggess, Tony winner Len Cariou, Ariana DeBose, Lora Lee Gayer, Tony winner John Glover, Jay Armstrong Johnson, Rachel Bay Jones, Tony winner Levi Kreis, Andrew Keenan-Bolger, Javier Muñoz, Tony nominee Bobby Steggert, Tony nominee Andrew Rannells, Bobby Conte Thornton, two-time Golden Globe winner, Tony nominee and Oscar nominee Kathleen Turner and Rachel York.
Click here to follow Chris on his Website, Instagram, Twitter, Facebook, and Subscribe to his YouTube channel.
Related Articles