Interview: A CHORUS LINE's Kim McClay Talks Debut Album MY SANITY
McClay's MY SANITY takes listeners through a personal musical journey of heartbreak, perseverance, triumph and hope.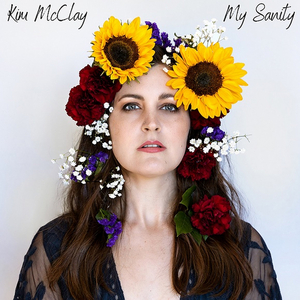 Singer-songwriter Kim McClay (who has starred on stage as Maggie in the National Tour of A Chorus Line and much more!) has officially released her debut album, MY SANITY, on all
streaming platforms.
Showcasing a range of 'indie-pop jazz-folk' songs written over the last six years, McClay's MY SANITY takes listeners through a personal musical journey of heartbreak, perseverance, triumph and hope.
You can now stream MY SANITY on Spotify, SoundCloud, and Apple Music!
We spoke with McClay about her songwriting process, the musical themes of the album, upcoming performances and more!
---
How do you feel now that My Sanity is out in the world?!
I feel so good! At first, the thought of sharing some of my more intimate thoughts with the world was pretty intimidating but the longer the songs are out in the world, the less scary it seems. Honestly, it feels amazing to have seen a project all the way through. Beginning to end, we did the damn thing and it's something I'm very proud of.
What was the songwriting process like for you? When did you begin working on this album?
The songwriting process varies day to day. Most of the time, it starts with a melody in my head that I start riffing on with different lyrics until the right idea clicks in and the lyrics flow from there. But sometimes, it begins through my practice of journaling - I'll look back at my pages of writing and I'll find something striking that I want to explore further! I guess you could say this particular album is years in the making. I've been writing some of these songs since 2015, then decided in October of last year that it was time to lay down the tracks and make a real go at the recording process.
How did you go about finding the sound for the album?
Oooh, that's a great question. I definitely have to give credit to my band members: Dustin, Trevor and Jim. I have been working with these guys since our first gig together last January, and their additions to the songs greatly influenced the album's overall sound. I knew I wanted the genre of the music to live in the space between folk and funk with a slight jazzy-pop influence, and once I heard the full-band versions of these pieces, I knew they were adding exactly what I thought was missing when I just play with an acoustic guitar alone. Somehow for the album, my co-producer Dustin and I were able to piece together the right song order so the flow seems to make sense cohesively even though there are many musical genres at play.
Did you know what you wanted the 'theme' of the album to be when you began crafting the album, or did the tone of it take shape as you continued to write songs?
Honestly, the theme of the album seemed to work itself out as we were in the process of it. I spent a lot of time narrowing down which songs to record for the album and which to leave out. Originally, I thought I'd want to narrow the choices down to six to record an EP, but I have so much material after all these years, I ended up wanting a full length album. After that decision, I felt confident that the songs I did choose felt cohesive enough to make sense as parts of a whole. Once I decided on a title for the record, the rest - including the tone - seemed to fall into place!
What was the process of recording the album like?
It was a bit chaotic if I'm being honest - the process of recording is a bit messy, but it was a lot of fun! Myself and the band spent a 10-hour day in the studio laying down 8 total tracks (which is a bit of insanity). We worked until the absolute last minute, cramming in the claps for "Goodbye!" just in the nick of time. After that, I had to go in a few more times to clean up some of my guitar parts and vocals and lay down the two acoustic tracks. Once the professional studio time was finished, I spent a lot of time with Dustin at his home studio, listening through and layering in background vocals. I'll add that I think my favorite day of recording was getting together some friends to sing on "In the Sea" - they learned their parts ahead of time and we crowded around a mic in my bedroom and for the first time since March of 2020, we got to sing with other humans, live in a room and it was some kind of wonderful!
What do you hope that listeners take away from My Sanity?
I hope that the album brings the same peace of mind to the listeners as it did for me to work on. It's called My Sanity both because it's in one of my favorite lines from my song "Won't You Be" and also because it highlights the fact that creating this album was the project that kept me looking forward and kept me sane during quarantine. I hope that the light of a project like that, a true labor of love, shines through the songs and inspires others to keep looking ahead and moving forward in any way that we can.
What have you got coming up? Are you planning any live concerts for the album?
Yes! We just played our reunion show (our first live-band gig since 2020) after the album dropped at Arlene's Grocery and we are planning for a couple more shows this fall. Dates are TBD so STAY TUNED! As a solo act, I'll be performing an acoustic set for The Songwriter Showcase on October 11th, 8pm ET hosted by Rory D'Lasnow. It's a virtual showcase - you can find more information @thesongwritershowcase on Instagram!
Do you have anything else you'd like to share?
I would only like to add: to anyone out there considering a big undertaking: whether it's writing a song for the first time, learning an instrument, or creating something big, the risk is worth it. Ask questions, talk to your friends, seek out mentors; do not wait for permission to do what you want to with your art because it may never come. Give yourself permission to be the artist you desire to be and the universe will follow suit!