Click Here for More Articles on Be More Chill
BWW Exclusive: The Many Faces of BE MORE CHILL's Jason SweetTooth Williams!
Perhaps no show is more chill right now than Be More Chill, which after celebrating a triumphant opening earlier this month, and selling out it's entire run beforehand, has already extended through

September 30

at the Irene Diamond Stage at The Pershing Square Signature Center

.
Enjoying the show's success is
Jason SweetTooth Williams, who plays multiple roles in the new musical, including Jeremy's Dad and Mr. Reyes. Below, Williams is taking us backstage for an inside look at the many characters that he brings to life eight times a week!
---
In BE MORE CHILL, I play 5 characters who come and go constantly. I change almost 20 times in the show and many of those changes happen in less than a minute. Some in far less time than that even. Doing this show is like running marathon (if I thought running marathons was fun). None of these changes could happen with out the fabulous dresser team (Maggie, Ashlynne, E.H., and Nicole) and these costumes wouldn't look nearly as fantastic were they not designed by the amazing Bobby Tilley. His work on the show is not-to-be-believed! So here is a story board of my nightly experience in BE MORE CHILL...
This is what I look like in my normal life. (Most of the time)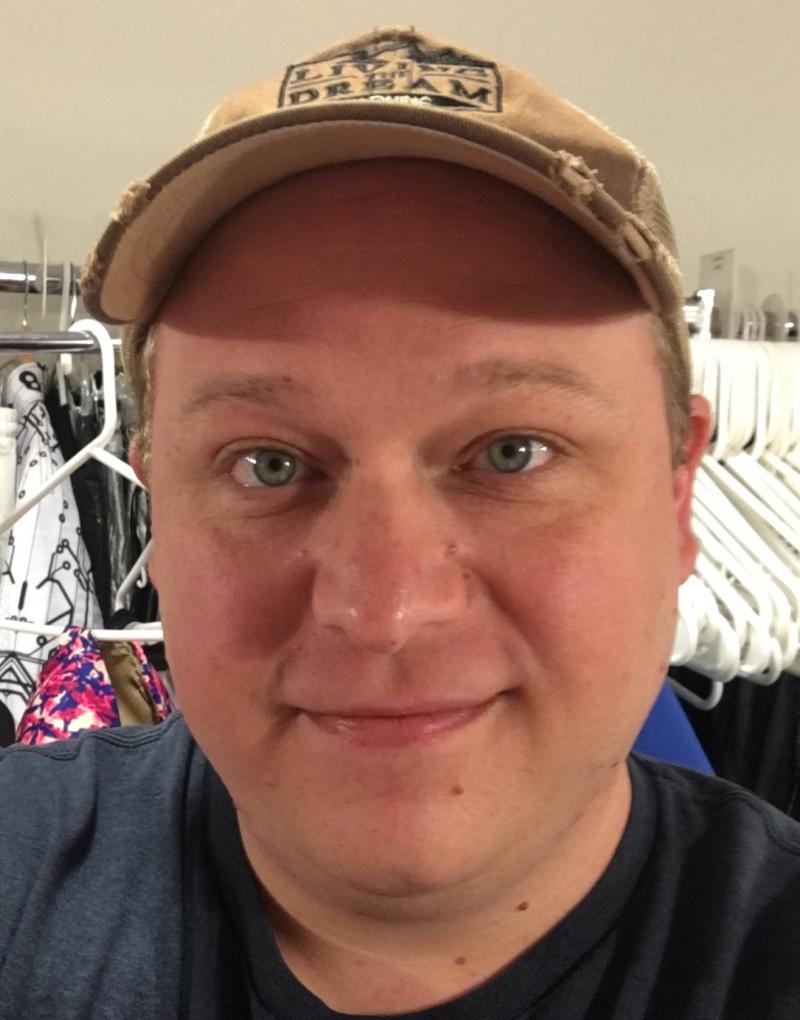 This is what I look like now that I do BE MORE CHILL every night. Shaving is a nightmare for me, but since I am a serious, committed theater artist, I suffer through.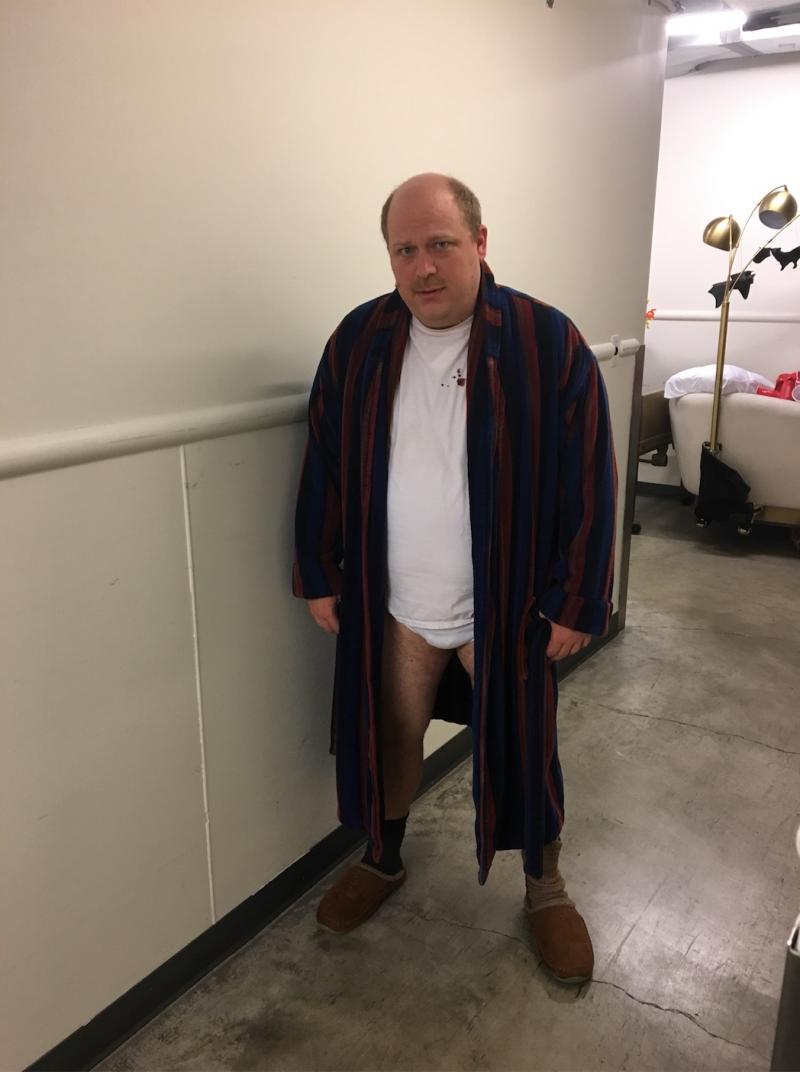 I start BE MORE CHILL as JEREMY'S DAD, a sweet but depressed man who, since his divorce, is struggling to find the motivation to even put pants on.
At school, I am MR. REYES, the fabulous drama teacher/ cafeteria worker who dreams of the bright lights of Broadway but must settle for small-town New Jersey. His self-written adaptation of Romeo and Juliet (set in a post-apocalyptic future) will certainly give the local drama club community something to talk about!
When Jeremy heads to the mall to buy a Squip (the pill-sized super computer that will help him be cool) he's gotta get it from this guy. SCARY STOCKBOY, or Kevin, as I've lovingly named him, has one of the more complicated costumes to put on (quickly, in-the-dark) but is maybe the most fun to play!
Once cool (thanks Squip!), Jeremy attends a huge Halloween party. One of the guests is this...person. GINGIVITIS is the hottest, most claustrophobic costume I wear in the show, but what a beauty! 'Nuff said.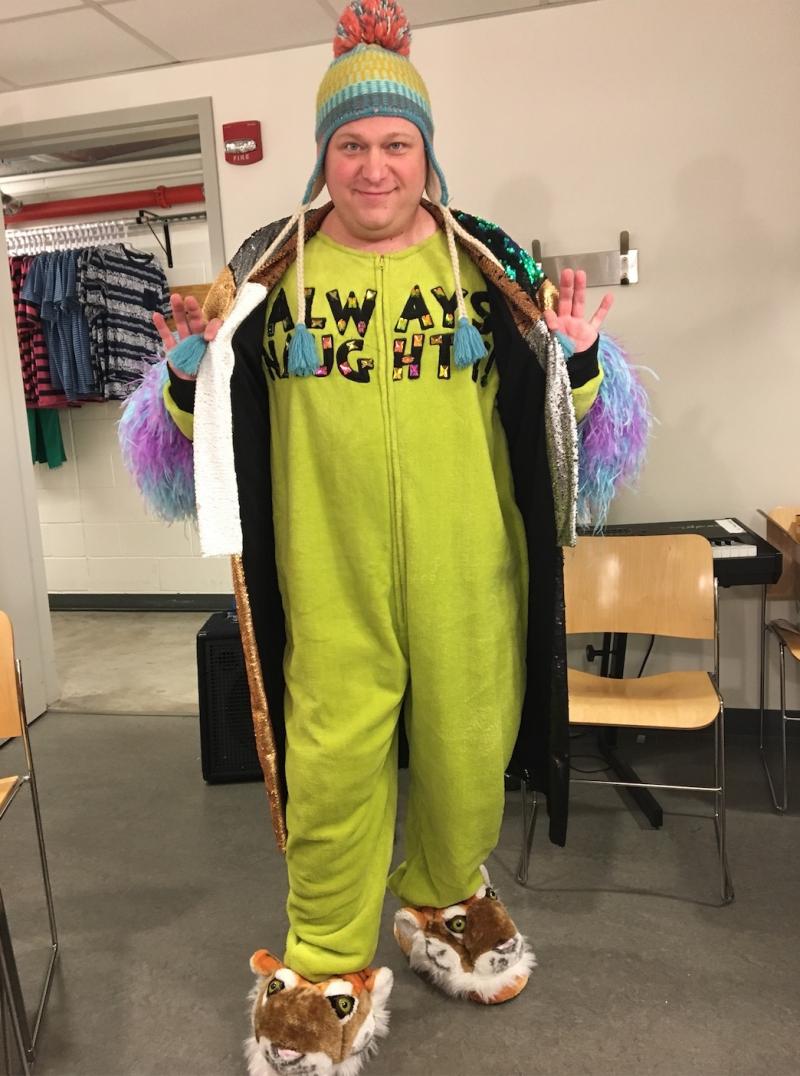 Crazy things go down at the party and gossip spread through the town like wildfire. This rando in his fancy pajamas can't help but spread the news in "The Smartphone Hour" (the high-octane, 21st century homage to "The Telephone Hour" from Bye Bye Birdie.)
JEREMY'S DAD, scared at seeing the path Jeremy has been heading down, confronts his son. Being called a "loser" by your son is hard, but it might just be the motivation you need to get out and actually do something to help him. At the very least, it's great motivation for my big number "The Pants Song". That's right, I do my big number in tighty-whities.
Back at school, it's opening night of the school play! MR. REYES welcomes you all to the show!
He also stars in it! When Jeremy is almost a no-show, MR REYES dons the ill-fitting space- zombie costume and things get...weird.
In the end, JEREMY'S DAD comes through for his son. It's true, "when you love somebody, you put your pants on for them."
---
See BroadwayWorld's opening night coverage of the show's off-Broadway run here and here! Check out all the reviews for the show here!
What if popularity came in a pill? Would you take it, no questions asked? In Be More Chill, achieving that elusive "perfect life" is now possible thanks to some mysterious new technology-but it comes at a cost that's not as easy to swallow. What could possibly go wrong? Blending the contemporary with retro sci-fi, this thrillingly exciting, comically subversive, and deeply felt new musical takes on the competing voices in all of our heads. And ultimately proves, there's never been a better time in history to be yourself-especially if you're a loser...geek...or whatever.
Related Articles

More Hot Stories For You
Check Out the Original Broadway Cast of HAMILTON's Latest Projects
What have the original cast members, ensemble members, swings, and standbys of Hamilton been up to lately? Check out their latest projects!...

Disney Employee Pulls the Curtain Back on What it is Like to Work at Disney World During the Pandemic
Rolling Stone has reported on a conversation they had with one Disney World employee, pulling the curtain back on issues of safety, whether social dis...

VIDEO: HAMILTON Fan Creates a Side-By-Side Comparison of 'Helpless' and 'Satisfied'
One Hamilton fan saw some parallels while watching the musical on Disney+, specifically between A Winter's Ball/Helpless and Satisfied....

VIDEO: On This Day, August 6- HAMILTON Opens On Broadway!
On this day in 2015, Hamilton officially opened on Broadway at the Richard Rodgers theater!...

Photo Flash: Berkshire Theatre Group's GODSPELL Takes Bows as First Equity-Approved Musical
The first musical in the United States to be approved by Actors' Equity Association has officially begun performances. Berkshire Theatre Group's Godsp...

Zach Braff Shares Tattoo Tribute to His Friend, Nick Cordero
Zach Braff is remembering his friend, the late Nick Cordero, in a special way. Tattoo artist Doctor Woo shared a photo of his depiction of Nick in Bul...