BWW Exclusive: Emerson College's Dr. Lee Pelton on Integrating Diversity, Equity and Inclusion at Broadway League Fall Forum
Over 100 members from 40 different markets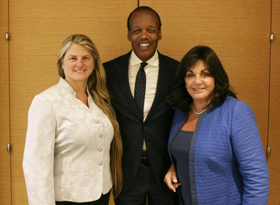 Over 100 members from 40 different markets attended The Broadway League's Audience Education and Engagement Fall Forum. Emerson College President, Dr. Lee Pelton, was this year's keynote speaker. The two day forum included a number of different topics including The Jimmy Awards, the Broadway Bridges program, program evaluations, technology & streaming and diversity.
The Broadway League is the national trade association for the Broadway industry. The 700-plus members include theatre owners and operators, producers, presenters, and general managers in North American cities. Each year, Broadway League members bring Broadway to more than 30 million people in New York and more than 200 cities across the U.S. and Canada.
Dr. Lee Pelton is the 12th president of Emerson College in Boston. He is a nationally and internationally known speaker and writer on the value of a liberal education and the importance of leadership development, civic engagement, and diversity in higher education. Dr. Pelton has been recognized in Boston Magazine's list of "100 Most Influential People in Boston" (May 2018), in its May 2017 Power Issue: The 21 Most Powerful People in Boston and most recently in Boston Business Journal's 2018 Power 50.
Dr. Pelton's speech was titled: "Integrating Diversity, Equity and Inclusion into an Organization's Culture" and it is printed with his permission below: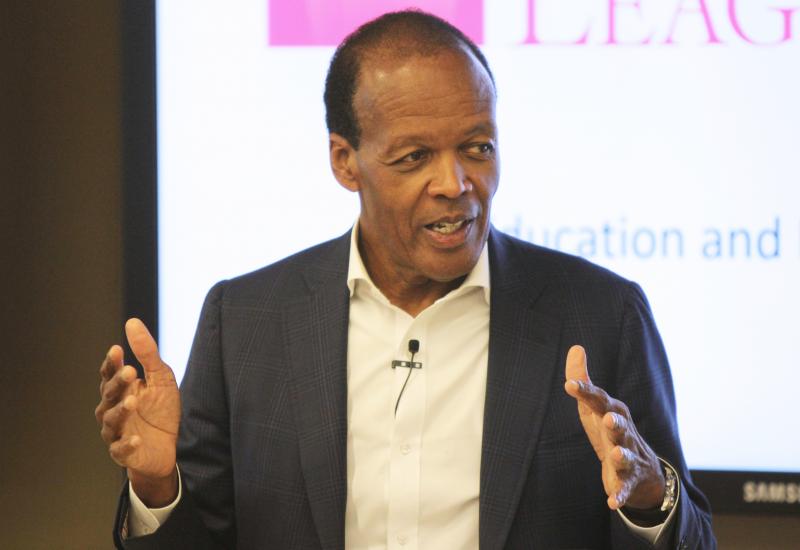 ---
Good afternoon! It's a pleasure to be here today. I'd like to thank and recognize the Broadway League for the important work they do, and the Forum Planning Committee for organizing today's gathering.
It's an honor to be part of today's forum, to share my thoughts on diversity, equity, inclusion, and leadership, and to talk about what we're doing at Emerson College.
I'm particularly honored to be speaking to all of you. You're at the forefront of theatre education, using theatre and the arts to educate and engage the next generation of actors, directors, artists, communicators, teachers, journalists, activists, and leaders who will shape our society and our future.
The theatre helps us explore new ideas and understand each other more deeply. The theatre teaches empathy and it increases our understanding of others-something our society so desperately needs. And at its best, the theatre lets us see past our surface differences to explore and come together around our common humanity.
Theatre is, as Thornton Wilder noted, "the most immediate way in which a human being can share with another the sense of what it is to be a human being."
And yet, not everyone has access to these transformative spaces. Not everyone has access to the inspiring ideas that come out of the theatre. Not everyone has access to the utter joy that comes from experiencing theatre.
At Emerson, we are actively working to make theatre and the arts more accessible, more inclusive, and more diverse. We're doing this in a number of ways.
The first is through ArtsEmerson, which is Emerson's professional presenting and producing organization and Boston's leading presenter of contemporary world theatre. ArtsEmerson engages communities through stories that deepen our connection to each other. It cultivates diversity on stage and in the audience, with the goal of igniting discussions around societal challenges as a catalyst for overcoming them. ArtsEmerson is committed to advancing equity through the arts.
You have only to look at any given season at ArtsEmerson to see this mission in action. For example, one upcoming performance-inspired by protests-centers on the injustice of the justice system, another on the harrowing risks of living under DACA. In all, four of the shows this coming season that humanizes our news headlines and invites necessary discussions around important topics.
ArtsEmerson is also focused on audience outreach and civic engagement. We have been able to be robust and strategic in this area, in part due to major grants that have brought diverse performance artists and playwrights to campus for year-long (or longer) residencies.
For example, beginning in 2014, ArtsEmerson partnered with performance artist Daniel Beaty on a multifaceted three-year program to explore the ways in which art has the capacity to help young people and their communities deal with the challenges of race, class, and inequality through performance and workshops.
As part of Mr. Beaty's residency at Emerson, ArtsEmerson produced Mr. Joy, which debuted in 2015 and has continued to delight and inform audiences. It's a transformative, one-person performance that explores race, class, and the pressures of gentrification, reminding us of the importance of community, of the ties that connect us to each other and to our larger community, and how we respond to events that shake our community.
This spring, for the third year in a row, ArtsEmerson is taking that show on the road into neighborhoods in and around Boston, offering residents free admission to the show. The neighborhood tour of Mr. Joy addresses and attempts to break down some of the barriers that residents feel, when art is concentrated in one area of our city.
Last year, generous foundation support brought to Emerson Claudia Rankine, a MacArthur "genius grant" winner and award-winning poet. Throughout her residency, she has shed a light on the role whiteness plays in race relations, through discussions and her new play, The White Card. At the same time, the Massachusetts State Legislature issued a commendation for ArtsEmerson in recognition of our work bringing performance, film, and discussions to the region's Cambodian communities.
Just this spring, ArtsEmerson was one of 15 organizations in changing communities in Massachusetts to receive funding for the Barr Foundation's ArtsAmplified initiative. The project encourages and supports artistic excellence, relevance, risk taking, and civic leadership.
And, given ArtsEmerson's focus on cultivating diversity in the art and in the audience, we recently launched the Gaining Ground Fund, which elevates and encourages the ambitions of the artists developing work that reflects the African Diasporic experience in America. The fund allows us to provide resources that enable artists to create work unimpeded by obstacles, remaining free to enliven their vision and control their artistic processes.
Emerson is also home to HowlRound, which is a free and open digital platform for theatre-makers around the world to come together to share ideas, resources, and expertise. It amplifies progressive, disruptive ideas about the art form and facilitates connection between diverse practitioners. It was founded in 2011 by individuals who saw too many voices left off our stages. The result was the creation of a platform that would amplify voices and issues chronically underrepresented and unheard in the theatre.
Cultural critic Todd London wrote that there have been three great eras in the nonprofit theater movement in this country. The first was the Federal Theatre Project under the WPA and the great Hallie Flanagan. The second was the regional theatre movement started in the early 1960s. And the third? "HowlRound's founding launched the era of the commons," he wrote. "The hallmark of this era is that no one is in charge, except us."
Earlier this summer, Emerson College celebrated an important milestone with the reopening of our historic Colonial Theatre, which is the oldest continuously operated theatre in Boston, as well as one of the most magnificent.
Emerson is thrilled to partner with the Ambassador Theatre Group, which has enabled us to restore the theatre, bring pre-Broadway performances back to Boston, enliven an already vibrant area of our diverse city, and it could open up additional educational experiences for Emerson students.
It's a win for Emerson and a win for the city of Boston, as it increases access to the arts by having another venue in our city for experiencing the benefits and joys of theatre and the arts. This summer, we opened with the pre-Broadway world premiere of Moulin Rouge The Musical.
The reopening of the Emerson Colonial Theatre is an important part of the College's long-term vision to enhance and enliven the vibrant downtown neighborhood where we are located.
We take seriously our role in stewarding theatre and the arts in Boston. We have long been committed to supporting and shaping the arts and cultural scene in our city. Our vision is deeply grounded in the idea that Emerson helps energize Boston, just as the College is energized by this city.
Since the 1990s, we have invested over $600 million in the downtown, and that work is ongoing. We're re-envisioning the area as a destination for all who live, work, study and visit Boston-and we're doing so in a way that inspires, embraces, and celebrates our great city's emerging diversity.
So far I have spoken about Emerson as a Boston institution. And certainly, we are proud to call Boston our home, as we have for the last 138 years. At the same time, we are astutely aware that an education for the 21st century is a global education. To make Emerson more accessible to more diverse populations, we must think and act globally.
To continue to fulfill our mission in an increasingly global world, we are creating a borderless campus. We see this work as vital to educating the world's future generations of artists and storytellers.
We recently announced a partnership, which is the first of its kind, with Paris College of Art to offer a joint Global Bachelor of Fine Arts Degree in Film Art. The new degree program creates something entirely unique-- a truly international education for globally aware and aspiring international film art students. Students will interact with and learn from artists and filmmakers from around the world. They will expand their intercultural competence and communication abilities. And they will be challenged to analyze their own assumptions and frames of reference.
The partnership is the first of several international degree programs that Emerson plans to establish as part of our Global Portals initiative. We are excited about future degree programs planned in Lugano, Switzerland; Barcelona, Spain; Sydney, Australia; and Hong Kong.
No matter in Paris or Boston or around the world, the arts contribute to the quality of life and they attract a creative workforce. In fact, the arts are powerful economic engines. They contribute significantly to our local and regional economy. This is especially true in Boston, where regional arts and cultural organizations directly infuse nearly $1 billion into the local economy each year, and provide 26,000 jobs[1].
And data from this very organization shows that the Broadway business is booming. Attendance to Broadway shows has been steadily climbing since 2013.
At Emerson College, the members of our community share an innate desire to imagine, to create, and to make a difference in the world. We are doing everything we can to ensure we provide the next generation of creators and storytellers with equitable access to an excellent education, and to the stages and venues where they can make change happen.
Likewise, your work in theatres around the country is critical to enabling audiences to experience the arts in new and diverse ways. And as the British poet John Keats wrote in a letter in 1819, "nothing ever becomes real till it is experienced."
The arts connect us to life's most enduring themes, they let us see with fresh eyes the landscape of human events and, of course, they help us understand the world in which we live.
We must continue to make the arts more accessible to more people. I know everyone in this room is committed to this work as we are at Emerson College.
In closing, let me say a few things about the world in which we live today and why what you do is so important, so vital to the unfolding of this grand experiment we call democracy.
We live in and are part of a special moment in American history. For many of you, this moment is characterized by resistance, persistence and insistence. Various aspects of it are known by names and acronyms - "Black Lives Matter," #Me Too, #Never Again, DACA.
Taken together, these acronyms represent a generational shift - a movement not yet named, populated mostly but not entirely of young people. It is a movement of idealism and hope and re-imagining our nation's motto: e pluribus unum - out of the many, one. It is a call to virtuous action.
There are also those who feel they have gained little from a borderless economy and imagine that they have much to lose from a threat to their national borders - a proxy for national identity. They struggle to hold on to their national identities as the working class and manufacturing companies among them cope with the unhappy consequences of a borderless economy and global corporatization. Many of them saw in their hopes for the future an iconoclastic outsider billionaire.
And, of course, there are those contemptible others who, having emerged from their dark and foul caves, spew their venomous hatred, creating havoc and fear. Though they are few in number, their despicable voices are loud. They represent the very worst of America and humanity, for that matter. They deserve our disapprobation in the strongest of terms.
The first two groups have something in common, though it is rarely acknowledged:
For each, the world, to paraphrase the concluding stanza of Matthew Arnold's melancholic poem, Dover Beach, the world
seems
To lie before [them] like a land of dreams,
So various, so beautiful, so new,
[And] hath really neither joy, nor love, nor light,
Nor certitude, nor peace, nor help for pain;
And [they] are here as on a darkling plain
Swept with confused alarms of struggle and flight,
Where ignorant armies clash by night.
And so it is: America is divided right down the middle. Ours is a nation at war with itself. But you didn't need me to tell you that. You already knew it. You live it every day, you feel it in your heart and along your blood.
And while this social, economic and political tug-of-war might seem new, it's not.
In fact, it is almost as old as the nation itself, most notably symbolized by a 19th century civil war that took the lives of roughly 2% of the U.S. population. Certainly, the decades long struggle for women's rights, particularly the right to vote and for biologic control (for which we use the imperfect short hand phrases "pro-choice" and "pro-life"), FDR's New Deal, the 20th century civil rights movement beginning with the desegregation of our public schools in 1954 and the Great Society in the mid 1960's, the bloody ongoing struggles in the '60's and early '70's (not only at home but abroad in places called Vietnam and Cambodia), the political and economic revolution of Ronald Regan and Morning in America and others represent battles - often generational battles of two nations as one or another belief system seeks ascendancy over the other.
But there is something profoundly different this time.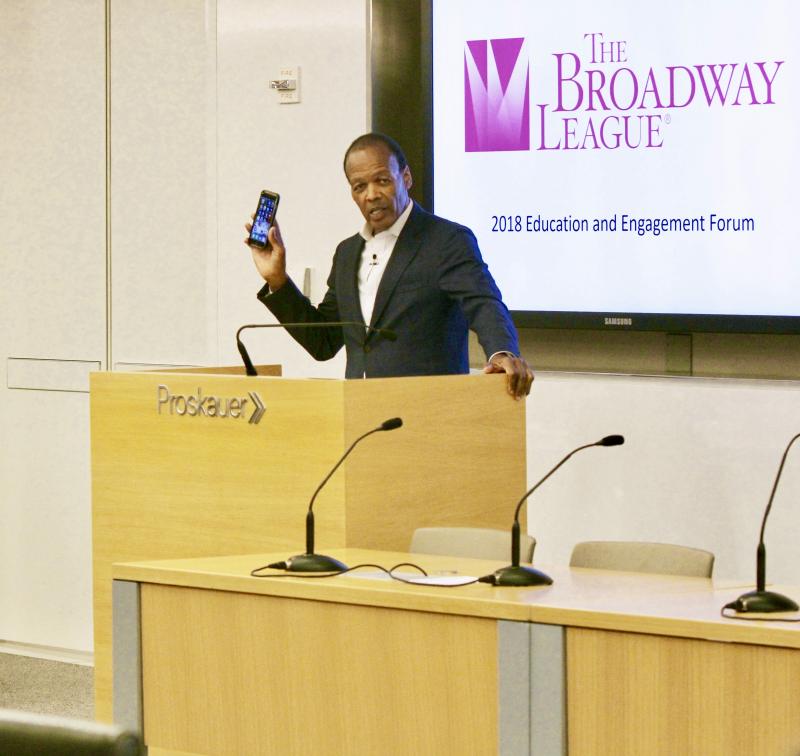 (Hold up iPhone) We anachronistically refer to this as a phone. It is not phone. It is a time machine - that is to say, it obliterates the distance between "I want it and "I have it." It allows us to purchase all manner of goods and services, merchandise, household appliances, furniture, rent apartments, rent out apartments, check in and out of hotels, manage our finances, deposit checks, move money from one account to another, buy books, watch films and television shows, create films and television shows, take photographs, receive photographs, listen to multiple music and news radio programs and podcasts, create music, read the news, create the news, play games, plan and navigate travel, order land, air and rail transportation, buy groceries, make dinner reservations or buy dinner and have it delivered, forecast the weather, find love, escape from love (or even from friends) in a blink of an eye. It wakes us up in the morning and tucks us in a night from a playlist of meditative chants and music. And the most anachronistic, old fashion app of the dozens on this time machine is, in fact, the phone.
Technology and social media in particular, challenge our conception of knowledge, truth and beliefs as the distinction between what is true and what is fabricated - but posited as true - becomes increasingly blurred. Because our access to content is so swift and uncurated, it is less knowable, less verifiable and more relativistic - more akin to reality television, which is not real at all, but rather a fictionalized, rehearsed, directed, staged and edited version of what is real. It is representational only, a shadow - sometimes a dark shadow - of what is true.
Social media unmediated, destabilizes and unsettles the truth. Truth is relative and fluid, not absolute and fixed.
In this convergent world, recorded history is everywhere and nowhere. In fact, today nothing is truly real until it has been digitally recorded on a time machine and then shared with others. Selfie anyone? Time has collapsed on itself.
Sadly, we live in a "heads down" world, not a "heads up" world. The heads down world is digital; the heads-up world is analog.
What have we missed, what will we miss, our heads down, our gaze fixed, as it were, on our time machines rather than the living, breathing world around us? If life is the process by which we comprehend the profound connectivity of the individual self to all that lies outside of the self, then what has been lost to us?
Is this our common humanity?
The theatre world is analog, not digital. It is a heads-up world the engages the fullness of our humanness. It helps us to not only see but experience in live real time the great issues of the day and the personal aspects how we move about in the world. It makes us both weep and laugh. It allows to see the world with fresh eyes and it takes us to physical and emotional places that would otherwise be unknown to us. It can be political without being polemic. It can inspire without being didactic. It is an elevated sense of enjoyment.
And it is a powerful instrument of change that renews and strengthens true quality in the world's life and asks us to make an honest appraisal of our culture, recognizing both its strength and its weakness, so that we see these aspects separately and fairly, and who then, not complaining, or criticizing unreasonably, or turning away in supercilious indifference, we set about working where we can - first of all perhaps with ourselves - to improve that culture and to make not its shabbiness but its goodness available to others.[2]
This is what you do. Our nation and the world are a better place for it. We need you more than ever.
Thank you.
---
For more information on The Broadway League see: www.BroadwayLeague.com
For more information on Emerson College see: www.Emerson.edu
---
[1] The Arts Factor, June 2014. ArtsBoston
[2] Nathan Pusey, The Quality of Life, Harvard Baccalaureate Sermon (1962), quoted in Values and the Elite Residential College, Peter J. Gomes, Daedalus, Winter, l999.
Photo Credit: Henry McGee