Anna Camp and Thomas Sadoski to Star in BELLEVILLE at Pasadena Playhouse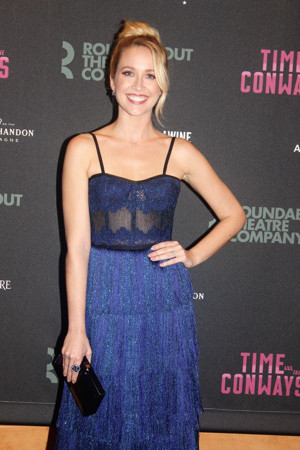 Pasadena Playhouse, the State Theater of California, announces a new Hitchcock-style drama Belleville by Pulitzer Prize finalist and Obie Award winner Amy Herzog. Performances run from Wednesday, April 18 to Sunday, May 13; the press opening is April 22.
The cast features Drama Desk Nominee Anna Camp (Pitch Perfect, Café Society, "True Blood," "Mad Men," "Unbreakable Kimmy Schmidt" and Equus on Broadway, opposite Daniel Radcliffe) and Tony Award Nominee Thomas Sadoski ("Life In Pieces," "The Newsroom," and reasons to be pretty and Other Desert Cities on Broadway).
Belleville, in its Los Angeles premiere, is the fourth production of the 2017/18 Centennial Season of Pasadena Playhouse, which also serves as Producing Artistic Director Danny Feldman's inaugural season. It will be followed by Culture Clash's Bordertown Now (May 29 - June 24, 2018).
Tickets for Belleville are now on sale at pasadenaplayhouse.org.
The play concerns young Americans Zack and Abby: they appear to be a perfect couple, with the perfect ex-patriot life in Paris - a funky bohemian apartment in up-and-coming Belleville, a stable marriage, and Zack's noble mission at Doctors Without Borders to fight pediatric AIDS. But when Abby finds Zack at home one afternoon when he's supposed to be at work, their marriage begins to show cracks as an ordinary night unravels into a modern-day thriller. Herzog's new play is a Hitchcock-style drama, and a captivating evening of intrigue and suspense.
"Belleville continues a rich history of the Playhouse by connecting great actors and great plays," said Danny Feldman, producing artistic director of Pasadena Playhouse. He continues, "We are thrilled to be bringing one of the brightest new voices in theater to LA for the first time being performed by two actors at the top of their game. "
Amy Herzog's work has been produced at Yale Rep, New York Theatre Workshop, Playwrights Horizons, Lincoln Center, Steppenwolf, and Donmar Warehouse in London, among others. She is a Pulitzer Prize finalist, a Drama Desk nominee, and has received the Best New American Play Obie Award (2012) for 4000 Miles, the Outer Critics Award for After the Revolution and The New York Times Outstanding Playwright award.
Belleville will be directed by Jenna Worsham. Worsham's Broadway credits include associate director to Pam McKinnon on The Parisian Woman with Uma Thurman at Hudson Theatre, The Heidi Chronicles with Elisabeth Moss, and an SCD Fellowship to director Sam Gold on Picnic with Ellen Burstyn and Mare Winningam for Roundabout Theatre Company.
Director Jenna Worsham adds, "The play reveals Amy's skill with constructing subtle devastations. It begins like a Monet painting - but by the end we're in the world of Francis Bacon. The audience is asking, 'How did I get here? What do I do now?' And it's the seemingly small secrets between intimate partners that have accumulated and brought us to this point. I love this about the play- that it makes us question if we can ever really know someone, given the rich and complex interior that is the human mind."
Charles Isherwood, in The New York Times, said, "Tragedy slips into the room quickly and quietly in Belleville, the extraordinarily fine new play by Amy Herzog. Every detail ... has been precisely calibrated to keep us aware of two things at once: that this couple is in some sense no different from many others in their intelligence and humor, their mutual love frayed by individual disappointments; but also that the possibility of violence of one kind or another is perhaps just a whisper away ... it's born of the sense that the person on the bed or the couch beside us has suddenly become a stranger, whose motives, needs, deepest desires are as unreadable as a map of a city we've never visited."
Chris Jones in the Chicago Tribune said, "Amy Herzog's play Belleville begins with a young American arriving home in the middle of the day to find her husband sitting at his computer, consuming pornography...or is this a telling clue that her seemingly charming husband, also an American adrift from the familiarity of home and trying to find himself in a snooty country, is not what he seems in all kinds of ways? This inciting incident has another advantage: It's just shocking enough for schadenfreude and just ubiquitous enough that a good portion of the audience either is remembering when something like this happened to them or contemplating what the fallout will be when it does.
"You know that something is up with this somewhat empathetic, somewhat terrifying couple, yet precisely what is up is metered out by Herzog only in very careful bites of information ... the narrative tension of a Hitchcockian thriller."
Belleville was first commissioned and produced by Yale Repertory Theater, under artistic director James Bundy and managing director Victoria Nolan, in New Haven, Connecticut, opening October 21, 2011.
ABOUT The Pasadena Playhouse -- The Pasadena Playhouse is a place where people have gathered for 100 years to experience bold and important theater. It is one of the most prolific theaters in American history with a legacy of profound theatrical impact and courageous new work. In 1937, the Playhouse was officially recognized as the State Theater of California for its contribution and commitment to the dramatic arts. Today it continues that tradition of excellence under the helm of producing artistic director Danny Feldman. Dedicated to enriching lives through theater, community programs and learning initiatives, Pasadena Playhouse is a living force in the community.
Zach and Abby are American newlyweds who have settled into an idyllic life in Belleville, a Bohemian neighborhood of Paris. But when Abby finds Zach home from work unexpectedly, their picture-perfect marriage begins to show cracks, putting their relationship to the test. Join stage and screen stars Anna Camp (Pitch Perfect, True Blood) and Thomas Sadoski (Life in Pieces, The Newsroom) for a captivating evening of intrigue and suspense as an ordinary night unravels into modern day thriller in this new Hitchcock-style drama.
BIOGRAPHIES
Amy Herzog'S plays include After the Revolution (Williamstown Theater Festival; Playwrights Horizons; Lilly Award), 4000 Miles (Lincoln Center; Obie Award for the Best New American Play, Pulitzer Prize Finalist), The Great God Pan (Playwrights Horizons), and Belleville (Yale Rep; New York Theatre Workshop; Steppenwolf in Chicago; Susan Smith Blackburn Prize Finalist; Drama Desk Nomination). Amy is a recipient of the Whiting Writers Award, the Benjamin H. Danks Award from the American Academy of Arts and Letters, the Helen Merrill, the Joan and Joseph Cullman Award for Extraordinary Creativity, and the New York Times Outstanding Playwright Award. She is a Usual Suspect at New York Theatre Workshop and an alumna of Youngblood, Play Group at Ars Nova, and the Soho Rep Writer/Director Lab. She has taught playwriting at Bryn Mawr and Yale. MFA, Yale School of Drama.
Jenna Worsham (Director) Broadway: The Parisian Woman by Beau Willimon (Associate Director to Pam McKinnon); The Heidi Chronicles (Associate director), Picnic (SDC Fellowship). Off-Broadway/regional: Agnes by Catya McMullen (upcoming at 59E59 Theatres); Dear by Lily Houghton (MCC, PlayLab Series), Blue Ridge by Abby Rosebrock (Williamstown); The Siblings Play by Ren Dara Santiago (Cherry Lane); Street Children by Pia Scala-Zankel (New Ohio Theatre, NY Times Critics' Pick), The First Immigrant by Martyna Majok (Williamstown); East Coast Curriculum by Lucy Thurber (Lee Strasberg Institute); Invincible Ones by Samantha Cooper (Signature Center/Columbia); Have You Been There by Emily Zemba (Rattlestick); Here to be Seen: Stories From Women in the System (featuring a cast of formerly incarcerated women; commissioned by the Brooklyn DA) Kids by Daniel Talbott (IRT) The Vagina Monologues for Taconic Prison. She has developed work and directed workshops for The Public, MCC Theater, Labyrinth, EST/Youngblood, Playwrights Horizons, MTC, Primary Stages, The Atlantic Theatre, The Drama league and Playmakers Rep, among others. Jenna is the recipient of a Drama League & Boris Sagal Directing Fellowship (Williamstown), a Jonathan Alper Directing Fellowship (MTC), two SDC Foundation Observerships, and a member of The Actors Studio Directors Unit, the Lincoln Center Theater Directors Lab, and an Affiliated Artist of New Georges. In 2014, Jenna co-founded Creative Solutions, a residency program at SPACE on Ryder Farm for social justice organizations and human rights advocates.
Anna Camp reprised her starring role of Aubrey Posen, the leader of the a cappella group, The Barden Bellas, in Pitch Perfect 3. Camp previously starred in Pitch Perfect, as well as Pitch Perfect 2. She was recently seen in Woody Allen's film Cafe Society, opposite Jesse Eisenberg, which premiered at the 2016 Cannes Film Festival. Other film credits include Brave New Jersey, One Night, Goodbye To All That, which premiered at the 2014 Tribeca Film Festival, and the Academy Award-nominated film The Help, opposite Emma Stone, Viola Davis and Octavia Spencer.
On television, Camp recently starred in Amazon's critically acclaimed 1970s newsroom drama, "Good Girls Revolt," based on the novel by Lynn Povich; the recurring role of Deirdre Robespierre on Netflix's "Unbreakable Kimmy Schmidt," created and produced by Tina Fey; and the vampire-hating role of "Sarah Newlin" on HBO's "True Blood" (Actors Guild Award nomination for "Outstanding Performance by an Ensemble in a Drama Series,"). Other television credits include: "Saints and Strangers," "The Good Wife," "Mad Men," "The Office" and "How I Met Your Mother."
On Broadway, Camp starred opposite Daniel Radcliffe in the 2008 Broadway revival of Equus, and in Mike Nichols' The Country Girl, opposite Morgan Freeman and Frances McDormand. Off-Broadway, she starred in All New People (Drama Desk Nomination), and The Scene, opposite Patricia Heaton and Tony Shaloub (Lucille Lortel Award nomination).
Thomas Sadoski currently stars on the hit CBS comedy series "Life in Pieces" which follows one family through the separate stories of its members driven by their ineptitudes and shortcomings. The series, also starring Dianne Wiest, James Brolin and Colin Hanks, is currently airing its third season. On the big screen, he was most recently featured alongside Shirley MacLaine and Amanda Seyfried in The Last Word, directed by Mark Pellington, and reprised his role as "Jimmy" in John Wick: Chapter Two, starring Keanu Reeves. He will next star in the independent comedy Mimic, which also stars Jake Robinson, Gina Gershon and Jessica Walter.
Sadoski has starred in and earned raves for his performances in a wide variety of Broadway and off-Broadway productions. Sadoski recently starred opposite Amanda Seyfried in the off-Broadway production of Neil LaBute's The Way We Get By and previously with LaBute on reasons to be pretty (Tony nomination in the Leading Actor Category, Drama Desk, Outer Critics Circle and Drama League Award nominations). Sadoski's other Broadway credits include Other Desert Cities (Obie Award), The House of Blue Leaves with Ben Stiller and Edie Falco, and Reckless, his Broadway debut opposite Mary-Louise Parker. Off-Broadway credits include Sam Mendes's Bridge Project productions of As You Like It and The Tempest (BAM, The Old Vic and a seven-country international tour), Becky Shaw (Lucille Lortel Award), This is Our Youth with Mark Ruffalo, the world premiere of Elizabeth Merriweather's The Mistakes Madeline Made, Gemini, Stay, Where We're Born, Jump/Cut, All This Intimacy, and The General From America. Additionally, Sadoski starred in a critically acclaimed production of David Sedaris's one-man show Santaland Diaries at New Haven's Long Wharf Theater, which was performed two consecutive seasons due to popular demand, and he has starred in five productions at the renowned Williamstown Theater Festival.
Sadoski's film credits include the critically-acclaimed film I Smile Back with Sarah Silverman and Josh Charles, the award-winning John Marc Vallee film Wild with Reese Witherspoon and Laura Dern, John Wick, with Keanu Reeves, Take Care with Leslie Bibb, as well as The Dramatics, 30 Beats, The New Twenty, Circledrawers, Loser, Happy Hour and Winter Solstice. In addition to his role as Don Keefer on HBO's Golden Globe-nominated Aaron Sorkin series "The Newsroom," his television credits include the NBC mini-series, "The Slap," a recurring role on "Law & Order: Special Victims Unit" and guest starring roles on and "Ugly Betty," "Law & Order: Criminal Intent" and "Law & Order."
A graduate of Circle in the Square Theater School in New York City, Sadoski has worked extensively to help develop new theatrical works at New Dramatists, The Lark, The Eugene O'Neill Theatre Center and The Sundance Institute. In his free time he works closely with the charity group Refugees International, of which he is also a board member.
Photo Credit: Linda Lenzi