American Composers Orchestra's Commission Club Supports N.Y. Premiere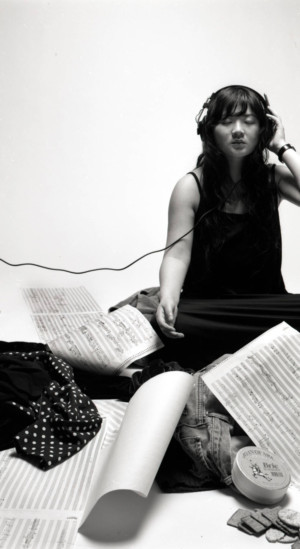 In the 2018-2019 season, American Composers Orchestra's Commission Club will support Pulitzer Prize Winner Du Yun as she creates Where We Lost Our Shadows (co-commissioned by ACO, Carnegie Hall, The Kennedy Center, Southbank Centre, and Cal Performances) which will receive its New York premiere on April 11, 2019 at Zankel Hall at Carnegie Hall. A new multidisciplinary work for orchestra, film, and vocalists, Du Yun is composing Where We Lost Our Shadows with film captured by Ramallah-based Palestinian visual artist Khaled Jarrar, which documents the refugee crisis in Europe. The piece will be performed by ACO with singer Helga Davis, Pakistani Qawwali singer Ali Sethi, and percussionist Shayna Dunkelman.
"Du Yun is one of the most exciting and creative voices of her generation, and as in our inaugural season of ACO's Commission Club last year, we want the process and honor of commissioning composers to be open to everyone," says ACO President Ed Yim. "This group will take a deep dive into the creative process through intimate, fun and social experiences."
Members of ACO's Commission Club invest in the lifespan of a commission: from the composer's first kernel of artistic inspiration to the realization of the music as a printed score, the early rehearsals and through the premiere performance. Collectively, the Club members support fees paid to the composer, printing and engraving costs, as well as rehearsal and production costs related to the concert premiere. Throughout the season, members are invited to exclusive preview events with the composer to learn about the composer's vision, hear excerpts of the work in-progress, and experience a full orchestral rehearsal of the piece before its premiere.
Commission Club Membership is $500 ($300 for Young Professionals 40 years old and under) with the following benefits:
Enjoy insider's access to the creative process with invitations to two preview events with composer Du Yun
Observe the composer interacting with conductor George Manahan, ACO musicians, and soloists Helga Davis, Ali Sethi, and Shayna Dunkelman with an invitation o attend a working rehearsal of the full score, prior to the premiere
A pair of tickets to the premiere performance on April 11, 2019 at Zankel Hall at Carnegie Hall*
A hand-signed copy of the score with your name on the dedication page of the printed score
Each membership is for two people: the primary member and a guest.
(*Fair market value of two concert tickets is $50; tax-deductible portion of gifts are $250 and $450, respectively.)
To join the Commission Club, visit bit.ly/ACOCommission, or contact Lyndsay Werking by email at lyndsay@americancomposers.org or by phone at 212.977.8495 ext. 204.
Commission Club 2018-2019 Dates
Preview Event #1: Monday, October 15, 2018 / 6:00-7:30pm at a Private Residence
Preview Event #2: Wednesday, January 23, 2019 / 6:00-7:30pm at a Private Residence
Working Rehearsal: Wednesday, April 10, 2019 / 2:00-5:30pm at DiMenna Center
New York Premiere Concert: Thursday, April 11, 2019 / 7:30pm at Zankel Hall
American Composers Orchestra's 2018-2019 Concerts at Carnegie Hall
Friday, November 2, 2018, at 7:30pm
Zankel Hall at Carnegie Hall | 57th St. and 7th Ave., NYC
Tickets & Information: www.carnegiehall.org
George Manahan, music director and conductor
Imani Winds (Valerie Coleman, flute; Toyin Spellman-Diaz, oboe; Mark Dover, clarinet; Jeff Scott, horn; Monica Ellis, bassoon)
Meaghan Burke, voice
Amber Treadway, director
Storm Garner, costume designer
VALERIE COLEMAN: Phenomenal Women Concerto for Wind Quintet and Orchestra (World Premiere, co-commissioned by ACO and Carnegie Hall)
JOAN TOWER: Chamber Dance (2006)
ALEX TEMPLE: Three Principles of Noir (World Premiere, commissioned by ACO)
Thursday, April 11, 2019, at 7:30pm
Zankel Hall at Carnegie Hall | 57th St. and 7th Ave., NYC
Tickets & Information: www.carnegiehall.org
George Manahan, music director and conductor
Helga Davis, vocalist
Ali Sethi, vocalist
Shayna Dunkelman, percussion
Khaled Jarrar, videographer
MORTON FELDMAN: Turfan Fragments (1980)
GLORIA COATES: Symphony No. 1, "Music on Open Strings" (1973)
Du Yun: Where We Lost Our Shadows (N.Y. Premiere, co-commissioned by ACO, Carnegie Hall, The Kennedy Center, Southbank Centre, and Cal Performances)
The 28th Annual Underwood New Music Readings
Thursday, May 23, 2019 and Friday, May 24, 2019
NYU's Loewe Theater | 35 West 4th St., NYC
ACO's Underwood New Music Reading & Commission gives emerging composers the rare opportunity to work with an orchestra through public readings, professional development workshops and feedback sessions with conductors, musicians and mentor composers. One participating composer receives a $15,000 commission and future performance by ACO.
About American Composers Orchestra
American Composers Orchestra (ACO) is dedicated to the creation, celebration, performance, and promotion of orchestral music by American composers. With commitment to diversity, disruption and discovery, ACO produces concerts, K-12 education programs and emerging composer development programs to foster a community of creators, audience, performers, collaborators, and funders.
ACO identifies and develops talent, champions established composers as well as those lesser-known, and increases regional, national, and international awareness of the infinite variety of American orchestral music, reflecting gender, ethnic, geographic, stylistic, and temporal diversity. To date, ACO has performed music by 800 American composers, including over 350 world premieres and newly commissioned works. ACO recordings are available on ARGO, CRI, ECM, Point, Phoenix USA, MusicMasters, Nonesuch, Tzadik, New World Records, InstantEncore.com, Amazon.com and iTunes.
In the 2017-2018 season, ACO presented two concerts at Carnegie Hall's Zankel Hall, coproduced the NY premiere of the acclaimed opera Fellow Travelers in collaboration with the PROTOTYPE Festival, and celebrated its 40th Anniversary Season with a gala concert at the Rose Theater at Lincoln Center. On the gala concert, the New York Times noted, "this essential ensemble has helped define what it means to be American in 2017, embracing gender, ethnic, national and stylistic diversity. [The] varied program offered exhilarating evidence." The 2018-2019 season brings premieres of works by Alex Temple, Pulitzer Prize Winner Du Yun, and Valerie Coleman as well as works by American icons such as Joan Tower and Morton Feldman.
Through the Underwood New Music Readings each year, ACO selects up to six emerging composers to travel to New York City to meet with artistic staff, orchestra members - including the conductor and mentor composers - and spend three days working with the orchestra. At the program's conclusion, two composers are awarded $15,000 commissions to write new works to be performed by ACO in a future season. Nationally, EarShot enables orchestras across the country to identify talented young composers. With guidance from ACO, partner orchestras - such as the Detroit Symphony, the Berkeley Symphony and the Buffalo Philharmonic - undertake readings, residencies, performances and composer-development programs that speak directly to their communities and leverage local resources. A new platform for commissioning participants of EarShot readings is slated to begin in the 2018/2019 season.
For nearly two decades, ACO has brought composers and musical teaching artists into New York City public schools through Music Factory. Students in Brooklyn, Bronx, Manhattan and Queens, work directly with professional composers to create and perform original music. ACO also offers the intensive Compose Yourself seminars, during which high school composers will participate in hands-on composition classes, culminating in a performance of student compositions played by ACO's professional musicians.
For more information, visit www.americancomposers.org.
Related Articles
More Hot Stories For You
Andrea Bocelli Will Stream A Live Performance From The Duomo In Milan On Easter Sunday
On Easter Sunday, April 12, Italian tenor and global music icon Andrea Bocelli will give a solo performance at the historic Duomo, the cathedral of Mi... (read more)

Idina Menzel, Ben Platt, Josh Groban and Many More Join SATURDAY NIGHT SEDER Benefit
Saturday Night Seder — a Passover Seder on Saturday, April 11 (the fourth night of Passover) — will be different from all other nights, as a panoply o... (read more)

VIDEO: The Marsh Family is Back With Another LES MISERABLES Cover
The Marsh family is back with another Les Miserables cover!... (read more)

VIDEO: Actor Handcuffed by LAPD While Making Self-Tape of August Wilson Monologue
When LA-based actor Tyree Freely began creating his self-tape for Leah Daniels-Butler Casting's Quarantine Monologues project, he didn't realize that ... (read more)

Breaking: Broadway Shutdown Extends To June
In accordance with guidelines from the Center for Disease Control (CDC) and under the continued direction of Governor Andrew Cuomo, Broadway shows in ... (read more)

THE BOOK OF MORMON National Tour Announces Closing
After 2,828 performances and 360 playing weeks across North America, the producers of THE BOOK OF MORMON announced today that the Jumamosi Company (se... (read more)