Alan Alda Reveals He Has Parkinson's Disease On CBS This Morning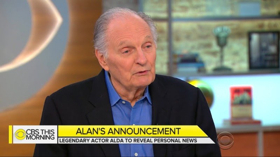 According to CBSNews.com, Alan Alda has revealed he has Parkinson's disease. In an appearance on "CBS This Morning" Tuesday, the award-winning actor said he was diagnosed with the disease three and a half years ago. See the full clip/read the full article from CBS here.
"I've had a full life since then," he said. "I've acted, I've given talks, I help at the Alda Center for Communicating
Science
at Stony Brook. I started this new podcast. And I noticed that - I had been on television a lot in the last couple of weeks talking about the new podcast - and I could see my thumb twitch in some shots and I thought, it's probably only a matter of time before somebody does a story about this from a sad point of view, but that's not where I am." Alda is best known for his relatable portrayal of Army Capt. "Hawkeye" Pierce in CBS' "M*A*S*H," which connected viewers to life on the front lines of war. The Emmy and Golden Globe winner has worked in all genres from dramatic films like "The Aviator" to his comedic turn in "Tower Heist" and a politically charged role as a senator on "The West Wing." He also hosted PBS' "Scientific American Frontiers" for 13 years and now teaches acting techniques to scientists and entrepreneurs to help them connect better with their audiences. The ability to engage with people clearly, he says, is the key to greater understanding for everyone.
Alan Alda, 7-time Emmy Award-winner, played Hawkeye Pierce and wrote many of the episodes on the classic TV series M*A*S*H, the final episode of which was seen by more than 105 million people, still a record audience. Alan has starred in, written and directed many films, and was nominated for an
Academy Award for his role in The Aviator. He has appeared in continuing roles on ER, The West Wing, 30 Rock, The Blacklist, Louis CK's Horace and Pete, and CBS's new streaming series The Good Fight.
His skills as an interviewer were honed for 11 years on the award-winning PBS series Scientific American Frontiers where he interviewed hundreds of the world's greatest scientists. Using his experience as an actor in relating to the people he interviews, he has brought out their humanity and humor, while lending clarity to sometimes complex ideas.
This became the basis of the work of the Alan Alda Center for Communicating Science, which has trained over 11,000 doctors and scientists to be world class communicators. Alan is the author of several New York Times Best Selling books, the most recent being the 2017 break out book on relating and communicating, "If I Understood You, Would I Have This Look on My Face?" The book, which has also been #1 on Amazon's top seller list for business and communication, explores the importance of relating in every line of work, and in every aspect of our lives.
Alan is also the founder and CEO of Alda Communication Training (ACT), which supports the Alda Center by helping to provide global workshops for STEM and business professionals seeking to better their communication and leadership skills.
Alan is also launching a podcast, "Clear+Vivid with Alan Alda" in July of 2018. The podcast will be available on Apple Podcasts and on his official website at: AlanAlda.com
Alda's stage credits include Broadway: Love Letters, Glenn Garry Glenn Ross (Tony nomination), QED, Art, Jake's Women (Tony nomination), The Apple Tree (Tony nomination) and The Owl and the Pussycat, Cafe Crown, Fair Game For Lovers, Purple Victorious, and Only In America. For the complete list, click here.
Related Articles
More Hot Stories For You