Ailey's 2018 Lincoln Center Five-Day Engagement Begins June 13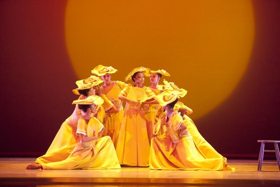 Alvin Ailey American Dance Theater, led by Artistic Director Robert Battle, will return to Lincoln Center for the Performing Arts for a five-day, seven-performance engagement at the David H. Koch Theater from June 13-17. Highlights include a free "Celebrating Revelations" Workshop on Lincoln Center's Josie Robertson Plaza and the world premiere of Jessica Lang's 100th work EN on Wednesday, June 13; The Ailey Spirit Galabenefit performance and party on Thursday, June 14; a family matinee performance followed by a Q&A session with the dancers on Saturday, June 16; and culminating performances on Father's Day, Sunday, June 17. The Company welcomes three former Ailey II dancers - Khalia Campbell, Courtney Celeste Spears, andChristopher R. Wilson - who take the stage for a diverse season with three stirring programs. For the comprehensive season release with details on the repertory and programs, click here.
Wednesday, June 13
FREE "Celebrating Revelations" Workshop on the Plaza - 6pm
Dance lovers of all ages and levels are invited to participate in a free "Celebrating Revelations" Workshop on Lincoln Center's Josie Robertson Plaza (10 Lincoln Center Plaza). Ailey Master Teacher and National Director of AileyCamp Nasha Thomas leads the workshop, and former Company dancer Renee Robinson will join her in teaching movements from Alvin Ailey's must-see masterpiece that has seen by more people around the world than any other modern dance work. This event kicks off Ailey's celebration of NYC Dance Week, a citywide festival from June 14-23, with over 30 free dance and fitness classes offered at Ailey Extension (405 West 55thSt.). Click here for Ailey Extension's complete NYC Dance Week schedule.
*Rain date: Thursday, June 14 at 5:30pm
Celebrate Women - 7:30pm performance
Program Featuring Works by Three Trailblazing Female Choreographers
The Celebrate Women program features works choreographed by three award-winning choreographers - the Ailey choreographic debut for Jessica Lang with the world premiere EN, whose multiple meanings in Japanese signify circle, destiny, fate, and karma; Artistic Director Emerita Judith Jamison's A Case of You, an emotional and sensual duet performed to Diana Krall's version of the Joni Mitchell song by the same title; and Urban Bush Women founder Jawole Willa Jo Zollar's Shelter, a gripping portrait of homelessness that includes a new ending with revised text highlighting recent hurricanes and how our shelter can be threatened by climate change.
The Celebrate Women program debuts on 6/13 and will be performed again on 6/16 (eve). The complete schedule is below.
Thursday, June 14 - 7pm
The centerpiece of Alvin Ailey American Dance Theater's Lincoln Center engagement is The Ailey Spirit Gala, a one-night only benefit performance and party. The benefit honors Jaishri Kapoor and Vikas Kapoor for their remarkable support of the Ailey organization, their dedication to Ailey's educational initiatives, and Jaishri's leadership as an Ailey Trustee. Actor, singer, and activist Jussie Smollett, who stars on Fox's Empire and recently released his debut album Sum of My Music, has been announced as Honorary Chair. Guests will be treated to one-night-only performances featuring inspiring dancers from AileyCamp in a hip-hop/modern fusion work by instructor Jonathan Lee and Ailey II's Marcus Williams, dedicated to hip-hop legend Prodigy of Mobb Deep and in honor of the program's 30th year; gifted young dancers from The Ailey School showcasing their talents in Ailey Artistic Director Robert Battle's Battlefield; rising stars of Ailey II in an excerpt of Juel D. Lane'sTouch & Agree; and Alvin Ailey American Dance Theater in an excerpt of Jamar Roberts' Members Don't Get Weary. Following a memorable Revelations finale, a festive soirée takes place on the promenade with musical stylings by DJ M.O.S.
Prominent figures in the worlds of entertainment, business, philanthropy, and politics will be in attendance. Expected guests include La La Anthony, Damaris Lewis, Debra L. Lee, Don Lemon, Judith Jamison, Robin Roberts, Susan L. Taylor, Cicely Tyson, Darren Walker, and Joan & Sandy Weill. Gala Co-Chairs Stephen Meringoff & Kim Charlton, Almaz & Marc S. Strachan, and Daria L. & Eric. J. Wallach; and Vice ChairsMichele & Timothy Barakett, Robyn & N. Anthony Coles, Leslie & Tom Maheras, and Pamela D. Zilly & John H. Schaefer will join Artistic Director Robert Battle and the dancers for the gala performance as well as the dinner and dancing that follows.
OTHER HIGHLIGHTS
Family Matinee - Saturday, June 16 at 2pm
Following the Musical Icons Saturday matinee program, the entire family is invited to stay in the theater for a free Q&A with the Ailey dancers, moderated by Rehearsal Director and Guest Artist Matthew Rushing.
Father's Day - Sunday, June 17 at 3pm and 7:30pm
Two exciting Sunday programs offer an unforgettable Father's Day experience for parents and kids. At 3pm, enjoy the Ailey, Then & Now program, featuring works by choreographers central to the Ailey repertory; at7:30pm, the Musical Icons program is sure to move the whole family with ballets set to music by legendary artists.
Ticket to Dance
"Ticket to Dance" welcomes audience members to try their first Ailey Extension class FREE with the presentation of a performance ticket (returning students receive a free class with the purchase of a 10-class card). The offer is valid for 60 days from the performance date. Ailey Extension has fulfilled Alvin Ailey's life?long commitment of bringing dance to everyone by offering "real classes for real people" in 25 different dance and fitness techniques, seven days a week at The Joan Weill Center for Dance.
Lincoln Center Season Programming - Subject to Change
Celebrate Women: EN / A Case of You, Shelter / Revelations
Wednesday, 6/13 at 7:30pm, Saturday, 6/16 at 8pm
The Ailey Spirit Gala: Performances by AileyCamp, The Ailey School, Ailey II & Alvin Ailey American Dance Theater, incl. Revelations
Thursday, 6/14 at 7:00pm
Ailey, Then & Now: Stack-Up / Mass, In/Side / Revelations
Friday, 6/15 at 8:00pm, Sunday, 6/17 at 3:00pm
Musical Icons: The Golden Section / Members Don't Get Weary / Ella, Revelations
Saturday, 6/16 at 2:00pm*, Sunday, 6/17 at 7:30pm
*Family Matinee - followed by a post-performance Q&A session with the dancers
Photo: AAADT in Alvin Ailey's Revelations. Photo by Gert Krautbauer