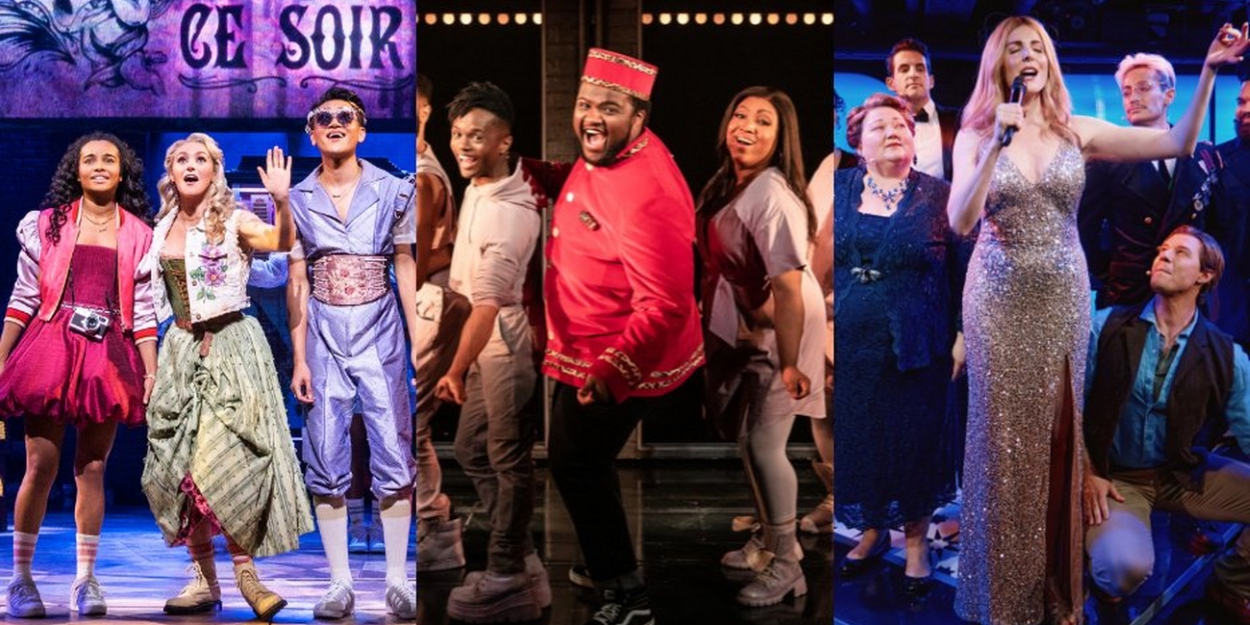 & JULIET, TITANIQUE & More Nominated For Queerties Awards
The Awards are taking place February 28th in Los Angeles.  
Queerty, the LGBTQ+ entertainment news site, is announcing its nominees for The 11th anniversary Queerties awards, taking place February 28th in Los Angeles.
The Queerties is a celebration of entertainment and pop culture moments that defined the past year in the LGBTQ+ community. It is designed to uplift and spotlight LGBTQ+ creators, tastemakers, and storytellers who are not often recognized at other award shows.
& Juliet, Titanique, A Strange Loop, Melissa Etheridge: A Journey Through Life, Take Me Out, Drag: The Musical, The Collaboration, Fat Ham, Merrily We Roll Along, and Best of Enemies are nominated in the Live Theatre category.
Rosie O'Donnell, Jim Parsons, Jinkx Monsoon, Keke Palmer, and David Archuleta are among the nominee for the Badass award.
Reneé Rapp is nominated for Favorite Insta-Follow.
Anything's Possible, Better Nate Than Ever, and The Inspection were nominated for Best Studio Movie.
Michaela Jae Rodriguez was nominated for Best Performance in a TV Show, with Conrad Ricamora, Stephanie Hsu, and Jeremy Pope garnering nominations for Best Performance in a Film.
The Little Mermaid, The Color Purple, and Legally Blonde 3 are all nominated for The Next Big Thing Award.
Nominees for The Queerties were selected by the editorial team at Queerty. Winners will be voted on by Queerty readers from now through February 21. Categories range from the "Badass" award, honoring the top LGBTQ+ newsmakers, to "Drag Royalty," and "Closet Door Bustdown", an award recognizing brave notables who shook up mainstream America with their coming out stories.
This year's event honors Dylan Mulvaney, an actress who documented her gender transition to her ten million followers on TikTok, and musician Rufus Wainwright. Gay music artist VINCINT will perform at the ceremony.
For more information on The 11th Annual Queerties Award Show and to vote for your favorite nominees, visit here.
---
11th Queerties Award Nominees
BADASS
Rosie O'Donnell
Yasmin Finney
Ryan O'Connell
Ts Madison
DRAG ROYALTY
Victoria E. Black
Alaska 5000
Militia Scunt
Honey Mahogany
Raja
Victoria Scone
Hot Chocolate/Larry Edwards
Tenderoni
Eureka O'Hara
Willow Pill
FUTURE ALL-STAR
Kerri Colby
Jasmine Kennedie
Miss Fiercalicious
Angeria Paris VanMicheals
Tempest DuJour
Kornbread
Thirsty Von Trapp a.k.a Mark Indelicato
Plastique Tiara
Vanessa Vanjie Mateo
Jorgeous
PODCAST
Sibling Rivalry
Hall and Closet
Still Processing
Breakfast Buffet
Hi Jinkx!
Vibe Check
MLVC: The Madonna Podcast
Las Culturistas
FANTI
Lez Hang Out
CLOSET DOOR BUSTDOWN
Ellia Green
Queens of Drag Race Season 14 (Kerri Colby, Bosco, Jasmine Kennedy, Kornbread, & Willow Pill)
Noah Schnapp
TJ House
Kit Connor
Maybelle Blair
FAVORITE INSTA-FOLLOW
Jazz Jennings
TonyTalks
Dominique R Jackson
GFlip
Matt Bernstein
Benito Skinner
FAVORITE TIK-TOKER
Juwan Gutierrez
Chris Olsen
Kelon
Garret Clayton
Henry Jiménez Kerbox
Emira D'Spain
Austin Cho
Boman Martinez-Reid
Ebony and Denise (@Team2Moms)
BREAKOUT MUSICAL ARTIST
Madison Rose
Gia Woods
Omar Rudberg
Lagoona Bloo
Ocean Kelly
Omar Apollo
Zee Machine
Chappell Roan
Doechii
COMIC
Matt Rogers
Sherry Cola
Matteo Lane
Dewayne Perkins
Mae Martin
Meg Stalter
Nicole Byer
LIVE THEATER
& Juliet
Titanique
A Strange Loop
Melissa Etheridge: A Journey Through Life
Take Me Out
Drag: The Musical
The Collaboration
Fat Ham
Merrily We Roll Along
Best of Enemies
MUSIC VIDEO
"C'mon Loretta" by Trixie Mattel
"Let Go & Your Name" by Shea Coulee
"The Loneliest Time" by Carly Rae Jepsen ft. Rufus Wainwright
"Becky's So Hot" by Fletcher
"Black" by Bob the Drag Queen, Basit, & Ocean Kelly
"i get high" by Jordy
"This Hell" by Rina Sawayama
"The Curse of the Blackened Eye" by Orville Peck
"AMEIANOITE" by Pabllo Vittar & Gloria Groove
"Away From You" by Zach Campbell
ANTHEM
"Unholy" by Sam Smith ft. Kim Petras
"You and Me On The Rock" by Brandi Carlile ft. Lucius
"What I Want" by MUNA
"Everybody's Gay" by Lizzo
"Hold Me Closer" by Elton John & Britney Spears
"Booty" by Santana & Latto
"COZY" by Beyonce ft. Honey Dijon & Ts Madison
"Boys Don't Cry (Live)" by Anitta ft. Miley Cyrus
"Bad Habit" by Steve Lacy
"Boyfriend" by Dove Cameron
STUDIO MOVIE
Anything's Possible
Bodies Bodies Bodies
Bros
Everything Everywhere All At Once
Fire Island
Better Nate Than Ever
My Policeman
Spoiler Alert
Tár
The Inspection
TV COMEDY
A League Of Their Own
Hacks
Heartstopper
I Love That For You
Reservation Dogs
Smiley
Sort Of
The White Lotus: Sicily
Uncoupled
What We Do In The Shadows
TV DRAMA
American Horror Story: NYC
Elite
Euphoria
Interview With The Vampire
P Valley
Queer As Folk
Severance
The L Word: Generation Q
Welcome To Chippendales
Young Royals
REALITY/DOCU-SERIES
Trixie Motel
Bargain Block
Legendary
The Andy Warhol Diaries
The Book of Queer
The Big Brunch
The Boulet Brothers' Dragula: Titans
Lesbian Bar Project
Queer for Fear
We're Here
PERFORMANCE - TV
Abbi Jacobson - A League Of Their Own
Bilal Baig - Sort Of
Devery Jacobs - Reservation Dogs
Harvey Guillén - What We Do In The Shadows
Jeff Hiller - Somebody, Somewhere
Joe Locke - Heartstopper
Michaela Jae Rodriguez - Loot
Murray Bartlett - Welcome To Chippendales
Nicco Annan - P Valley
Vico Ortiz - Our Flag Means Death
Emma D'arcy - House Of The Dragon
Johnny Sibilly - Queer As Folk
PERFORMANCE - FILM
Amandla Stenberg - Bodies Bodies Bodies
Ben Aldridge - Spoiler Alert
Billy Eichner - Bros
Eva Reign - Anything's Possible
Conrad Ricamora - Fire Island
Jamie Clayton - Hellraiser
Janelle Monáe - Glass Onion: A Knives Out Mystery
Jeremy Pope - The Inspection
Stephanie Hsu - Everything Everywhere All At Once
Troye Sivan - Three Months
INDIE MOVIE
Benediction
Close
Firebird
Girl Picture
Joyland
Please Baby Please
The Swimmer
Three Months
We're All Going To The World's Fair
Wildhood
DOCUMENTARY
A Sexplanation
All Man: The International Male Story
All The Beauty And The Bloodshed
Framing Agnes
George Michael: Freedom Uncut
God Forbid
Mama's Boy
Access All Areas: The AAA Girls Tour
Holding Moses
Stay On Board: The Leo Baker Story
WEBSERIES
Interested In
Avocado Toast
Adam In Fragments
The Michael Henry Cinematic Universe
WeHost with Zach Noe Towers & Darren Bluestone
IMHO: The Show
The Walk In with Mo Heart
Moonie
Translation
I Need Space
BEST READ
Just By Looking At Him by Ryan O'Connell
You Gotta Be You by Brandon Kyle Goodman
The One You Want To Marry by Sophie Santos
Let's Not Do That Again by Grant Ginder
Working Girls by Trixie and Katya
Daughters of the New Year by E.M. Tran
The You Kind of Kind by Nina West
This Time For Me by Alexandra Billings
Miss Memory Lane by Colton Haynes
My Government Means To Kill Me by Rasheed Newsom
NEXT BIG THING
The Little Mermaid
Nyad
Fellow Travelers
Legally Blonde 3
The Color Purple
Yellowjackets
Oppenheimer
Barbie
Rustin
They Both Die At The End
GIRL, BYE
Ron DeSantis
Ginni Thomas
Elon Musk
George Santos
Laura Ingraham
JK Rowling