BWW Review: OUR TOWN at Perseverance Theatre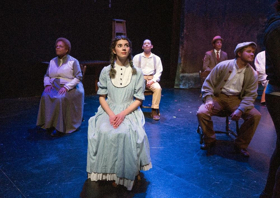 Perseverance Theatre kicked off its 2018/2019 season with the Pulitzer-winning Thornton Wilder classic Our Townlast Friday night.
Our Town, directed by Art Rotch,is a play within a play. The Stage Manager (Irene Bedard famous for her film roles in Smoke Signalsand Disney's Pocahontas) shows us around Grover's Town, New Hampshire, at the turn of the last century. Mrs. Gibbs (Shadow Meienberg) and Mrs. Webb (Valorie Kissel) gossip. Reporter Mr. Gibbs (Brian Wescott) answers questions about the town. This town is like any other small town in America. We meet Emily (Ashleigh Watt), and her childhood friend George (Ty Tamaoka). Like in any town, in any story where there are two young people, the two fall in love and get married. And, like in any town, death is an eventual part of life.
Perseverance's rendition of Our Townfollows the play's tradition of performing with minimal sets and props. The costuming (Elizabeth Rocha) sets the town. Bedard props emphasize this is a play-within-a-play by using props from today such as a traditional hat from Southeast Alaska. There seems to be no rhyme or reason as to what props were actually present as opposed to mimed, which proved distracting. The minimal set is comprised mainly of wooden chairs and ladders that move purposely throughout the space to great effect. On opening night Bedard's microphone caused a distracting amount of feedback throughout the first act--a technical problem which was thankfully resolved after intermission.
There were no weak actors in this performance. Bedard delivered an energetic, sometimes whimsical, performance as the Stage Manager, yet was also able to suck the audience in during more serious scenes. Wescott delivers another solid performance. Caleb Bourgeois playing the minor role of Simon Stimson showcased great physicality.
The first two acts pass by in a slow-paced predictable fashion. The third act, however, is why you go to Our Town. The pace changes. Bedard starts slowly moving chairs while laying on some heavy philosophical verses. The lights turn eerie. The audience hangs on every word. This is not a performance that you will leave in a good mood, rather one to leave you thinking.
If you are looking for some intense drama, go see Our Townfor its heart-wrenching finale. Our Town is playing now through November 25that the Sydney Laurence Theatre. Tickets are available at CenterTix.net.
Photo Credit: Julie Coppens
Related Articles View More Anchorage

Stories

Shows
Mary McCormick was born and raised in Anchorage, AK. Her passion for musicals took center stage after seeing Beauty and the Beast and Thoroughly Modern (read more...)