The Adobe Theater to Present INHERIT THE WIND in March
Performances run March 3 – 26, 2023.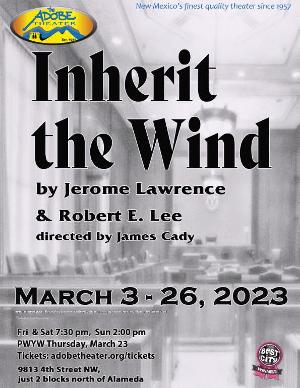 The Adobe Theater will present the Jerome Lawrence and Robert E. Lee play which premiered in 1955 and bring 28 actors to its stage, directed by James Cady. Philip J. Shortell and Paul Ford play the roles of Henry Drummond (based on Clarence Darrow) and Matthew Harrison Brady (based on William Jennings Bryan) respectively. Joining them are 26 actors of the Albuquerque theatre community, most of whom will be easily recognized from the many times they have performed in Albuquerque, along with a few newcomers.
This enthralling drama is a fictionalized account of the 1925 Scopes "Monkey" Trial, which resulted in John T. Scopes' being convicted for teaching Charles Darwin's theory of evolution to a high school science class, contrary to a Tennessee law. The character of E.K. Hornbeck was fabricated from H.L. Mencken, the journalist who covered the trial for The Baltimore Sun newspaper. The reality of the real trial and the fictionalized writing of Lawrence and Lee is stark. James Cady opines that the theme, the very essence of this great American courtroom drama (considered one of the best in American theatrical history), remains the same. Freedom and the right to THINK!
Performances run March 3 - 26, 2023. Fridays and Saturdays at 7.30pm, Sundays at 2pm. There will be a Pay What You Will performance on Thursday, March 23 at 7.30pm.
For more information, go to www.adobetheater.org or call 505-898-9222. Please check our website or call for current COVID-19 guidelines.