SISTER'S EASTER CATECHISM Comes To Popejoy Hall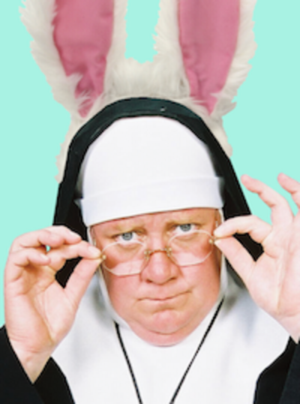 The latest project of the Late Night Catechism series, Sister's Easter Catechism: Will My Bunny Go to Heaven? takes the Popejoy stage, Sunday, April 7 at 3:00pm. This one-woman show features Sister, a forthright nun, during her classroom lesson about the Easter Holiday. She covers questions from "Why does Lent exist?" to "Do animals really go to heaven?" In this uproarious production, audience members become her classroom pupils and are tested on their Easter knowledge.
Premiering in May 1993, Late Night Catechism served as a fundraising effort after the eradication of Social Security for nuns in the Catholic Church. Today, with three other productions, Sister's Christmas Catechism: The Mystery of the Magi's Gold, Sister Strikes Again!: Late Night Catechism 2 and 'Til Death Do Us Part: Late Night Catechism 3 the production brings a facetious explanation for everything pious. Don't be surprised if your entire world is shattered at the wag of Sister's index finger.
Other shows include Sister Rolls the Dice and Sister's Summer School Catechism: God Never Takes a Vacation!, as part of a Vegas series. Initially written by Vicki Quade and Maripat Donovan, Late Night Catechism is the longest running show in Chicago history and the longest running one-woman comedy in off-Broadway history. It has raised funds for many groups and churches throughout Illinois, as well as other parishes throughout the nation and globally. Sister's Easter Catechism has brought insight to the significance of the Vernal Holiday, since its debut in March of 2011, with Maripat Donovan leading the Easter egg hunt as Sister.
With rewards for good behavior and chock-full of fun and games, this production will leave you duly prepared for your Easter Holiday celebrations. The Easter show is the third to visit Popejoy, following both Late Night Catechism and Sister's Christmas Catechism. Classroom participation is a must, so be sure to bring your burning questions and inquiring minds! Proceeds earned during the show will directly benefit the School Sisters of St. Francis at Monocacy Manor in Bethlehem, Pennsylvania.
Tickets for Sister's Easter Catechism are on sale for $59, $45, $35, and $25.Tickets may be purchased at the UNM Ticket Offices located at the Dreamstyle Arena (The Pit) or at the UNM Bookstore. Online purchasing is available at popejoy presents.com or unmtickets.com. To charge by phone, call (505) 925-5858 or (505) 277-0388. Group orders may be placed by calling (505) 277-1569 or emailing groups@popejoypresents.com.