Restless Dance Launches $100k Fundraising Campaign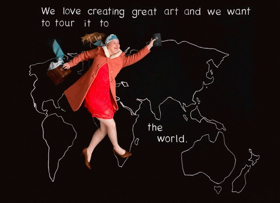 Adelaide's award winning Restless Dance Theatre, Australia's leading dance theatre company for young people with a disability aged up to 26 years, has announced its most ambitious fundraising campaign to date.
Entitled Restless Goes Global the campaign is a multi-level matching fundraiser which will run from 19 March through until 4 May. It is designed to provide funds towards finishing the company's new work, Zizanie directed by Meryl Tankard and towards costs associated with touring Restless works nationally and internationally over the coming years.
The Restless Goes Global campaign begins with a target of raising $25,000. Once this amount has been reached two current donors to Restless Dance Theatre, James Darling AM and Lesley Forwood will match that sum with a further $25,000 to bring the total to $50,000. In addition, Restless was successful in receiving funding from Creative Partnerships Australia's Plus1 matched funding program, which then means a commitment to matching the $50,000 with a further $50,000 to the campaign to a total of $100,000. Anything raised beyond this is a much welcome bonus.
Restless Dance Theatre will launch the campaign on 19 March via Facebook, E-Newsletter and other channels. A promotional film clip for the campaign may be viewed here https://youtu.be/k4ErhNvJbeo
His Excellency The Governor The Honourable Hieu Van Le AC and Mrs Lan Le will host a reception at Government House on 21 March to acknowledge the supporters of Restless Goes Global.
Restless Artistic Director Michelle Ryan said, 'Restless is at a significant moment in its history. The success of our multi-award winning work Intimate Space and our highly anticipated work Zizanie (set to premiere in 2019) sees Restless on the cusp of rapid growth and increased demand. We want to leverage this momentum and so we have strategically positioned ourselves to tour nationally and internationally over the coming years. Now we need to financially prepare ourselves!
'With private donors secured to match our company target of $25,000 and Plus1 doubling our total dollar, every donation we secure will be quadrupled and Restless will be well resourced to respond to the touring invitations we are receiving.
'Restless Goes Global will provide our artists with the life changing opportunity of 'going global'. For Restless, the concept of "Going Global" is about connection between our Company and audiences across the world. It speaks of building our profile and celebrating our unique dancers with and without disability and the incredible art they create. We invite everyone to be one of our supporters and, at the same time, quadruple their donation dollar! We are most grateful for all contributions, big or small.'
Tax deductible donations to the Restless Goes Global campaign may be made via this link http://www.givenow.com.au/restlessgoesglobal or by visiting the Restless website here http://restlessdance.org/quadruple-your-donation/ and follow the links. Donation forms are also available from the Restless Dance Theatre office at 195 Gilles Street, Adelaide SA 5000. Post a cheque or money order to Restless Dance Theatre at 195 Gilles Street, Adelaide SA 5000.
Restless is currently preparing to present twenty performances of its acclaimed 2017 Adelaide Festival production Intimate Space from 4 to 7 April in Surfers Paradise as part of Bleach* at Festival 2018 within the arts and culture program of the Gold Coast 2018 Commonwealth Games.
Restless is Australia's leading dance theatre company working with young people with and without disability to collaboratively create outstanding inclusive dance theatre informed by disability.
Restless Dance Theatre is supported by the Dance Board of the Australia Council, the Federal Government's arts funding and advisory body, and by the South Australian Government through Carclew, Arts South Australia and the Department for Communities and Social Inclusion. The company is also supported by the James and Diana Ramsay Foundation and the Sidney Myer Fund.
Restless Goes Global is generously supported by James Darling AM and Lesley Forwood. Restless Goes Global is supported by Creative Partnerships Australia through Plus1.