HER GREEN HELL Comes to VAULT Festival in February
Performances run 21-26 February, 2023.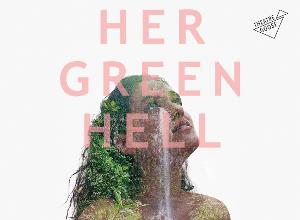 TheatreGoose's thrilling debut show, Her Green Hell, follows the incredible double survival story of Juliane Koepcke.
After surviving a fall of 10,000ft from an exploding plane, Juliane, the daughter of two Amazon zoologists, must endure 11 days alone in the Peruvian rainforest as she fights for her life.
An epic journey of perseverance, courage, and ingenuity in the face of insurmountable fear, it is as much about the rainforest's struggle to survive, as it is Juliane's, suggesting what we might learn about ourselves by looking to nature with heart-wrenching tragedy and real sparks of hope.
Her Green Hell is a show to experience rather than watch. A cross between Complicite's The Encounter, and Touching the Void, this is a one-woman-show like you've never seen before. Immersive, inventive, escapist, intimate storytelling.
TheatreGoose is an emerging company with a distinctive visual and physical style, telling stories that reach for deeper meaning in our shared reality, led by writer and director Emma Howlett. After resounding success as a student company, this is TheatreGoose's professional debut.
Fifty years on from the events that inspire the show, TheatreGoose brings the Amazon rainforest to The Vaults beneath our very own corporate jungle through their spellbinding combination of physical theatre and puppetry.
Dates/Times: 6:35pm 21-24th February, 6:05pm 25th February, 3:10pm & 6:05pm 26th February (60mins)
Venue: Cage, The Vaults, Leake Street
Tickets: https://cloud.broadwayworld.com/rec/ticketclick.cfm?fromlink=2221763®id=4&articlelink=https%3A%2F%2Fvaultfestival.com%2Fevents%2Fher-green-hell%2F?utm_source=BWW2022&utm_medium=referral&utm_campaign=article&utm_content=bottombuybutton1