BWW Review: THE CONVERT, Young Vic

The movie Black Panther was one of the most talked about films of 2018, becoming the highest-grossing solo superhero film and the ninth-highest-grossing film of all time. Now two of the stars of the film are working together again in The Convert at the Young Vic.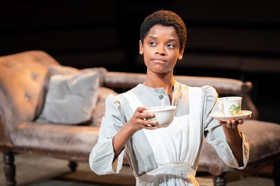 Written by Danai Gurira and starring Letitia Wright, who were both in the blockbuster movie, it tells the story of a young woman named Jekesai (Wright) from Rhodesia, now Zimbabwe, in the late 1890s.
After her father dies, her aunt Mai Tamba (Pamela Nomvete) helps her to get a job with her master Chilford (Paapa Essiedu), a Roman Catholic missionary who hopes to one day become a priest.
When Chilford takes her into his home employing her to cook, clean and attend school, Jekesai is saved from being forced into marrying an old man with numerous wives. Chilford tells her that it is Jesus who has saved her from the miserable life her uncle wanted her to live, and she is so grateful that she turns to Christianity.
Chilford renames her Ester, and her desire to learn and please her master means that she eventually turns her back on her history, her family, her cultural rituals and her mother tongue (Shona); speaking only English and following the Christian way that Chilford sets out for her.
Ester accompanies Chilford as he attempts to convert the local people. However, a Shona revolt begins as they challenge the rule of the British imperialists, and those who have previously displayed sympathy for white people are in the firing line. Soon enough, Ester heartbreakingly discovers that the white people that she held in such high regard are not the merciful, loving and forgiving beings she thought they were.
Language, body language and clothes are all expertly used as a way to emphasise the differences between Ester and her family and Chilford, Prudence and Chancellor who have all adopted Western culture. The whole play centres around Chilford's home and Naomi Dawson's set is simple but attractive.
Wright perfectly showcases the change in Ester, from Jekesai, a young woman from the village who is prone to outbursts and unable to control her emotions to a righteous, westernised woman with a solid grip on the English language. In many ways it's sad to see this change in her as the audience is very much aware of what she's being encouraged to give up and leave behind.
Essiedu as the deeply religious Chilford stands straight in his tight buttoned up clothes, only straying away from this when displaying annoyance or anger by bouncing up and down on his toes, or twitching his fingertips. He is determined to live a good Christian life and although he verges on annoying at times with his pretentious manner, his humorous quips make him endearing.
There is also superb support from Luyanda Unati Lewis-Nyawo, a well-educated, pipe-smoking feminist who encourages Ester to rekindle her mother tongue and maintain the rituals that have been passed down through the generations, and Rudolphe Mdlongwa as Tamba, Ester's cousin and closest confidant.
While the format of this play is very traditional and old-fashioned in its three-act structure, this is a riveting take on a historical story. With so many twists and turns, there is plenty to keep the audience gripped throughout the three-hour production.
The Convert at Young Vic until 26 January, 2019
Photo Credit: Marc Brenner
Related Articles