BWW Interview: Russell Grant Talks STRICTLY and THE GOLDEN AGE OF DANCE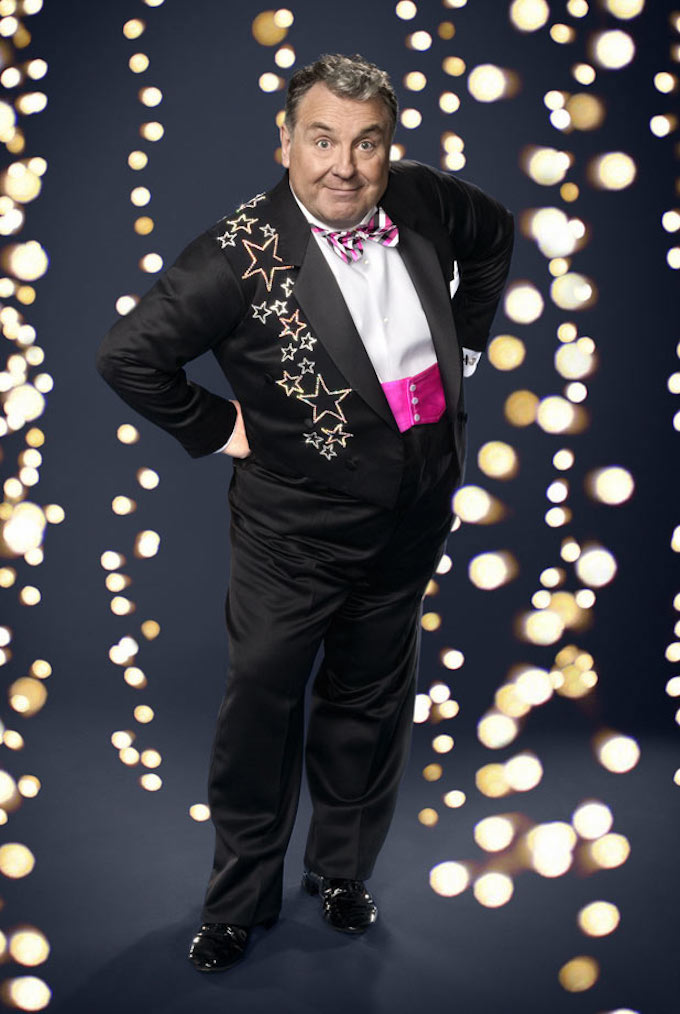 Since winning hearts during his stint on Strictly Come Dancing, partnered by Flavia Cacace, actor and astrologer Russell Grant has starred in Hairspray, Grease and The Wizard of Oz. He's now hosting The Golden Age of Dance, a celebration of great dance numbers from classic films like Top Hat, Follow the Fleet, Swing Time and Shall We Dance, featuring a company of West End dancers and The Novello Orchestra. The show is at London's Theatre Royal Drury Lane on 13 November and Wales Millennium Centre on 15 November.
What was your first response to the project?
When my agent rang me up and said "Would you like to a do a Bruce and host it?", I said I could never surpass Bruce, but looking at the whole production planned out, I thought "It's so me!" I love dance, I've got musical theatre experience, plus my family is all about movies. My mother was a contract secretary at Pinewood and my father was a draftsman - he worked on Blithe Spirit, and Cleopatra with Burton and Taylor.
Did you watch those classic movies growing up?
Yes, and I'm still watching them! I love them all: Bette Davis, Joan Crawford, Rita Hayworth, Ingrid Bergman. I met Ginger Rogers when she came to London for Mame and I just swooned. That's when stars were stars - they could all sing, dance and act. When you look at Fred Astaire and Eleanor Powell tap dancing together, it's mind-blowing. He said she was the only woman who could match him step for step. I'd love to learn how to tap, even at 65! It's just heaven.
But it was really revolutionary too - when you look at Gene Kelly and Cyd Charisse, they were bursting through the old way of doing things. Probably my favourite routine ever is in Kiss Me, Kate, with Bob Fosse and Ann Miller - it's still extraordinary, like nothing else - and I also adore Cyd and Fred Astaire doing "Dancing in the Dark" in Band Wagon. It's effortless.
What's your role in the show?
I'll be going on before each number and giving the audience some background information - every routine has a wonderful story. I'm researching those now, which is probably the most enjoyable part, because I get to watch all these amazing dances on YouTube. And it's great fun getting all the behind-the-scenes tales - like when Ginger Rogers wore that marvellous ostrich feather dress in Top Hat, Fred Astaire hated it, because the feathers went absolutely everywhere!
It's also fantastic to be in a venue like Theatre Royal Drury Lane, with such amazing history. I've never played it, but I've been there loads as a member of the audience - I remember great performances, like Dora Bryan and Billy Boyle in Hello, Dolly! back in the Sixties. And I can't wait to go back to Cardiff as well, where I had a wonderful time doing Hairspray.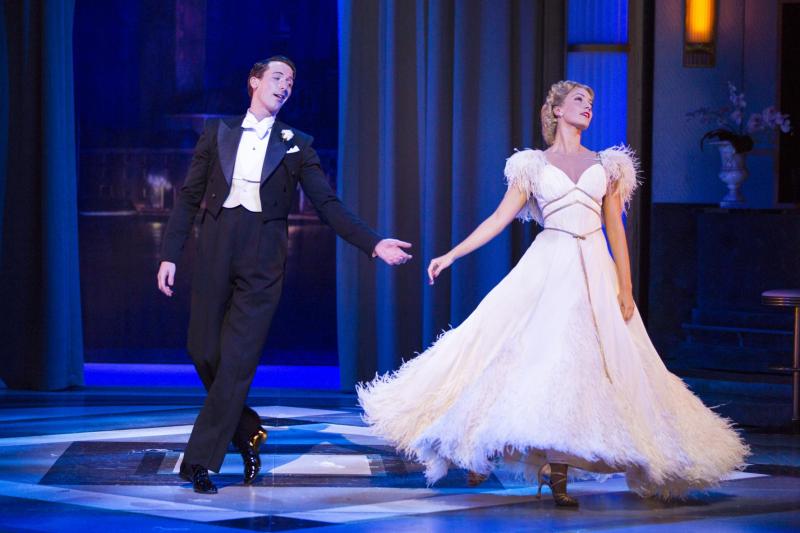 Tell us about the team involved
There's a wonderful team for this show - all these amazingly talented dancers and musicians. Charlotte Gooch and Alan Burkitt were both fabulous in Top Hat, and when Flavia and I were practising for Strictly, they were rehearsing for that next door, so it feels like it was all meant to be. And of course Alan's brought that wonderful work to Strictly too. David Mahoney I've known for a number of years, as we're both such Ivor Novello fans - he's named his orchestra after him, and I chose Ivor when I went on Great Lives. It's wonderful to have a live orchestra, giving you the full experience of these great numbers.
Does doing Strictly give you more of an appreciation for the dances?
It really does. I just loved the whole experience, and it keeps giving me joy. Flavia is unbelievable, such a star, and we're still in touch two or three times a week. It's wonderful to be back in the West End together - last time, I was at the Palladium doing The Wizard of Oz when she was doing Midnight Tango. We'll definitely go off for one of our meals after the show. She's just the most unaffected, gorgeous person. Joanne Clifton as well, who I partnered for the Christmas special. Her Singin' in the Rain number with Ore is my favourite so far.
I also love what Greg and Natalie are doing - he's got that Olympian spirit, and Natalie's an amazing teacher. And Danny Mac is completely fabulous. Judge Rinder is just camper than camp - I had to ask someone, "Is he a real judge?" I'm so upset for Will Young. A friend of mine is his manager, and I know it was hard, they had long discussions about it. In the end he did the right thing for him - you have to do what makes you comfortable. I'm sad to see Lesley go too. She's like Anita Dobson - you know you've got a real trouper there.
Who would you like to see follow Len?
I've heard Gary Edwards being toted - he'd be a wonderful judge. He talks just like Len, and what he doesn't know about dance... I went with him to the International Ballroom Dancing Championships at the Albert Hall last year, and his knowledge is just amazing. And he's also a really kind, lovely man - he'd be the perfect antidote to Craig!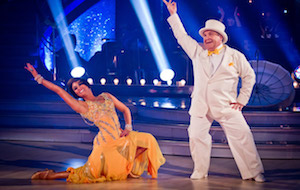 What do you think about the judges' comments on balancing dancing with comedy?
Well, we said from the beginning, Flav and I, that there would be no big lifts! You have to know your limitations. Ed Balls has got time to write books, but Katya has to go on and dance. Neil, Katya's husband, is such a kind, good man - I really hope he gets a celebrity next year. I'm sure he's on hand. It was different in my year, as there were more untrained celebrities, so you perhaps didn't have the same pressure to go big early on.
In terms of balancing, that was clever of Flavia. She figured out what worked for me. My whole thing was about performance, because of the musical theatre experience, so we did fun things like the Brideshead homage with the teddy bear, or a paso nod to Benny Hill, but we did try to do the steps too. The public love the performance, but the judges have to see the steps and technique. I think it's harder for someone without a performance background to juggle all of that and find the right balance.
How do you deal with the judges' criticism?
You do have to be hard-nosed. I know Will didn't leave because of Len's comments, but it can be hard to take. You have to remember it's all a performance - everyone has a role to play. Craig's the mean one on the show, but I got to know the real Craig and he's lovely. When I did my "Venus" number, he was the first one coming up to say hi and take a selfie. And you never know where it'll lead. I had no idea I'd be walking straight into Andrew Lloyd Webber's arms afterwards. So you take it on board, you keep working hard, and just enjoy it all.
The only thing is I wish I'd done it in my twenties, when my joints much better. Though it is a bit annoying when they make a big deal of someone's age, like Lesley this year. I know Anita Dobson hated it when the papers went on about it. Sometimes you don't want to be reminded! But it was a wonderful experience, and I'm thrilled to be back on It Takes Two this Friday.
Have you kept dancing?
Yes, I now teach passengers on P&O cruises how to cha cha, samba and salsa. Tess Daly said to me "Strictly is the gift that keeps on giving", and it's really true. I'm also learning to be a disc jockey. There was me thinking you still turn up with your vinyl and turntables, but it's all Apple Macs. I've come to the stage of my life where I love my music - it's where I began. Whether it's Matt Bianco, Dusty Springfield, The Supremes, I really want to share their music, so that's my big project for next year. One thing I won't ever stop is dancing - and talking about it!
Are you tempted to do a number in The Golden Age of Dance?
Well, I did actually get an email from Alan saying "There's a couple of things I want to put you into", so who knows! I did a Fred Astaire homage in Wizard of Oz. But really, if I can do it, anyone can. I hope people get inspired and get dancing themselves after seeing this wonderful show. It's glamour and it's pure joy.
The Golden Age of Dance is at Theatre Royal Drury Lane on 13 November and Wales Millennium Centre on 15 November
Picture credit: Max Lacome-Shaw
Click below to watch a trailer for The Golden Age of Dance
Related Articles View More UK / West End

Stories

Shows