2018 Year in Review: Gary Naylor's Best of Theatre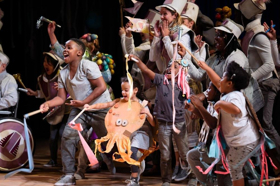 In 2018, I saw 101 productions, ranging from black box theatres with more actors in the cast than punters in the stalls to huge productions at the Royal Opera House and London Coliseum. But the diversity of venues was matched by the diversity of subjects and genres - though, not yet, by the diversity of casts, creatives and audiences.
Much-needed steps in the right direction were evident in the National Theatre's extraordinary, life-affirming Pericles, a show that invited London - messy, awkward, (yes) diverse London - into its auditorium, onto its stage and into our hearts.
It was a "You had to be there" moment, because the bubbling joy cannot be captured on the page, but it was so real to all of us who witnessed it. I reckon Shakey, always a man with an eye to a bigger house, would have enjoyed it.
There was something of that same theatrical magic at work at 9.30am on a sunny September morning at a Dagenham comprehensive, where the National Theatre launched its schools tour of The Curious Incident Of The Dog In The Night-Time. To see the faces we usually see raised but momentarily from their phones, transfixed by a tale that spoke directly to them in language they understood (and, hence, respected), was a reminder of the power of theatre.
And theatre is powerful, it always makes a difference - and, for all that the lazy jibe "luvvie" can be thrown at those of us who speak of it in this way, theatre is important enough to be as much a part of lives lived in Blackburn and Burslem as much as those lived in Chelsea and Cheltenham. Thousands who saw these two productions know that now - and they'll be back - but governments, councils, schools and universities need to know it too. Once upon a time, they did.
The three best plays I saw had a woman as the protagonist, yet were all written by men - perhaps that's a function of their age, but it's either a problem because women are still having their stories told by men or an underlining of the universality of theatre.
In The Lady With A Dog, Mark Giesser adapted one of Anton Chekhov's short stories into the perfect fringe theatre production - all intimate eye contact, saying not quite what one means and always show and never tell, Beth Burrows judging the lead with uncommon sensitivity.
The Almeida's Summer and Smoke deserved its West End transfer for Patsy Ferran's tour-de-force alone, but roll in Tennessee Williams's limpid prose and an innovative staging from director Rebecca Frecknall (that could have failed as miserably as it succeeded triumphantly) and you have a gem of a play- the text of which could well have languished on the shelf, never to see the light of day again.
The works of Federico Garcia Lorca grow on me with every production I see - the man was a genius. And no interpreter of that genius does it better than Jorge de Juan at the Cervantes Theatre, a little bit of southern Spain transplanted into south London. His Yerma ached with anguish, teemed with tension and left everyone on both sides of the fourth wall exhausted. Nourishment for the mind and soul indeed.
In music and dance, nothing compares with Hamilton - maybe nothing has since West Side Story - and everyone should see it, as I don't expect its like to come round again in my lifetime.
Perhaps the shadow cast by the ten-dollar Founding Father took the edge off musical theatre this year, but there was much to admire in opera and dance.
The English National Ballet's Manon (seen on tour at the splendid Milton Keynes Theatre) was lovely to look at and lovely to listen to - escapism at its best. It was, and it seems incredible to have to say this in 2018, wholly accessible - and, if you're prepared to sit in the less sought-after seats, affordable too.
If Becca Marriott's La Traviata wasn't quite up to the standard of her sensational 2017 La Bohème, it was still the best of the boutique operas, bringing Verdi's tale right up to date and wringing the emotion from cast and audience.
Toby Marlow and Lucy Moss announced their presence as major new talents in musical theatre with Six, their merry wives of Tudor packing houses in the West End for a show that is a lot of fun (but could have been so much more if expanded to a full musical).
Honourable mentions go to some curios that worked well, London's fringe offering space to shows that might not have looked like bankers on paper but delivered on the night.
A Hero Of Our Time started off with no budget and no space to perform, but arrived at the Arcola as a snappy updating of Mikhail Lermontov's 1840 novel, performed with great verve by its cast of three.
Quietly, performed in the bar at the Omnibus Theatre, reminded us of the precarious and hard-won peace in Northern Ireland and of the power of words to hurt and to heal. There are plenty in the corridors of power who would benefit from seeing this play.
War With The Newts adapted a science fiction novel from the 1930s with confidence, its relevance to today present in every scene. Interesting also to see one of its key ideas used in the recent cult movie, Sorry To Bother You.
Tamburlaine at the RSC's Swan Theatre was a searing indictment of the tendency of power to corrupt and of the seductive attractions of a strongman leader, Jude Owusu compelling as Kit Marlowe's antihero.
Closing on the diversity issue that opened this round-up, what a delight to see not just older people on stage, but an old-school comedy (i.e. one with jokes in it) at the always interestingly programmed Jack Studio Theatre. The Golden F**king Years dealt with the disappointments and frustrations of life post-retirement with real humour buttressed by real poignancy. There was a little bit of all of us on stage - if not now, then soon.
Finally, I know that being a reviewer is like swanning up to a buffet and picking off all the sweets, then complaining that they're not sweet enough. We don't say "Thank you" as often as we should to everyone involved in the crazy challenge of putting on a show - from the cleaners who pick up glasses left under the seats (take them out with you please!), to the casts and creatives spending hours in chilly rehearsal spaces and empty black boxes, to the PRs, producers and financiers without whom the show wouldn't go up and we wouldn't be there.
So... Thank you! And best wishes for 2019 - we might need them.
Read Aliya Al-Hassan's picks here
Read Cindy Marcolina's picks here
Read Natalie O'Donoghue's picks here
What are your favourite theatre experiences of 2018? Let us know here or on Twitter
Photo credit James Bellorini