Feature: BARNUM Comes to the Bridgeport High School Theatre This February
Bridgeport High School will be presenting the three-time Tony award winning Broadway Musical Barnum in the Bridgeport High School Theatre in February. With music by Cy Coleman, lyrics by Michael Stewart and a book by Mark Bramble, this musical will transport you to the circus as you learn about the life and struggles of famed showman P.T. Barnum.
Performance Dates: February 23rd, 2018 at 7:30 PM, February 24th, 2018 at 2:00 PM and 7:30 PM and February 25th, 2018 at 2:00 PM
Ticket Price: All tickets are $10.00 and can be purchased via phone by calling (304) 842-6785 or at the door the day of the performance
Location: Bridgeport High School Theatre, 515 Johnson Ave, Bridgeport, WV 26330
Barnum, which first opened on Broadway in 1980, is a musical based on the life of P.T. Barnum (Derek Hess), often considered the Greatest Showman on Earth, throughout the years 1835 through 1880. The story follows Barnum from when he first conceives of his idea to create a show highlighting the outcasts of society, through the creation of the world-famous Barnum and Bailey circus brand. Despite protests from his wife Charity (Erica Cottrill), who would rather he find a stable job in a factory, Barnum persists in chasing his dream of creating a show unlike any other. Through sheer determination, and a few chance encounters with extraordinary individuals such as Tom Thumb (Kamden Dulaney) and Jumbo the Elephant, Barnum pulls off the seemingly impossible and creates a circus of "humbug" while earning his wife's confidence in his ability to make a living off his dreams. Aside from his circus, P.T. Barnum explored many other avenues to fame, including his stint as manager of famous Swedish opera singer Jenny Lind (Jenna Keefover), and his later foray into politics which culminated in him becoming Mayor of Bridgeport. Watch in awe as Barnum brings history to life through vivid songs and performances filled with spectacle as you learn the story of Barnum and Charity, a love for the ages, and witness the birth of the circus industry which impacted entertainment for nearly 150 years.
Unique to Bridgeport High School's performance is that they have enlisted the help of a Broadway veteran as well as a former Circus Artist who have both graciously signed on to the show as Theatre Artists in Residence. Bobby Hedglin Taylor, a Theatrical Aerial Sequence Designer and Trainer, joined the show to help ensure accuracy in its portrayal of circus performers. Taylor has nearly 25 years theatrical experience, 17 years of circus performance and has staged 28 productions of Barnum in the past. Doug Young, owner of the New Jersey Circus Center which specializes in teaching circus arts such as juggling, tumbling and trapeze, has also graciously joined the show to help students master the necessary skills. Together they serve as Co-Circus Sequence Designers and Trainers.
In addition to the two Theatre Artists in Residence, the show has also been graced with the services of Michael Daugherty, a former Ringling Bros and Barnum and Bailey Circus clown, who currently serves on the Harrison County Board of Education.
I had a chance to speak with Gregg Brown (Director), Bobby Hedglin Taylor, Doug Young, Derek Hess and Erica Cottrill about their thoughts on the show and what drew them to helping bring Barnum to the Bridgeport High School Theatre's stage. Here's what they had to say:
When asked what attracted him to this production of Barnum, Director Gregg Brown spoke about seeing the show in a past, "I saw the original production at the St. James a year after it opened with Jim Dale. What an amazing company. Fell madly in love with Cy Coleman's score, and Michael Stewart's lyrics." His love for the show led him to jump at the opportunity to direct this rendition, despite knowing the difficulty involved in staging the show successfully. "Barnum is a very difficult show to do, especially if you don't have the staff to raise the funding, casting, scenic production and of course, the circus trainers." But thankfully, the Bridgeport High School Theatre program didn't have to go it alone, "we are blessed to have two gentlemen training our students from New York. Bobby Hedglin Taylor, who was an understudy for the Westchester production of Barnum, and Doug Young, from New Jersey School of Circus Art."
Despite the difficulty of staging the show, one thing Brown hasn't had to worry about is the work ethic of his cast, "I have directed many shows, but have never worked with such a dedicated group of students and staff that have continued to amaze me at each and every rehearsal." This dedication to perfection will lead the cast and crew to create the best possible rendition of Barnum. "Time means nothing," says Brown, "They (the cast) all eat, sleep and breath Barnum."
Not one to go into the show blindly, Brown did his fair share of research. "I began researching Barnum in April of 17. I began talking to the folks at the Barnum Museum in Bridgeport, Conn., the New England School of Circus Arts, and Liz at Long Island Circus School." Liz was the individual who directed Brown to Bobby Hedglin Taylor, who in turn introduced him to Doug Young.
Brown hopes that his passion and his cast's dedication is obvious to audiences when they see the show, "My hope is that our audiences will love this show and realize the love that pours over the lip of the stage. What excitement, and energy." Since there are only a few chances to see this show, he adds, "they (the audience) need to make reservations soon."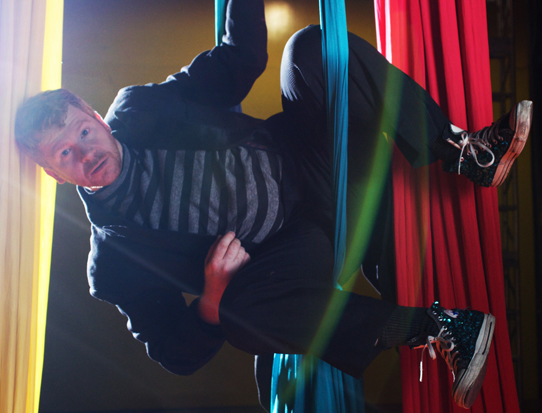 Bobby Hedglin Taylor, who serves as one half of the Co-Circus and Aerial Sequence Designers and Trainers team, as well as Choreographer for the show, is just as excited as Brown. Having previously worked on over 28 renditions of Barnum, Taylor has been an invaluable asset to the cast. He stated that he will be using much of Joe Layton's original staging for the show.
When asked what drew him to WV to support Bridgeport High on their production, considering much of his career has been focused on professional theatre and circus performances, he said, "I'm very passionate about what I do and also very passionate about a show like Barnum which I've done 28 times. It's a show that is incredibly difficult to put on, so I know the challenges that they're going to face." Taylor jokes, "they have no idea what they're getting themselves into. The show is a monster!"
Taylor has many fond memories of his various Barnum experiences, but his favorite, "would have to be the Westchester Broadway 2006 production with Barnum original cast members Terry White as Joyce Heth, Michael Mann the original stage manager and swing, and Ray Roderick, one of the Tom Thumbs from the original LA production." Better yet, "Jim Dale sat in on a few of our rehearsals and told amazing funny stories about the original production." Taylor's biggest joy was working with Terry White, "It was like a master class in theater excellence. She drove our van from Manhattan to the theater every day, so we had a lot of time to hear those great stories of how the actual original production came about." Taylor adds, "she is a treasure and a joy to work with."
I asked Taylor his thoughts regarding the recent film The Greatest Showman and what, if any, impact he believes it will have on bringing audiences to this production. He began by praising the film, "The movie is absolutely wonderful and having worked with 90% of the stunt crew and acrobatic stunt doubles I have to say they hired the best of the best in what New York has to offer in the circus world! Including a lot of our friends over at the Circus Warehouse!" As for whether the movie or the play is more accurate Taylor says, "The movie is a Disney version of Barnum's life and doesn't follow a specific timeline or any historical accuracy. That being said, neither does the musical Barnum but it's a little bit closer to the real story. Regardless, the movie is an absolute hit, it's fun, it's beautiful, it has a beautiful message, a beautiful love story and something that people should see for years to come." As for the film generating interest in Barnum's life and the circus, Taylor adds that, "running a circus school (www.STREB.org) we get a lot of people who are interested in circus from seeing the movie."
Despite his love for the film, he is saddened by one aspect, "My only criticism is I would've loved to see more of the actual circus folk doing their skills. The very Moulin Rouge film style of editing robs you of the thrill of what live circus is, but comes across in the film effectively. I just wanted to see more." He jokes, "can you blame me? You hire the best acrobats in the country and you want to see them do their stuff, not a half second flash of something. Give them a little bit more of a feature." He then adds, "but that's the circus performer in me that wants the spotlight."
Taylor closes his thoughts by speaking about a role from Barnum which sticks with him, despite all his years of working on the show. "I was so moved by the white face clown character, and all the years of playing him I found new ways of interpreting the part for different directors. It's a role that I would kill to do again. It's a dream role of a lifetime and if Barnum ever comes back to Broadway it would be my dream to be part of it." Taylors adds that the new film might detract from bringing a relatively old play back to Broadway, "With the excitement of the movie (I'm) not sure producers would be apt to take on the 1980 version, but who knows? Maybe Jerry Mitchell has some great ideas...Give me a call Jerry!"
Time will tell if Taylor's dream comes true. The film has already garnered interest from fans for a Broadway version, maybe that interest will stir up a revival of Barnum rather than dissuade potential producers. Either way, Taylor will be ready to hop back into the role if asked.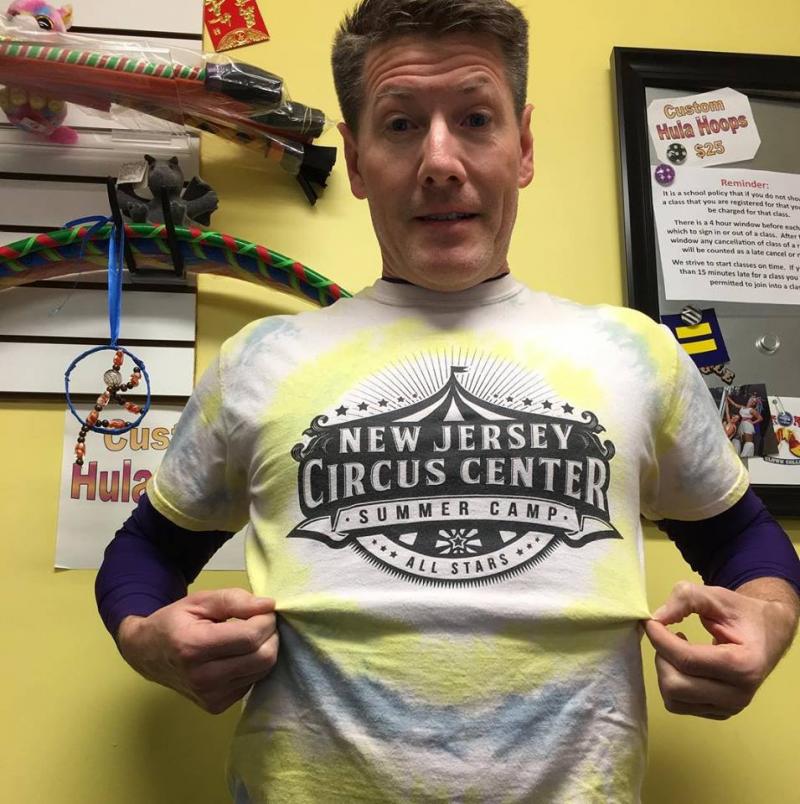 Doug Young, owner of the New Jersey Circus Center and the other half of the Co-Circus Sequence Designer and Trainer team, is functioning as circus coach on this production of Barnum; he was called in by Taylor to help with the daunting task of balancing the work necessary to perfect this show along with the various other professional obligations of both him and Taylor. He explained his job on the set to me as, "I am working with the cast members on a large variety of skills including juggling, plate spinning, tight wire, partner acrobatics, tumbling, clowning, stilt walking, aerial fabrics, rolling globe, lyra, flag spinning, whip cracking, etc." He adds, "there is an endless list of skills needed for this show." Certainly, an exhaustive list of skills for students to learn in such a short period, but thankfully they have proven to be up to test. "The circus is all about pushing the limits," Young says, "and these young actors are certainly pushing themselves to achieve things they never thought possible."
I asked him how he was persuaded to work on a show in WV and he told me, "in a somewhat round about way. The director contacted a few circus schools before finally being led to Bobby Hedglin-Taylor. Bobby knew that with his professional schedule he alone wouldn't have the time needed to commit to this show and that's when Bobby called me." The two had worked together in the past, so it only seemed natural to work together again, "I've worked with Bobby on Barnum once before as Assistant Circus Coach at Westchester Broadway." Young is no stranger to Barnum, having coached 7 different productions ranging from elementary schools performing Barnum Jr to Off-Broadway. Aside from his love of the production, he also had other traits which led him to be a good fit for this job, "Bobby also knows that I do a lot of outreach work teaching circus in public schools across the east coast and that my experience working with younger actors would be of value." Indeed it has as his help has proven to be invaluable for the cast and crew.
I asked Young what makes Barnum special, what keeps drawing him back to working on various productions, and he told me, "This show is a passion of mine. I can still get teary-eyed just listening to the soundtrack and envisioning it all in my head. What I love about this show is that it embraces the spirit of the circus." Young goes on to explain, "Circus is very often in the round, there is no imaginary 4th wall that allows the audience to safely stay in their seats. Sure, there are many theater shows that allow asides to the audience and move past that invisible curtain but Barnum doesn't just move that curtain aside...it rips it down, stomps on it and sets it aflame!" He adds, "You can not help but be drawn into the story and the spectacle."
As for audiences debating on whether or not to see the show, Young says, "This is a show that not many people know and so they may not think right away that it's for them...bring a friend! More people need to be aware of this show." While public awareness of the theatre production may not be high, awareness of the new film The Greatest Showman currently is, leading Young to say optimistically, "If people like the movie and want to come see the show...awesome!" But he does admit that some audience members who love the film may be confused by the plot differences in the play. "The show is very loosely based on the facts of his (Barnum's) life," Young says, "but the movie is even less factual. It will be interesting to see, just because they saw the film and might assume that it was factual...but as they say...any publicity is good publicity."
Young wants the audience to know the demands of this show, "having played the role of Barnum myself back in 2006, I know all too well the demands that this show makes of its cast. It's frustrating, exhausting, painful on the body, expensive to produce, and the most magical thing I've ever been a part of." He finishes by urging people to, "come on out and let the magic of theater and the whimsy of circus remind you why, as a child, you too probably wanted to run away and join the circus."
Derek Hess, who portrays P.T. Barnum, feels that Barnum will be an enormous crowd pleaser. "Barnum is a musical that anyone can come and enjoy, and I think that is its greatest selling point. I can almost guarantee that everyone will leave the theatre happier than when they walked in. Barnum is just that kind of show." He continues to explain a bit of what makes the show so enticing, "The show itself is a very unique piece of musical theatre. The show tells its story not only through characters and dialogue, but also through spectacular circus-driven scene changes and set pieces."
This is Hess's first time taking on a lead role in a play, but he isn't worried. "I've been very active in theatre for a few years now, and my love for it has never declined. For me, theatre (and art in general) is, in large part, about discovery, and I've found that with every show I do, I discover more about myself, others, and the world which we all share." Hess goes on to state, "I can say with the utmost confidence that this play will be a spectacle, and I can't wait to share it with the audience who comes to see it."
Hess is quick to point out that there is far more to the show than mere spectacle, "There is so much fun to be had for the casual viewer, but there is also a lot of deeper themes and messages within the layers of the show and its symbolism. There are some definitive moments in this show that are my favorites because of the symbolism involved with them. Barnum is a show that tells its story with action every bit as much as words, and I love it even more for that. I'm truly grateful to be a part of something so wonderful."
Erica Cottrill, who portrays Charity Barnum, was drawn to this show as a means of challenging herself, "The circus aspect of Barnum is so different from anything that we've ever done at Bridgeport High School. I was drawn to the show because I liked the idea of trying something that I've always thought I'd never be physically able to do, let alone get the chance to try it!" She enjoys playing Charity and the odd couple relationship her and Barnum share, "Charity has grown on me so much as a character; she disapproves of her husband's antics, but I feel like she has such a dry sense of humor that the audience knows she's no stick-in-the-mud. Her sardonic wit is so subtle compared to the boldness of the entire pieces, which really brings home how different she is from her husband."
Cottrill praised the show's creative use of circus performances and song, "I love how this musical weaves circus performances into its web at every opportunity; during scene changes, at comedic moments, in songs filled with utter chaos." Cottrill gives praise to Bobby and Doug for giving the students the ability to perform these circus acts convincingly, "Bobby and Doug are dreams come true. They encourage everyone to try everything that interests them, and there's no shame in messing up; they have plenty of personal anecdotes of onstage mishaps to keep the cast laughing when we're frustrated. Their talent is unbelievable and they're incredibly understanding towards us and considerate of our feelings." This confidence in the student's ability has led to, "kids who can walk on stilts, walk on a high wire, juggle clubs, spin plates, crack whips, and do aerial poses." Cottrill adds, "no one could do those things two months ago."
In closing, Cottrill had a few words of advice for audiences, "bring your kids! Actually, bring everyone you know who'd like to see high schoolers pull off circus tricks while singing. The show is so vibrant and do densely packed with energy. The enthusiasm we have in rehearsal now is the most electric of any show's rehearsal process I've been in so far; I cannot wait to see what that means for when we start to perform for other people!"
Complete Cast and Crew:
P.T. Barnum - Derek Hess
Charity Barnum - Erica Cottrill
Ringmaster - Jordan Kennedy Rea
Chester Lyman - Andrew White
Joice Heth - Olivia Ferguson
1st Woman - Haley Wilson
2nd Woman - Caroline Fulks
Amos Scudder - Callia Byard
White-Faced Clown - Wesley Cotter
Sherwood Stratton - Corey Stephens
Mrs. Sherwood Stratton - Bailey King
Tom Thumb - Kamden Dulaney
Julius Goldschmidt - Mohamed Ben Fredj
Jenny Lind - Jenna Keefover
Edgar Templeton - Corey Stephens
Hubert Morrisey - Andrew White
James Bailey - Owen Hess
Soul Singer - Madyia McCullough
Wilton - Andrew White
Barker - Callia Byard
Amy Beecher - Haley Wislon
Lecturer - Mohamed Ben Fredj
Ensemble:
Jamie Giguere
Hannah Randolph
Michaela Hutcheson
Rylee Chamberlain
Corinne Yurkovich
Claire Lohmann
Demi DiPiazza
Shelby Proud
Heather Bokey
Meagan Hutcheson
Ella Flowers
Shelby Whiteman
Isabella Cecil
Caroline Nichols
Morgan Sprouse
Ava Wagner
Jazmyn Burgess
Darios St. Martin Brown
Gniss St. Martin Brown
Rook St. Martin Brown
Professional Staff:
Producer - Alice Rowe
Director - Gregg Brown
Circus Aerial Sequence Designer and Trainer - Bobby Hedglin Taylor
Theatre Artist in Residence and Circus Trainer - Doug Young
Clown Director - Michael Daugherty
Music Director - Joshua Stubbs
Tech Director - Troy Snyder
Assistant School Sponsor and Lighting and Sound Designer - Jared St. Martin Brown
Costumer Designer - Trina Byard
Hair and Makeup Designer - Rachel Griffith
Photo Credit: http://www.bobbyhedglintaylor.com/ and http://www.njcircuscenter.com/