The Mountaintop at Rockville Little Theatre
Dates

2/12/2021 - 2/28/2021

Theatre


Rockville,MD




Rockville Little Theatre
Katori Hall

On the eve of his assassination, Dr. Martin Luther King, Jr., cools down in a lonely Memphis hotel room after delivering the speech of a lifetime—when an unexpected visit from a feisty, young hotel maid pushes King into a confrontation with his doubts, fears, and haunting premonitions. A soul-stirring hit in London and on Broadway, The Mountaintop's humorous, magical storytelling fuses theatricality with spirituality to reach a summit that will leave audiences breathless.

News About The Mountaintop at Rockville Little Theatre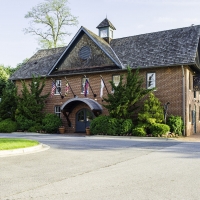 Arts Barn Announces 2020-21 Season - THE FANTASTICKS, FROZEN JR., CLUE, and More!
April 15, 2020
Arts Barn has announced its upcoming 2020-21 season! Unless specified, performance times are Fridays and Saturdays at 8 PM, and Sundays at 2 PM. Online ticket sales will open 30 days prior to the event.