Half Dozen Micro-Plays in DIGITAL EYE at Blind Whino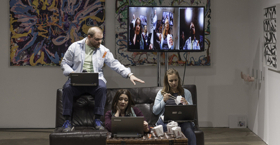 Two days was an exceedingly short time to take in the innovative collaboration project this week titled "Digital Eye."
The interactive event Monday and Tuesday was meant to merge theater with issues of privacy in the modern age took visitors through the various repurposed rooms of the historic church turned community arts space in the District's Southwest.
Conceived by Gillian Drake, its handful of charged plays was almost as notable for its creative partnerships as it waster its content, as it combined the efforts of four local theaters, the Shakespeare Theater Company, Studio Theatre, Baltimore Center Stage and the Forum Theatre in directing works written by European playwrights. As such there was coordination with a handful of international cultural groups including the Austrian Cultural Forum, British Council, Embassy of the Czech Republic, Goethe-Institut Washington, Cultural Office of the Embassy of Spain and the Embassy of Sweden.
The place where it was held, in an 1886 Friendship Baptist Church turned vibrantly-painted arts center with the unfortunate name Blind Whino, gave it all an instant intrigue. Here between the sleek new developments on the new D.C. Wharf and Yards Park, was something organically creative and it reflected in the presentation.
At both seatings each night, groups were divided into three and given their own path through the works. I liked the way mine started, with a game show, "Recondition This!" hosted by Robert Bowen Smith and directed by Gillian Drake, that provided eye-opening facts about shadowy everyday meddling of corporations from Google to Uber to Disney along with its up to the minute quiz questions. Another segment had a wife try to guess her husband's three most frequented places in D.C., as listed, unknown to both of them, on their Apple phone's Location Services (under Significant Locations). It was creepy and it was real.
The more theatrical moments came in a second segment, in a darkened area where a woman in a burka pled her case for dressing as she wanted in the the Belgian play "Project Deburkanisation" by Rachida Lamrabet. As staged by Derek Goldman of the Laboratory for Global Performance and Politics at Georgetown University (who later led a Town Hall discussion about all of the issues), it was a stark and effecting performance by Felicia Curry, beneath that cloth.
In the same room, a second micro-play involved the actor Aaron Bliden, called in for interrogation by Erica Chamblee because it looked like he was hiding a secret. The exchange in "Empty Your Pockets," directed by Brian MacDevitt of Studio Theatre, was written by UK playwright David Grieg, who has written the book for the musical "Charlie and the Chocolate Factory."
Then, after being led downstairs, outside and in a functioning art studio came some equally effective scenes, emerging organically from the space. In the Austrian contribution "Leitgeb" by Clems J. Setz, a woman (Teresa Spencer) asks about an unusual T-shirt at a yard sale held by a young man (Kamau Mitchell). As directed by Michael Dove of Forum Theatre, it makes its point swiftly and succinctly.
Just as good is an argument between mother and daughter (Luz Nicolas and Hannah Kelly) as they strolled through the museum, for a website she's made that shares the title of the scene, "@hotmigrants." Spanish playwright Paco Bezerra's work, directed by Gavin Witt of Baltimore Center Stage, uses the space well, as a kind of spontaneous play among the gallery viewers.
"Surveillance State," by Kurdish playwright Marioan Hosseini of Sweden, addressed most directly some of the issues of privacy and government overreach in the cafe discussion between Alina Maldonado, Eric Messner and Teresa Spencer. It is also directed by Forum's Dove.
Less successful was the German "Making Plans" by Felicia Zeller, a kind of abstract work of repetition with Eva Wilhelm, Alex Piper and Victoria Reinsel that doesn't make a clear point, even under the direction of Samantha Wyer Bello of Shakespeare Theatre Company.
But at least it was performed in flesh and blood. A Czech work by Tereza Volánková, in which an unidentified troupe recite revealing Facebook posts aloud, was presented as a video.
One of the most exciting things about the event - other than the wide participation from theaters and international agencies in D.C. - was being introduced to the vibrant arts space itself, worth a visit to see the art, if not to experience another cutting-edge theatrical event.
Photo credit: Eva Wilhelm, Victoria Reinsel and Alex Piper in "Making Plans." Photo by Susan Green.
"Digital Eye: Interactive Event Merging Theater Explores Privacy in the Digital Age" was presented Oct. 16 and 17 at the Blind Whino SW Arts Club, 700 Delaware Ave. SW, Washington, D.C.