Click Here for More Articles on SHAKESPEARE SPOTLIGHT
BWW Review: TWELFTH NIGHT at Shakespeare Theatre Company
Anonymous holiday travelers intersect in a busy airport. Director Ethan McSweeny grounds his TWELFTH NIGHT in this busy cross-section of humanity. It is an intriguing and darker reexamination of a familiar tale.
"If Illyria is where we would ultimately be going, we had to start somewhere more grounded in reality, a world more like the one we're living in," McSweeny explains in published director's notes. "The grandeur and scale of Sidney Harman Hall and its public spaces are reminiscent of the international departure lounge of an airport. (It is an appropriate metaphor really-the theatre as a point of departure.)"
The opening moments that transition from busy modern airport to a plane in flight is a wonder of details of the claustrophobia and chaos of travel: the ground crew with a flashing Christmas light necklace, a fluffy dog in a kennel, an oversized baby stroller, a traveler in a Hawaiian shirt, monotonous boarding calls. Flexible seating reconfigures quickly to indicate the plane in flight and lighting projection on the floor subtly designates motion.
The stark reality of the plane crash, a boom and a surprise, is followed by a silent moment of survivor Viola, alone, with snow or ashy debris drifting down. McSweeny bookends this striking image in the final moments of the play.
Stranded on the coast of Illyria, Viola disguises herself as page boy, Cesario. She serves the court of Duke Orsino, here a place of poetry and frivolity. Members of the court, in flowered suits, glide and circle on scooters. Viola's arrival sets off a love triangle in which gender, class, opportunity, and identity are all questioned. This, too, extends to the household of Olivia, mourning her brother and father while ignoring the string of suitors that parade through.
Standing apart from the lovers is Feste (Heath Saunders), Olivia's fool. Saunders has great energy and authority that propels the work. Feste is the lynchpin of this production. His quick wit is matched with a shrewd assessment of all that transpires.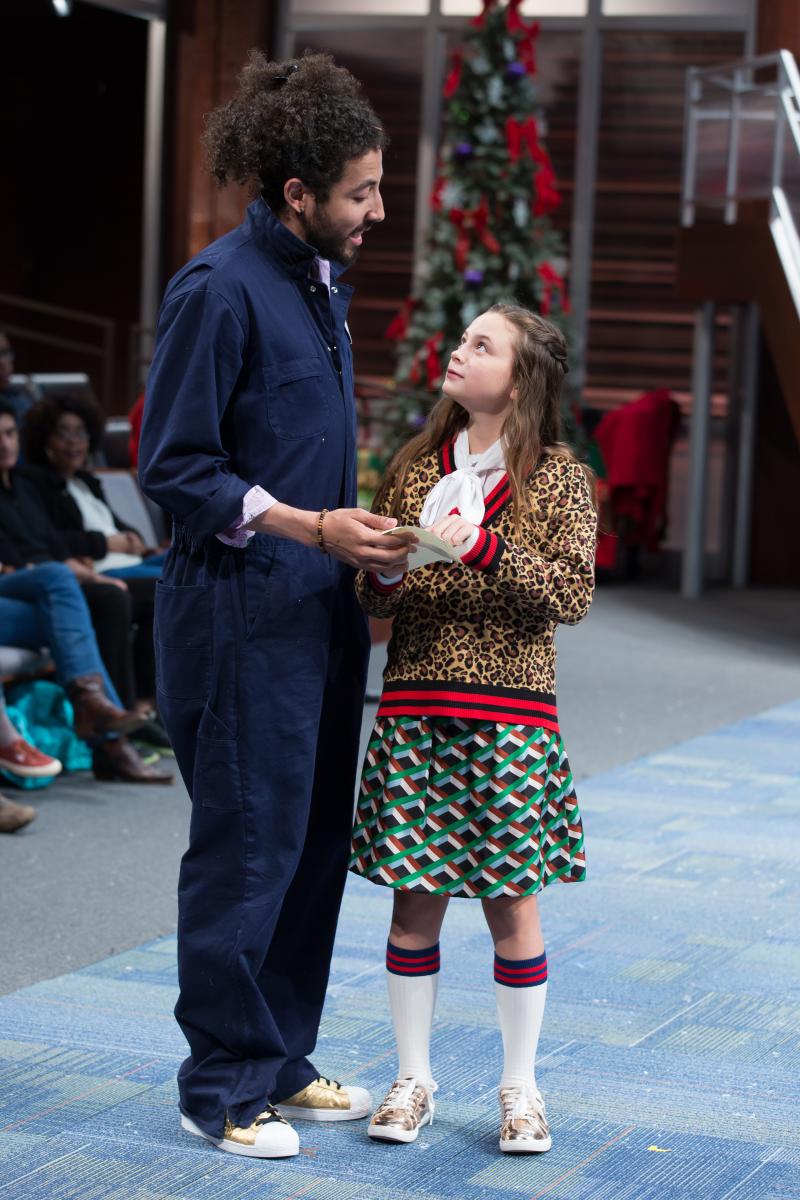 Here, Saunders is called upon as actor and talented musician-playing guitar and cello and supplying vocals. Music is a significant aspect of this TWELFTH NIGHT with original music and sound design by Lindsay Jones. Matthew Deitchman as Curio is also music director and doubles on guitar. The beautiful acoustic music, the "food of love," helps set time and place. However, perhaps we have been given "excess of it"-at times the long interludes slow the pace of the nearly three-hour production. But, a karaoke rendition of "Hold Thy Peace" added great fun and energy to a scene heading over the top.
Antionette Robinson, as Viola, makes her Shakespeare Theatre Company debut. Her Viola is assured, steady, capable, and very engaging. She is sent on a mission to woo Olivia (Hannah Yelland) on Orsino's behalf. Yelland, with fire and verve, gives us a strong Olivia, who would much rather hear from Orsino's page than from the master. Bhavesh Patel as a charismatic Orsino completes the love triangle.
Malvolio is so uptight and upright that even his dressing gown is of corporate pinstripes. Derek Smith gives a puritanical Malvolio great humanity and a big whiff of imperiousness. Yet Smith takes full advantage of the comedic opportunities of the yellow crossed garters and ever-present grins. But this Malvolio does not deserved to be persecuted as he is. With Smith's interpretation, we do believe the wrongly-imprisoned Malvolio when he implores, "nobody's ever been as badly treated as I've been."
Malvolio has a lot to put up with in the household. Olivia's uncle, Sir Toby Belch (Andrew Weems), with his drinking, carousing, and all-hours bathrobe, has a Hunter S. Thompson Fear and Loathing in Illyria vibe. He has a soft spot for Maria (Emily Townley), who is a willing participant in the hijinks. Jim Lichtscheidl is a delightful, befuddled, wannabe playboy Sir Andrew Aguecheek. He is as inept at wooing Olivia as he is in his attempts at golf, tennis and polo. Yet at Toby Belch's insistence he extends his stay and his line of credit. Koral Kent as young Fabian brings great energy and confidence to the role. (Tyler Bowman will alternate the role with Kent.) These four bring great fun and frivolity to the famed scene of the faked note to Malvolio. Hiding in a Christmas tree, tricking poor Malvolio, the timing and connection among these four made the scene a memorable highlight.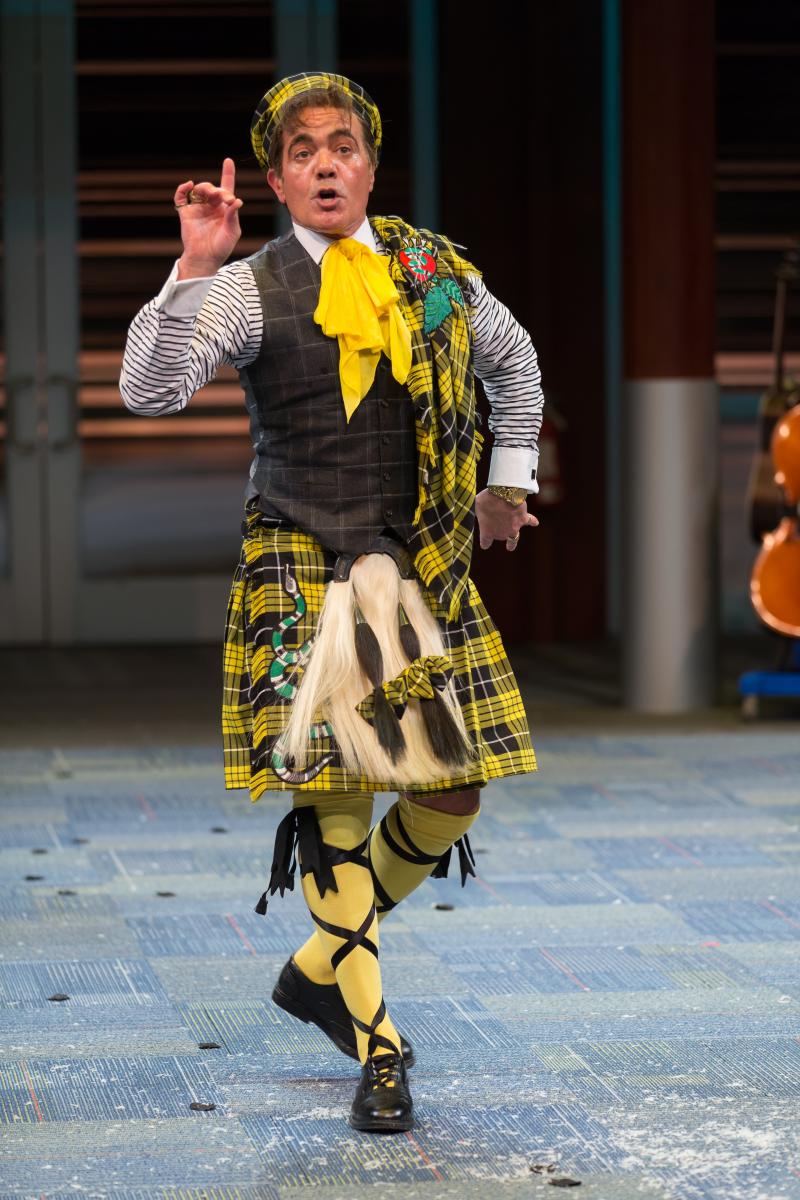 The design team's attention to detail makes the production fun and lush. Lee Savage, Scenic Designer, transitions us from a recent airport to the lavish households of Olivia and Orsino. Using multiple levels and the depth of the theatre, the audience is enveloped in the work. Director McSweeny maximizes this space, using actors along the sides, upper levels and in the house to great effect. Scott Zielinski, Lighting Designer, shifts from the institutional airport to the warmth of Illyria. Patrick W. Lord's projections and video design help propel the production and are often used to comic effect. Jennifer Moeller's costumes are great fun. Andrew Aguecheek's array of cheesy, spangled sports gear is especially noteworthy. And, Olivia's black and deeply-fringed mourning parasol may start a trend.
Yet luggage strewn about the stage throughout the first act. While it might be a metaphoric reminder that we all must work around baggage from the past or from others, the clutter of the suitcases becomes a distraction that is, thankfully, moved to the side in the second act. Luckily, the great use of the sweeping stairway, the glassed side panels, and bringing actors through the house help give some space to the baggage-strewn scenes.
The Shakespeare Theatre Company's TWELFTH NIGHT is a fresh look at a familiar story-a bit darker with less over-the-top mirth. It is well worth revisiting Shakespeare's comedy for a new take on the familiar story.
Runtime: 2:45 with one intermission.
Twelfth Night by William Shakespeare runs through December 20 with shows on Tuesdays, Wednesdays and Sundays at 7:30 pm; Thursdays, Fridays and Saturdays at 8 pm; matinees Saturdays and Sundays at 2 pm with additional holiday matinees on Wednesday, November 22 at 12 pm and Wednesday, December 20 at 2 pm. The production is at Sidney Harman Hall, 610 F St. NW, Washington, D.C. 20004. For tickets, please visit The Shakespeare Theatre Company website here.
Photo credit: Scott Suchman. At top: Antoinette Robinson as Viola. Next: Heath Saunders as Feste and Koral Kent as Fabian. Center: Andrew Weems as Sir Toby Belch, Derek Smith as Malvolio and Heath Saunders as Feste. Next: Derek Smith as Malvolio. Bottom: Jim Lichtscheidl as Sir Andrew Aguecheek.