BWW Review: THE AGITATORS at Mosaic Theater Company
Some moments live forever...in our memories, in scrapbooks, in our social media feeds...and some of these moments change the world. Such a moment is the one that opens Mosaic Theater's production of Mat Smart's The Agitators. We do not know the exact date, time, or words spoken, but in that moment when Susan B Anthony met Frederick Douglass, two paths merged and two movements would never be the same.
Though roughly the same age, they could not have been more different. Anthony, born into a Quaker family in Western Massachusetts, had been working as a schoolteacher in Central New York. Douglass, born into slavery in Maryland, had escaped north and was much sought-after as an author and public speaker. Both were passionate activists for the abolition of slavery and both found themselves in Rochester, New York, in the late 1840s.
Their friendship, at times warm and at times adversarial, spanned most of their adult lives. Anthony is most well known for her work in the women's suffrage movement, but influenced by her Quaker upbringing, she began her activism with temperance and abolition. Douglass was also a staunch supporter of women's rights, attending the 1848 Women's Rights Convention in Seneca Falls, New York, and signing his name to the "Declaration of Sentiments". Both are now icons of our collective American myth, but Smart's script and their portrayals by Ro Boddie and Marni Penning, bring a more human element to their story.
The genesis of The Agitators began several years ago, when Smart was working in Rochester on another piece. He was captivated by the larger-than-life statue of Susan B Anthony and Frederick Douglass that sits in Susan B Anthony Square, near her historic home on Madison Street. The statue, titled "Let's Have Tea" by local artist Pepsy Kettavong, speaks to the deep affection and respect that the two had for each other. One can imagine them discussing strategy or the events of the day. Tourists and locals alike interact in many meaningful ways with the statue?-?taking photos with the pair, children scrambling up into one or both of their laps, slyly placing a cell phone or American flag in one of their hands. It has taken on a life, and iconic status, of its own. It is the often untold story behind this statue that Smart has brought to light with his script.
As Frederick Douglass, Ro Biddle brings a quiet strength and a public gravitas as needed. The audience is shown several facets of Douglass?-?his love of family and music; his private grief at the loss of his young daughter and later his first wife?-?that only serve to enhance and ground the public image of the "Lion of Anacostia", the "black O'Connell". Marni Penning's portrayal of Susan B Anthony adeptly moves from a restless young woman, awestruck at meeting the great civil rights leader, to the self-assured, laser-focused matriarch of an entire movement. Adanna Paul and Josh Adams round out the cast as two ensemble members, who are under-utilized at best in the production.
All four actors move within a minimalist, but extremely effective set design by Jonathan Dahm Robertson, who also worked on Solas Nua's The Frederick Douglass Project earlier this year. Audio cues and dialogue are projected onto several parts of the set throughout to make the piece accessible to those who are deaf or hard of hearing. This worked quite well when projected onto white fabric drapery, but was lost against some of the more textured set pieces.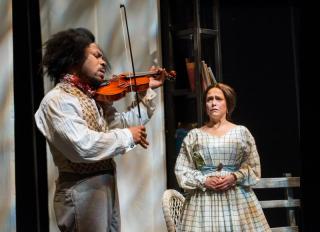 Amy MacDonald's costume designs must straddle several decades and incur minimal quick changes, yet they allow the personality of each to shine through. This includes Susan B Anthony's iconic red shawl and alligator purse. The physical aging of each actor is done mostly through the use of wigs and, while historically accurate, seem to shift too abruptly in the second act.
There is no prologue or epilogue provided, so some advance knowledge of the people, places, and time is helpful. That said, dates and locations for each scene are provided and follow in chronological order. The play ends shortly after Douglass' death in 1895. In a way, this makes sense, as it is effectively the end of their friendship, but it produces a lack of closure to Anthony's story, if you do not know it ahead of time. That she would live and work for another eleven years is somewhat noted in the playbill, but not acknowledged onstage.
Throughout the play, contemporary music choices ask the audience to bear in mind, and indeed it is difficult not to these days, that much of what Douglass and Anthony worked for, and argued over, is still relevant today. This point is driven home in the very last image of Paul and Adams in contemporary clothing. What is left unspoken is the challenge to each and every audience member to, in Anthony's words, "pass by and get on with the work".
The Agitators runs through November 25, 2018 at the Atlas Performing Arts Center. Run time is approximately 2 hours, with one 15-minute intermission. For more information and to purchase tickets, visit MosaicTheater.org.
Mosaic Theater Company is also hosting several post-show talkback sessions during this run of The Agitators. All discussions are free and open to the public. They begin immediately following the performance listed. A full schedule is available on their website.
Additional BroadwayWorld.com coverage of The Agitators includes Rachael Goldberg's interview with Mat Smart.
Related Articles View More Washington, DC

Stories

Shows