Review: Skillful and Fun THE SKIN OF OUR TEETH at Constellation Theatre Company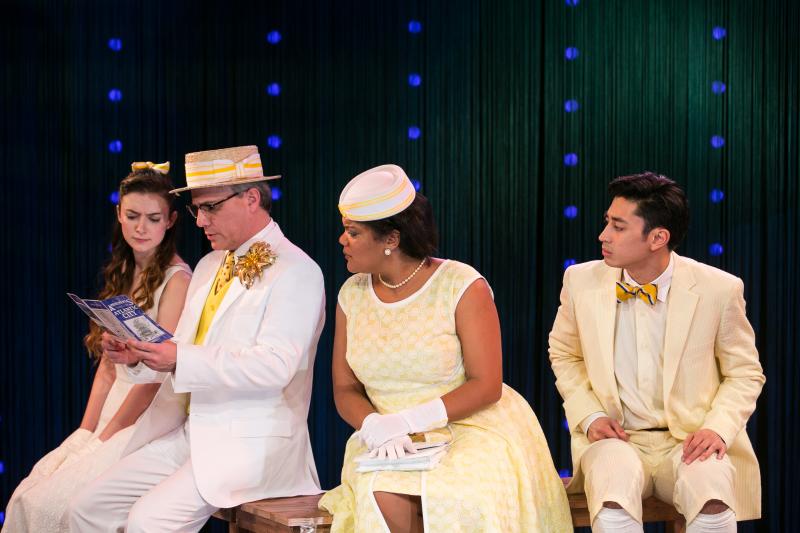 THE SKIN OF OUR TEETH at Constellation Theatre is a thought-provoking, skillfully-rendered reminder that chaos and uncertainty are not unique to our time - or to any single time. In the sure directorial hands of Mary Hall Surface, Thornton Wilder's masterpiece is a wild time-traveling, allegorical tragicomedy, without the Pepperidge Farm and Hallmark overtones we've now come to associate with the OUR TOWN playwright.
In THE SKIN OF OUR TEETH we meet the lovely, determined Antrobus family - husband George, wife Maggie, children Henry and Gladys, and family maid Sabina. They're just an everyday family from suburban Excelsior, New Jersey. Mike and Carol Brady, Rob and Laura Petrie, we're familiar with this family - except in this meditation on human nature we begin to clue into a few quirks as we notice the pet woolly mammoth and dinosaur frolicking with scarfs as the Ice Age advances.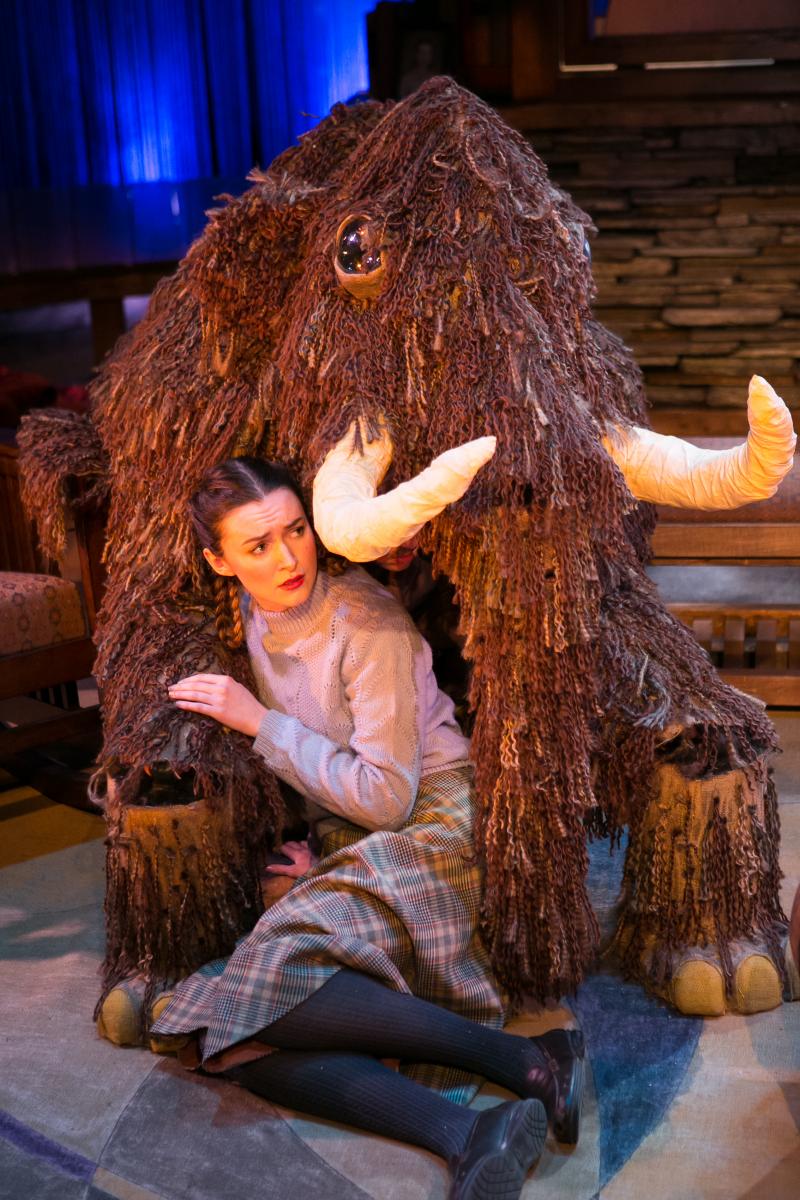 Winner of the 1943 Pulitzer Prize for Best Drama, THE SKIN OF OUR TEETH was written just after the conclusion of the Great Depression, as the US was fighting a war on two fronts. Far ahead of its time, the work breaks away from established theatrical conventions and mixes farce, burlesque, satire, and absurdism.
"Don't forget that a few years ago we came through the depression by the skin of our teeth!" says Sabina. "One more tight squeeze like that and where will we be?" In the 75 years since Wilder penned his work, we've been faced with a few more tight squeezes echoed here from Katrina to "shithole countries" - and like the play's Ice Age and floods, we fear it or deny it, endure it, and hang on for more.
Surface presents a stylized world where the action is larger than life. In her sure hands we seamlessly accept the absurdities of dad coming home from a hard day of wheel-inventing; a seaside convention of bathing beauties, pushchairs, and all creatures two-by-two; and book-filled bunker where beef cubes are not-so-legal tender. Surface is a great match with Constellation's commitment to telling epic stories in an intimate space. She and her cast are adept at toying with the grand scale and the meta-moments of speaking directly with the audience. The audience is part of the work from the very beginning as they across the set to claim their seats.
However, the pacing of Wilder's third act is longer and more dense than modern audiences are now accustomed. Wilder and Surface expertly set up passages of Aristotle, the Bible, Plato, and Spinoza, yet when the moments come those key and eternal ideas are muddy. The ensemble must take its time with these hefty passages - the crux of the work - painting better verbal pictures. To its credit, the company has been integrating recent casting changes and featured an understudy on opening night - this was the only portion where it was evident a bit more time and cohesion would be helpful.
Tonya Beckman as Sabina is the glue that holds THE SKIN OF OUR TEETH together. Strong and charismatic, Beckman is ably in tune with the shifts from the heightened drama of the stage and the gritty human moments that break the fourth wall. We smile, sigh, and nod with her as the world cycles on. "We have to go on for ages and ages yet," says Sabina. "You go home. The end of this play isn't written yet."
Helen Hayes Award-winner Lolita Marie (Mrs. Antrobus) is equally solid as the matriarch dedicated the preservation of her family. Sublimating her own interests and aspirations, Mrs. Antrobus focuses all her attention on her perfect children and the higher trajectory she wants for them. Keeping the home fires burning is a literal and critical necessity.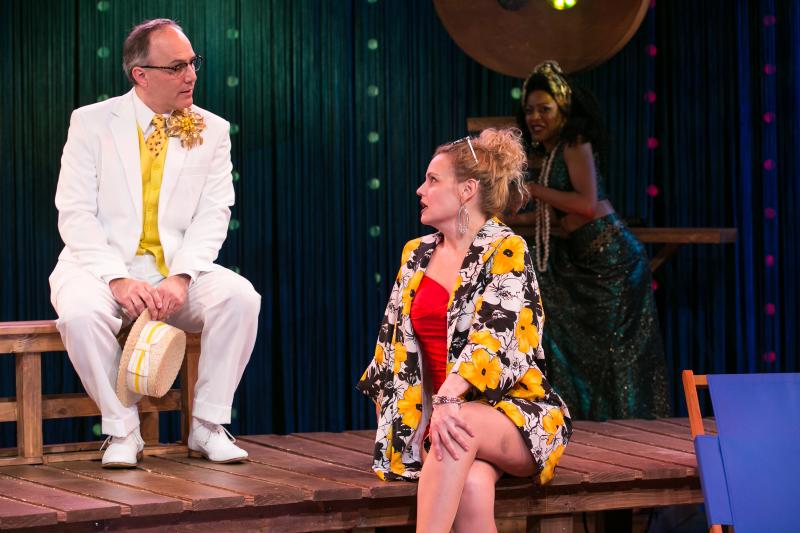 Mr. Antrobus (Steven Carpenter) is busy advancing the world - creating the wheel, the alphabet and multiplication tables. He's a leader and a doer. Yet although he's been solidly married for 5,000 years, it is easy to be tempted when Sabina says, "...most people have no insides at all. Now that you're President you'll see that. There's a kind of secret society at the top of the world - like you and me - that knows this. The world was made for us." Carpenter mixes solidity and sureness with a light touch - such as when he admonishes the dinosaur to get off his treasured suburban lawn.
The Antrobus' two children, Henry (Dallas Tolentino) and Gladys (Malinda Kathleen Reese) are the focus of their parents' hopes and disappointment. Even with a name-change from Cain to Henry, we find that no one can put aside the death of favored son Abel at the hand of his brother. Gladys strives for placid perfection. Tolentino reveals a heart-breaking lost boy, controlled by anger and jealousy. Reese evolves into a person who must assume the responsibilities of the next generation.
Ensemble member Lilian Oben has great strength and verve in her second act depiction of the fortune teller. She shows wonderful humor and depth; her pacing and energy is sure, making her scenes fun and memorable.
THE SKIN OF OUR TEETH has juicy cameos for its talented ensemble: Colin Connor (Frederick/Fred Bailey), Natalie Cutcher (Ivy), Christopher Gillespie (Mr. Tremayne), Ben Lauer (Dolly/Broadcast Official), Mary Miller-Booker (Broadcast Official/Hester), Gerrad Alex Taylor (Telegraph Delivery/Interviewer); at the reviewed performance, understudy Billie Krishawn appeared in place of Jenna Berk as the Stage Manager. The ensemble successfully balances making each role unique while blending as a cohesive whole.
Scenic and Lighting Designer A.J. Guban should earn a Helen Hayes Award solely for the changeover between the second and third acts. The smooth and intricate evolution from Atlantic City boardwalks to war-pocked Frank Lloyd Wright was its own 90-second display of wonder, surprise, and intricate choreography.
Guban has created a Wright-inspired middle-American home. Wright's "Usonian" aspirational style for the everyday people, which features natural materials like stone, wood, brick, and art glass, has wonderful resonance with Wilder's script. Plus, it's absolutely beautiful to behold.
Guban works here in the round rather than Source's proscenium set-up used recently in his sets for AVENUE Q or JOURNEY TO THE WEST. It's a successful choice, inviting the audience in and allowing great use of a fireplace, dock, and underground bunker. Kudos to the actors who use a ladder to access some entrances.
Guban's lighting successfully conveys the advancing cataclysmic changes that ice, flood, or war create. These design elements work successfully in tandem is Justin Schmitz's sound design. From Depression-era big band and booming radio voices to the whoosh and thrum of war, Schmitz gives us a sense of the time, place, and stakes. Props designed by Jimmy Stubbs work well in this stylized world.
Matthew Aldwin McGee has had some great opportunities to create or manipulate a wide range of the puppets seen of late on DC stages - from Constellation's AVENUE Q to Imagination Stage's BFG. As Puppet Designer of THE SKIN OF OUR TEETH, McGee's puppets add great whimsey and humor. The first act's dinosaur and woolly mammoth are memorable highlights. Casey Kaleba choreographed the fights in this highly physical production.
Frank Labovitz's costumes are great Mid-century fun - aprons, wing-tips, bathing costumes, yellow slickers worthy of the Gordon's fisherman, and scandalous stockings. There are plenty of Nordic hygge layers T. Ward off the Ice Age chill.
THE SKIN OF OUR TEETH is a rich and provocative allegory of the endless shortcomings of human nature. The Antrobus family steadily attempts to push forward, only to continue to be tripped up by ego, anger, jealously, temptation. Luckily, we humans are spared by love, empathy, curiosity, community. As Sabina cautions, "my advice to you is not to inquire into why or whither, but to enjoy your ice cream while it's on your plate" - relish THE SKIN OF OUR TEETH while it's dished up at Constellation Theatre Company.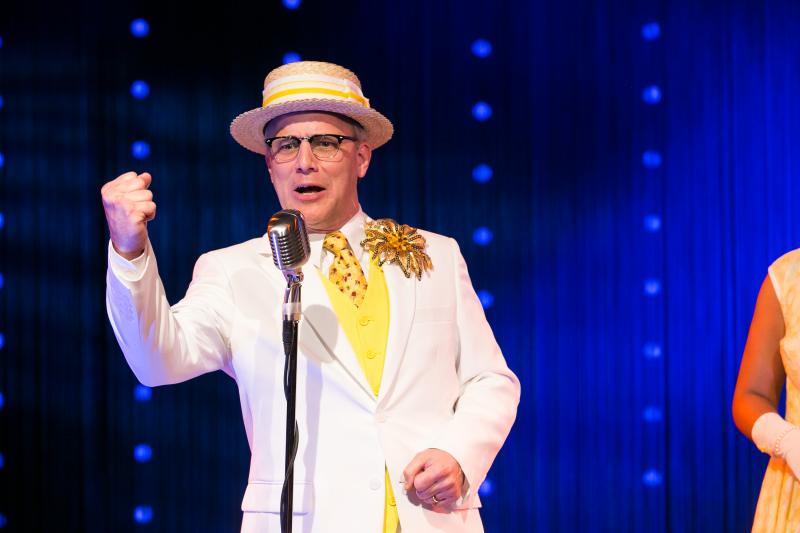 Runtime: 2:30 with one intermission
THE SKIN OF OUR TEETH by Thornton Wilder is directed by Mary Hall Surface and produced by Constellation Theatre Company. The production runs through February 11 with shows Thursdays - Saturdays at 8 pm, Saturday and Sunday matinees at 2 pm. There is an industry night performance on Monday, January 29 at 7:30 pm and a closing night performance on Sunday, February 11 at 7:30 pm. The production is at Source, 1835 14th St. NW. For tickets or more information, please visit Constellation Theatre's website here.
Photo credit: Daniel Schwartz. Top (L to R): Malinda Kathleen Reese, Steven Carpenter, Lolita Marie, Dallas Tolentino. Next: Malinda Kathleen Reese, Ben Lauer. Center left: Tonya Beckman. Center right: Lolita Marie, Steven Carpenter. Next: Steven Carpenter, Tonya Beckman, Lilian Oben. Bottom right: Tonya Beckman, Lilian Oben. Bottom left: Steven Carpenter.