BWW Review: Roundhouse Theatre's GEM OF THE OCEAN a Brilliant, Living Homage to August Wilson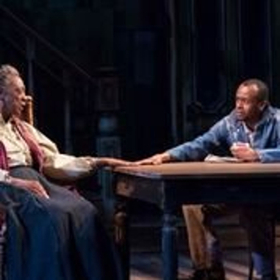 Any time you make a visit to the Hill district in Pittsburgh, with August Wilson as your guide, you must be prepared for some serious schooling. The cultural and historical references that inform all of his Century Cycle plays run as deep as can possibly be imagined, only deeper. It can never be just a play, with spoon-fed plot and common characters you pick up on the fly; it is always a journey where symbolism, where the past and present, converge and demand you commune with his people. Simply watching them will never do.
Timothy Douglas' production of Wilson's Gem of the Ocean is as rich an experience as you could possibly ask for; set at the turn of the twentieth century, it offers a lesson in the trials of Pittsburgh's African-American community at a pivotal time in the Hill district's history. More importantly, it is an examination of a violent, exploitative past from which we, as a nation, have yet to emerge.
Set in the sanctuary of Aunt Ester's home a series of characters pass through, some in search of themselves, others fully aware of the role they are meant to play. As with all other Wilson plays the stage is ablaze with unforgettable characters; in this case Gem of the Ocean offers you the only opportunity to meet Aunt Ester, whose presence hovers over the rest of the Century Cycle as both a living and a symbolic presence. Stephanie Berry's Ester is a compelling combination of the home spun and the hard won; her age is symbolic of the time passed since the first African slaves arrived in the New World.
Breaking into Aunt Ester's sanctuary, at 1839 Wylie Avenue is a troubled young man. Citizen Barlow, so named because he was the first in his family to be born free of bondage, is weighed down with guilt over the death of a young man. The nature of that guilt, as slowly revealed here, is a reminder of how often others are condemned through our own reckless, selfish actions.
Barlow's story is bound up with a nearby mill (Pittsburgh was a major industrial center at the time), whose owners pay such low wages and charge so much room and board that its black employees grow deeper in debt with each payday. It doesn't help that a local black landlord, Caesar Wilks (the unforgettable, incendiary KenYatta Rogers), has the same exploitative attitude towards the tenants in his own apartment house. Caesar, moreover, doubles as local law enforcement-which enables him to evict tenants and then arrest them the moment they're out on the streets for vagrancy. His badge, his open-carry pistol, and his
Aunt Ester's house also hosts Black Mary-the hardened but vulnerable Stori Ayers-a young woman who like Barlow is clearly adrift and unsure. One of The Miracles of Gem of the Ocean is the way Wilson choreographs Barlow and Mary's awkward courtship and their coming of age, under Aunt Ester's knowing eye.
Wilson's plays always embrace the supernatural; here, because Aunt Ester's memory stretches back to the Middle Passage, she is able to cleanse troubled souls through a ritual that seems to borrow from the African tradition-with its masks and symbolic props-even as it anchors the soul of the initiate in America. The heart of the ritual is a pilgrimage to the City of Bones, a place composed of the silvery remains of the millions who perished on the journey from West Africa to our shores. To see its terrible beauty, confront his crime, and then return to the present, is what will give Citizen Barlow the strength to stand on his own.
That said, because Aunt Ester is such an astute judge of character, she is also not above trickery if she knows it will set a person right. Mary and Barlow, then, will come into their own by means alternately playful and deadly serious.
The past is also represented here by Eli and Solly Two Kings (the solid Jefferson A. Russell and Alfred Wilson), who served as conductors on the Underground Railroad around Pittsburgh during the days of slavery. Solly, himself an escaped slave who returned to help others, finds himself called to perform another act of liberation. But Solly and Eli are also aided on occasion by Rutherford Selig (Michael Glenn), a white peddler who it turns out is good for more than just the occasional iron skillet or dust pan.
Tony Cisek's set is an appropriate mix of the domestic and the monolithic, Aunt Ester's period home combined with a layered wall inset with rows of candles, and a lone grey ramp leading from the dining room table to Aunt Ester's room. A massive staircase, meanwhile, turns a trip up or downstairs into a quest rather than a simple passing from one place to another. Costume designer Kara Harmon uses quilts as a central concept, visually reminding us of Ester's the ability to draw and weave together. Justin Ellington, meanwhile, provides a variety of musical motifs that speak to the era.
There was some grumbling among Roundhouse regulars about the length of time required for theatrical visits like this to Wilson's Hill district. And in time to come, as it gets refracted through the tastes of more restless generations, it is likely that August Wilson's work will be seen as mere plays, and like Shakespeare he will live to be sliced, diced, and produced in any number of desiccated forms. For my money, now is the time to commune with this timeless artist. Ditch the watch, turn off the damned phone, and be with these remarkable people. It will do your soul a world of good.
Production Photo: Aunt Ester (Stephanie Berry) and Citizen Barlow (Justin Weaks). Photo by Kaley Etzkorn.
Running Time: approximately 2 hours and 50 minutes, with one intermission.
Performances of Gem of the Ocean run through December 23 at the Roundhouse Theatre Bethesda, 4545 East-West Highway, Bethesda, MD.
Tickets can be ordered by calling 240-644-1100, or by logging into http://www.roundhousetheatre.org/buy-tickets/calendar/.