BWW Review: Forum Theatre's NAT TURNER IN JERUSALEM an Unforgettable, Luminous Production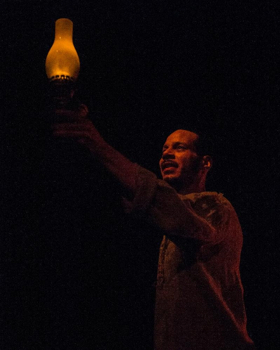 When you first enter the Silver Spring Black Box Theater for Forum Theatre's stunning, unforgettable Nat Turner in Jerusalem, you see in the shadows a bare prison cell and, seated in a corner, a lone prisoner awaiting his fate. The rumble of an angry mob envelops you, creating a sense of foreboding (as if the subject of the play alone didn't tell you what to expect).
Slowly, subtly, William D'Eugenio's lighting design brings us into the world of a man about to face the gallows. The quality of light here is just one of the many wonders of José Carrasquillo's production; you adjust instantly to the fading twilight of a prison in Jerusalem, Virginia, in 1831, and feel the change from fading sun, to moonlight, to the illumination of an old whale-oil lamp. D'Eugenio's scheme is deceptively simple, illuminating as it does the alley platform stage designed by Tony Cisek; but the effect is as masterful as a Caravaggio in its treatment of light and shadow as they play on the walls and on the facial features of Jon Hudson Odom, whose interpretation of the title character is as raw and riveting as anything you're likely to see.
Playwright Nathan Alan Davis has imagined Turner's last night on earth, the last night of a minister with a fiery vision of Biblical justice who led a blood-soaked revolt against the slave owners of southern Virginia. Serene in his knowledge of what he has done, and why he had to do it, Odom's Turner never wavers in his determination to die the death of a martyr-unrepentant, unafraid, certain of his reward. He is eerily calm, and only provoked to anger with cause, as he receives a final visit from his scribe, Thomas Gray-the subtle but passionate Joe Carlson.
Gray is known as The Man who wrote down the famous Confessions, in which Nat Turner described the visions that led him to his act of divine vengeance. Here, Gray returns to Turner for a last interview, as part of a vain attempt to discover other slave revolts which Gray suspects are in the offing. He believes Turner knows of them, but the prisoner refuses; the response is firm, but thanks to Odom's delivery you get the sense that perhaps his is a note of defiance, refusing to betray his fellow revolutionaries.
Carlson also doubles as a prison guard, and the actor's versatility shines in his ability to shift from the educated, urbane Gray to an uneducated, sympathetic guard who struggles between sympathy for Turner's humanity and revulsion at the brutal crimes Turner and his band have committed. Dialect, posture, all are transformed as Carlson passes from one character to the other, and Davis' seamless dialogue moves you briskly through an evening that is part vigil, part testament to one of American history's most controversial figures.
Sarah O'Halloran's sound design blends seamlessly with D'Eugenio's light, and Marie Schneggenburger's costumes help to anchor the muted tones, the shade of the atmospherics in this production. Carrasquillo has shaped a truly luminous performance from his cast, and an unforgettable evening with the unforgettable Nat Turner.
Running time: 90 minutes without intermission.
Production Photograph: Jon Hudson Odom as Nat Turner. Photo by Teresa Castracane Photography.
Performances of Nat Turner in Jerusalem run through April 7 at the Silver Spring Black Box Theater, 8641 Colesville Road.
For tickets, visit: https://forum-theatre.org/tickets .
Related Articles View More Washington, DC

Stories

Shows