Click Here for More Articles on REGIONAL - WASHINGTON, DC
BWW Review: AN OCTOROON is Anything But Black and White at Woolly Mammoth Theatre Company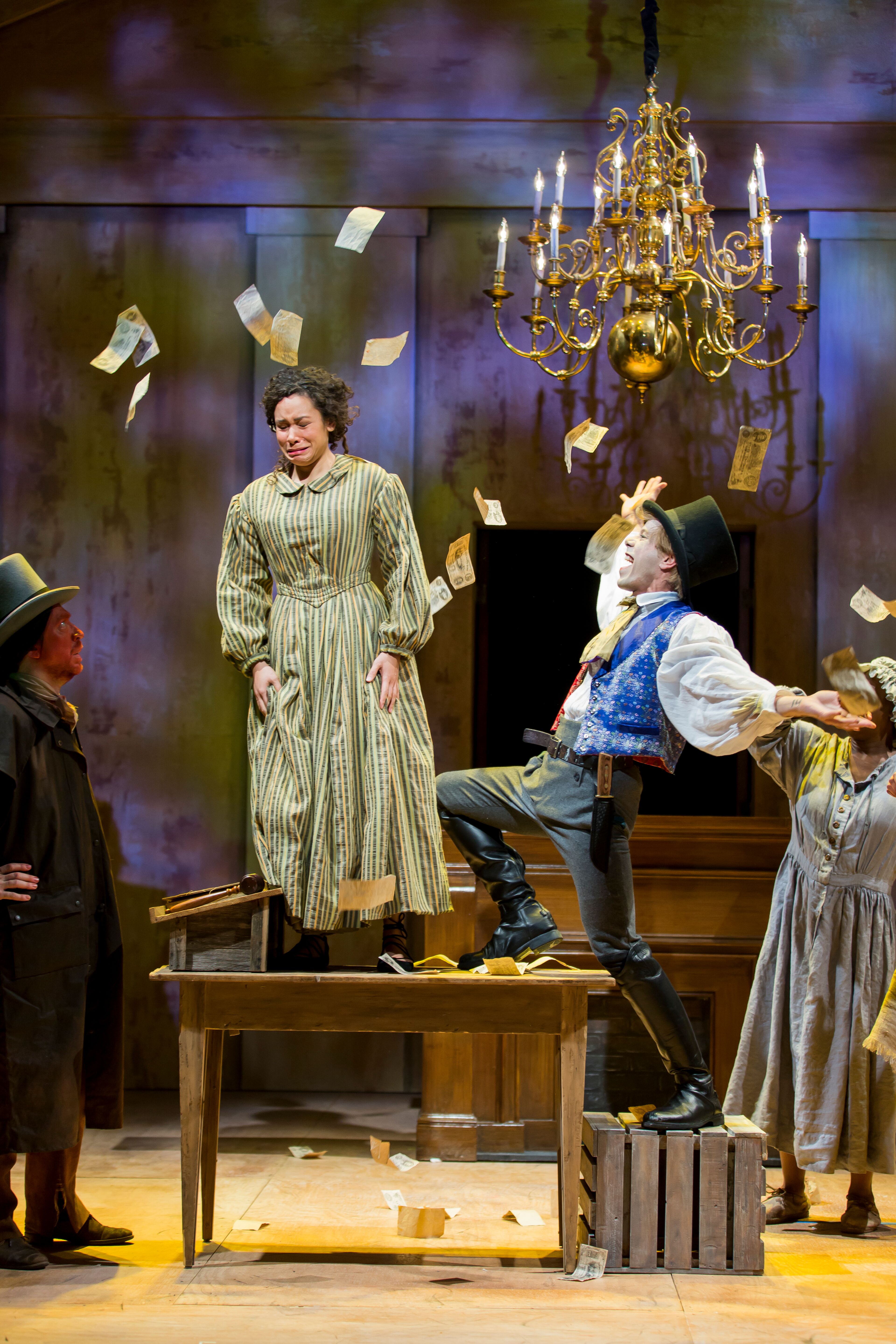 Before the show starts treat yourself to AN OCTOROON's specialty drink, the Southern Discomfort: "A sweet southern surface with an oh-so subtle hint of bitterness bubbling underneath" (Whiskey, Southern Comfort, and grapefruit juice). Then prepare to laugh. A lot. And feel uncomfortable. And laugh some more. Prepare to gasp and cry and cheer and mmm-hmm and leave the theatre really feeling something.
Woolly Mammoth Theatre Company's stunning remount of AN OCTOROON by Obie winning Branden Jacobs-Jenkins, directed by Nataki Garrett, reunites the principal cast and production teams from Woolly's sold out 2016 run. Boy, did I move to DC just in time. The Washington Post declares Woolly Mammoth Theatre Company "a national champion of the new-and frequently provocative-American play" and after laughing, crying, and thinking through Woolly's AN OCTOROON I would be hard pressed to find better descriptors. In the heart of the nation's capital, a stone's throw from The White House, AN OCTOROON is a living, breathing, vital dialogue about racial tension in America.
AN OCTOROON deconstructs Dion Boucicault's 19th Century sensation drama THE OCTOROON, though "deconstructs" only begins to cover it. Playwright Branden Jacobs-Jenkins riffs off of, subverts, plays with, glorifies, vilifies, and satirizes Boucicault's divisive commentary on the abolition of slavery while simultaneously making us question the very nature of the theatrical illusion. He pulls Boucicault's melodramatic dialogue into the future and pushes contemporary idiom into the past. Any attempt to definitively elucidate the intricacies of Jenkins' statement on race would only undermine the playwright's commitment to interrogation and the director, cast, and creative team's collective commitment to the challenge. Suffice to say, it's potent stuff.
The plot is fairly straightforward: George Peyton inherits his late uncle's plantation in Terrebonne, Louisiana only to find the plantation in dire financial straits. George quickly falls in love with his cousin Zoe, his uncle's octoroon (one-eighth black) daughter. The lustful charlatan M'Closky schemes to buy Zoe for himself. When the plantation and all the Peyton's slaves must be sold to pay down debts we discover that Zoe is not the free woman she thought she was.
The moment the lights dim we meet our playwright BJJ, brought to life by the outstanding Jon Hudson Odom, in his underwear. "I'm a black playwright," he says. "Whatever that means."
What it means, we soon find out, is that he can't write a play without critics (and, in this case, his "therapist") plumbing the work for symbolism and allusion. Perhaps in a nod to such pigeon-holing, in Jenkins' play, Boucicault's THE becomes AN. Without any white actors willing to slip into the shoes of slave owner, BJJ slathers his face in thick white paint to play the role himself. A drunken Boucicault (James Konicek) enters in time to shout him off the stage. The boisterous Anglo-Irish playwright bemoans his relative obscurity and applies a thick coat of red face paint to play the Native American Wahnotee. His assistant (Joseph Castillo-Midyett) strips down and paints his own face black for his turn as slaves Pete and Paul: bold representations of Jim Crowe era minstrel stereotypes. Only then are we ready for our trip down the rabbit hole.
Jon Hudson Odom dazzles as both the tortured plantation owner George and the villainous M'Closky. He and Zoe, played by the formidable Kathryn Tkel, deliver Boucicault's words with such vigor that I was often surprised by the force of my emotional reaction. Brought to tears by something so over the top? That is sensation drama at its finest. In stark idiomatic contrast, the slaves on the Peyton plantation gossip like contemporary girlfriends. Shannon Dorsey was nominated for a Helen Hayes Award for Outstanding Supporting Actress for her turn as the house slave Minnie in Woolly's 2016 OCTOROON, and it's easy to see why. Dorsey is hysterically funny even in the most serious context. When fellow slave Dido (ERIKA ROSE) breaks the news that a friend has been sold Minnie spits out a sharp: "No wonder I ain't seen her dumb ass around." And then we're all laughing about slavery. And we're uncomfortable again.
Under Nataki Garrett's direction, the performances alone are rave-worthy. Maggie Wilder as southern belle Dora is delightfully funny. Shannon Dorsey, ERIKA ROSE, and Felicia Curry as slaves Minnie, Dido, and Grace are a riot. Musician Katie Chambers on cello is an exquisite player in every sense-she interacts with and reacts to the Peyton plantation drama with ease. The combination of set design (Misha Kachman), lighting design (Colin K. Bills), costume design (Ivania Stack), dialect (Kim James Bey), sound design (Patrick Calhoun), and composition (Christylez Bacon) make this flawless production a must-see.
In her program note, dramaturge Kirsten Bowen asks us to think about America's past and present struggle with multifaceted identities. What roles we are and are not allowed to play based on our race? How do we see beyond the masks and titles that we all wear. "How in depth do we dare look?" You will leave the theatre buzzing with responses. If the mood strikes you, add a post-it to the reaction board in Woolly's lobby. If you find yourself unable to form a coherent thought after the spectacular sensation that is AN OCTOROON, I will leave you with this. In the opening, Odom as BJJ tells us he wrote a play about talking farm animals. He puts on a cheerful, condescending smile and gives his literary agent a voice: "You're deconstructing African folk tales, aren't you?" His smile morphs into a hardened line: "No, bitch, I'm just writing a play about fucking farm animals that talk." Go see Woolly Mammoth's AN OCTOROON. A man in a rabbit costume (Jobari Parker-Namdar) occasionally dances around the stage, wields a tomahawk, and waves to the audience. We don't have to read too much into it.
To all my under-30-somethings out there, you may, at any time, purchase section B tickets for $20 to any performance. There are also discounts available for educators, first responder men and women and active US military personnel, spouses, and veterans. Tickets to AN OCTOROON start at $34. Visit woollymammoth.net or call 202-393-3939.
AN OCTOROON runs July 18 to August 6 with performances Tuesday-Thursday at 7:30 pm, Friday at 8 pm, Saturday at 3pm and 8 pm, Sunday at 2pm and 7pm.
Running Time: Two and a half hours with one 15 minute intermission
Pictured (left to right): James Konicek, Kathryn Tkel, Jon Hudson Odom, ERIKA ROSE. Photo by Scott Suchman.
Featured This Week on Stage Door
Shoutouts, Classes, and More from Your Favorite Broadway Stars
Related Articles