BWW Review: A new look at TWELVE ANGRY MEN at Ford's Theatre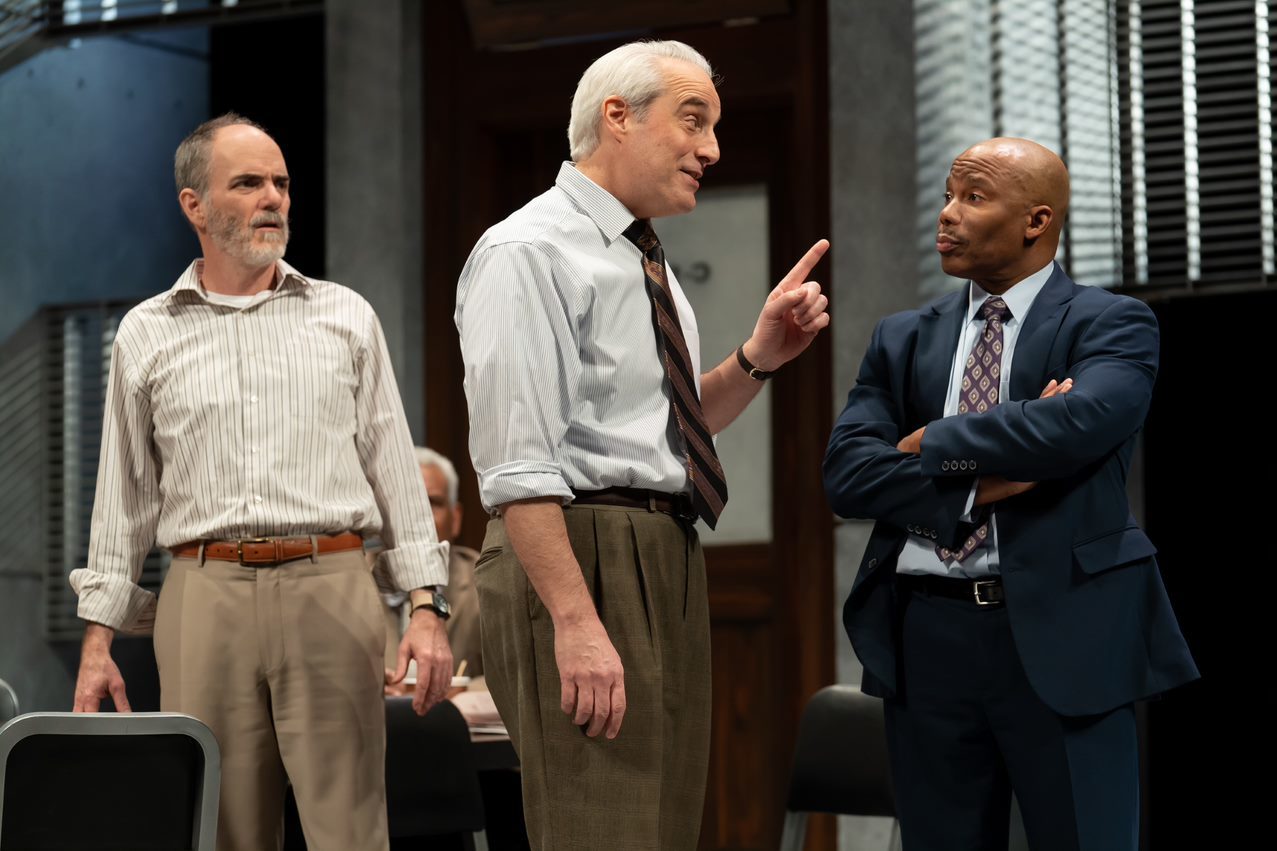 "Beyond a reasonable doubt" - it seems like a simple enough instruction, but when a jury of 12 very different individuals gathers to debate the guilt or innocence of a troubled teenager accused of murder, it brings to the surface the many different experiences, stereotypes, and expectations each juror brings to the decision.
With new resonance and immediacy, Ford's Theatre Society revisits the classic courtroom drama Twelve Angry Men. By casting the production with six black actors and six white actors, director Sheldon Epps effectively brings further depth to Reginald Rose's 65-year-old text.
"This casting choice most directly addresses the issues that I hope to explore," said the Tony-nominated director. "It is all about the judgements and biases that people bring into a room and the still-rampant cultural divide that (deny it though we may) very often exists between races in our country. I hope that what we learn is that the only way to begin getting around all those issues is to acknowledge that they exist. Then we can move forward, just as the characters do in the play."
Twelve Angry Men features a true ensemble in the acing company. Many are familiar faces from productions at Ford's and other DC-area theaters. It is a treat to see these gifted artists work together, strength
meeting strength.
Erik King, well-known from tv's Dexter, is the play's centerpiece, Juror Eight, the only dissenting voice in the first poll of room. King brings an assured attitude to the character - not one completely committed to the innocence of the defendant but dedicated to doing his due diligence as a citizen. Juror Three, played by Helen Hayes-nominated actor Michael Russotto, steadily sticks by his guilty verdict, a seething fury often just below the surface.
As the deliberations unfold we learn of the football recruiting of earnest Juror One (Eric Hissom), eager to serve as an effective foreman. Juror Seven (Lawrence Redmond) has tickets to tonight's game and is keen to wrap things up as soon as possible. Juror Eleven (Bueka Uwemedimo), a watchmaker, shares his perspective as an immigrant and new citizen. Juror Four (Christopher Bloch), a stock broker, even enumerates his arguments. We learn that Juror Five (Bru Ajueyitsi) grew up in a neighborhood not unlike the defendant. Craig Wallace as Juror Nine brings wise gravitas to the deliberations. Soft-spoken bank worker Juror Two (Sean-Maurice Lynch) has a child home sick with the mumps. Juror Six (Jason B. McIntosh) is a local businessman who owns a house paining company. We learn that energetic Juror Twelve (Brandon McCoy), an advertising executive, often has these meetings where crazy ideas are thrown out to see "if the cat licks it up." We see the deeply entrenched bigotry of loudmouth Juror Ten (Elan Zafir).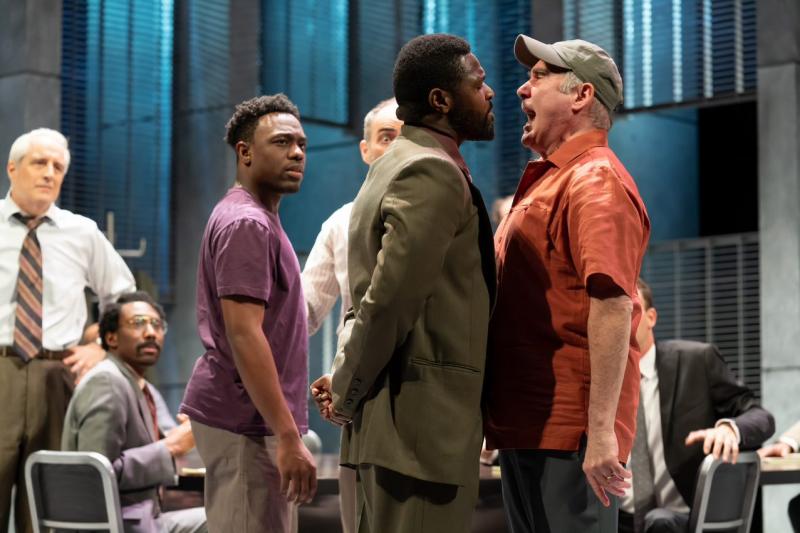 As the group revisits the evidence, as they reconsider the circumstances, emotions erupt, new alliances form, some pause and reassess, some dig in and refuse to budge.
Our 2019 ears prick up, alert, when we hear anew "witnesses can make mistakes," or "the lawyer was court-appointed," and "there's a danger here," or "I'm sick and tired of facts being twisted any way you like." We reconsider the language of "them" and "us," tossed around so frequently in this production, wondering which camp we're in.
The production elements stay true to the production's mid-century roots, but there are a few nods to current times that remind us of the enduring nature of these conversations. Stephanie Kerley Schwartz's scenic design is rendered in sharp angles and black, white, and chrome. We have clocked our time waiting in the same institutional furniture, heading to either the water cooler or the coffee stand. Wade Laboissonniere's costumes add a bit more color, but still stay within a more muted palate. The suits and ballcaps are classic; a hoodie brings us into the current millennium. The lighting design by Dan Covey sharpens our focus whether on the thunderstorm brewing outside or on the glistening trappings of the courthouse. John Gromada's sound design features an insistent percussive score that frames the scenes and heightens the drama.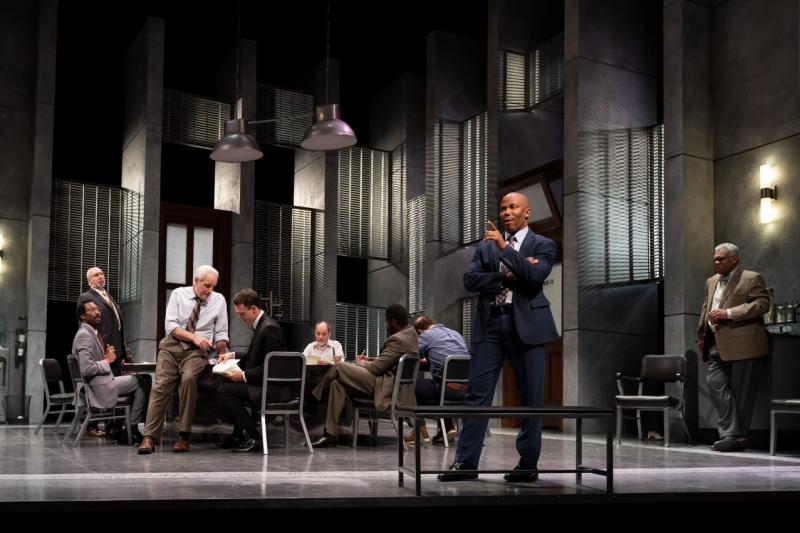 Twelve Angry Men asks us to consider how bias obstructs our pursuit of fairness and justice. Ford's Theatre has worked with the organization Challenging Racism to offer teacher workshops on how to incorporate the production into their curriculum to look at challenging institutional racism at home, work, and in the community.
Even after 65 years after Twelve Angry Men was first performed, we sit with the uncomfortable realization that prejudice shapes many of our interactions. The current production at Ford's Theatre is an important message, a provocative reminder, and a great night of theater.
Runtime: Approximately two hours with one fifteen-minute intermission
TWELVE ANGRY MEN by Reginald Rose is produced by Ford's Theatre, 511 10th Street NW. The production runs through February 17 with performances Tuesdays through Sundays at 7:30 pm, and Saturdays and Sundays at 2:00 pm. There are 11 am matinees scheduled on January 31 and February 14. For tickets or further information visit the company's website.
Photo Credits: Scott Suchman. Top: Eric Hissom (Juror One), Michael Russotto (Juror Three) and Erik King (Juror Eight). Next, L to R: Brandon McCoy, Michael Russotto, Erik King, Jason B. McIntosh, Lawrence Redmond, and Eric Hissom. Center: At front, L to R: Bueka Uwemedimo, Eric Hissom, and Lawrence Redmond and the cast of Twelve Angry Men. Next: Right to Left: Lawrence Redmond and Bueka Uwemedimo with (background) Eric Hissom, Bru Ajueyitsi, Sean-Maurice Lynch, and Michael Russotto. Bottom: Erik King and the cast of Twelve Angry Men.