BWW Previews: Norwegian Play CRYING HANDS About The Deaf During Holocaust Will Tour US And Canada In March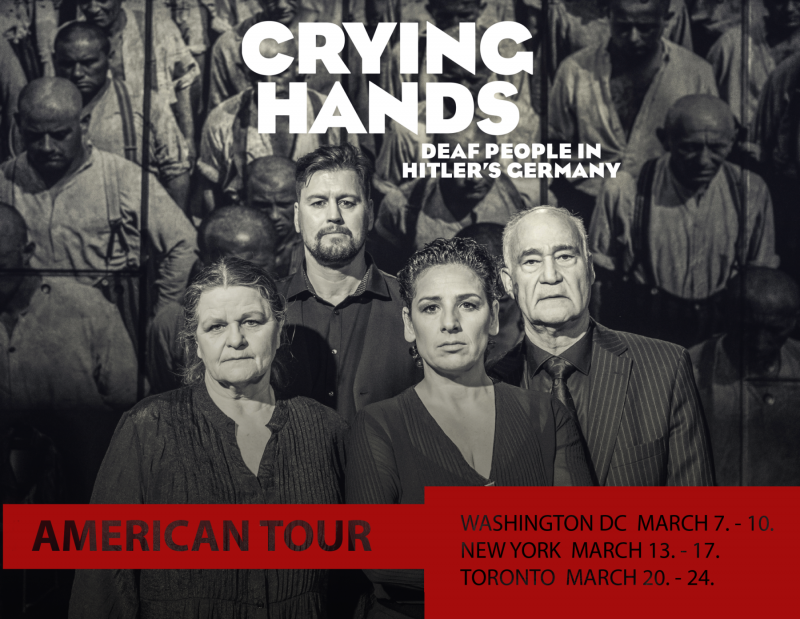 What happened to the deaf and the disabled both before and during World War II? What atrocities and unimaginable acts of evil were committed?
This is an extensive topic, and unknown to most people. Over the years, Teater Manu has acquired a large archive of documentary material, and has interviewed Holocaust survivors. Teater Manu also gather inspirations from the Holocaust Museums in Jerusalem, Oslo and Berlin.
The Norwegian play CRYING HANDS (written and directed by Bentein Baardson) tells the tale of Hans and Gertrud. Hans was born deaf, and grew up in Berlin before the war broke out in 1939. He was very interested in motorcycles, and together with many other deaf people, he joined a Nazi storm trooper unit, and participated in the victory parade when Hitler came to power in 1933. Gertrud is a German, born into a wealthy, upstanding family. She studies medicine and develops an interest in the Nazi theories regarding race at an early age. She eventually becomes directly involved in the systematic marginalization of the deaf.
The production follows Hans's fate and destiny as we witness his brutal transition from being a young man interested in sports, to his struggle for survival. Inspired by the interviews of the ten deaf survivors in Israel, I focused on two characters - Hans and Gertrud. They are fictitious, but most of what they say comes from actual stories or events.
CRYING HANDS will do a mini-tour in the US / Canada. It will open March 7. - 10. in Washington DC, then New York on March 13. - 17. The final stop on the tour will be Toronto on March 20. - 24.
It will starr Eitan Zuckermann, Ronny Patrick Jacobsen, Ipek D. Mehlum and Kjersti Fjeldstad (Voice actor)
Rated: Adults and youths, 13 years and older.
Language: ASL (American Sign Language)
Voice actor: As we use voice actors, all Teater Manu productions are also accessible for hearing patrons.
Running time: 1 Hour and 30 minutes. No intermission.
Related Articles View More Washington, DC

Stories

Shows