Anthony Kearns Of The Irish Tenors To Perform At Perry Belmont House this March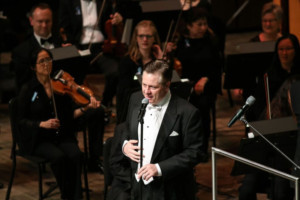 The Perry Belmont House, an architectural gem in the nation's Capital, will host a spectacular kick-off to this year's Irish celebration - and the spring social season -- with a highly-anticipated performance by renowned tenor Anthony Kearns of The Irish Tenors on Sunday afternoon, March 3, 2019.
This extraordinary event, which includes the concert, a complimentary champagne reception, meet-and-greet opportunity, and self-guided tours of the historic landmark, begins at 4 p.m. (Doors open at 3:30 p.m.) Tickets are $100 per person and can be purchased online.
The Perry Belmont House is located at 1618 New Hampshire Ave NW, Washington, DC 20009.
Emmy-award winning storyteller Will Thomas (former Fox5 anchor) and famed interior designer Barry Dixon will co-emcee. Special guests include high-ranking diplomats from the Embassies of Ireland, the Czech Republic, Malta and Slovenia, among others.
"We're delighted to kick off the season with Anthony Kearns, one of the world's most talented tenors, at the Perry Belmont House," said Lawrence von Weigel, headquarters administrator of the Perry Belmont House. "The concert underscores our deep commitment to the fine arts and humanities. There is no finer tenor today than Anthony Kearns."
Kearns, a member of the double-platinum PBS group, The Irish Tenors, is known for his vocal range and power, and is a highly-regarded performer on the world stage. He will perform songs from his wide-ranging repertoire, including popular and beloved melodies, inspirational and patriotic songs from the American Songbook, and songs from his native Ireland.
"We are also pleased to have renowned interior designer Barry Dixon and Emmy-awarding winning broadcaster Will Thomas, now with TTR Sotheby's International Realty, as co-emcees for this wonderful event, along with our fabulous host committee of ambassadors," von Weigel said.
Mr. Kearns, who recently finished a sold-out concert tour in Ireland with his Irish Tenor colleagues in celebration of their 20th anniversary, said that he is excited to perform at the Perry Belmont House, in the heart of downtown Washington DC.
"This is an incredible setting for a concert. The house will come to life again," said Kearns, who will be accompanied by David George of Louisville, KY.
Said Barry Dixon: "I've had the pleasure of working with Anthony Kearns on several occasions, and I look forward to listening to his beautiful music again at the Beaux Arts masterpiece that is the Perry Belmont House on March 3rd." Dixon is referring to several charity drives he has hosted at his home, Elway Hall in Warrenton, Virginia, where Kearns has also performed.
Will Thomas, now with TTR Sotheby's International Realty, said: "It is a great pleasure to co-emcee this event and to help create an unforgettable experience in one of the finest and most history-rich houses in the DC area."
Along with diplomats from the Embassy of Ireland, the event will be co-hosted by the ambassadors of Malta, Slovenia and the Czech Republic with their spouses (confirmed). Other members of the international community are expected to attend.
"I am delighted to represent Ambassador Mulhall and Embassy colleagues at this upcoming March 3rd event with the wonderful Anthony Kearns, such a great interpreter of the Irish songbook, as we celebrate St. Patrick and Irish-American heritage month with compatriots, the Irish diaspora and friends throughout the U.S. and across the world," said Brian Cahalane of the Embassy of Ireland.
Guests will include high-ranking members of the international diplomatic corps, government and business leaders, members of the DC social scene, international and D.C.-based media, etc.
The Perry Belmont House is an architectural gem; with an exterior reminiscent of 15th and 16th century French château architecture and an interior grandly decorated.
The Perry Belmont House is possibly the finest, intact example of a Beaux Arts style mansion in Washington, D.C. Its most prominent feature is the grand upper floor, capped with a copper-trimmed slate roof, accented with magnificent stone urns and finials.
"The history, architecture and priceless décor of this incredible property is simply unparalleled -- and is the perfect setting for a concert with one of the world's great tenors, Anthony Kearns," said Kirsten Fedewa, who works with Mr. Kearns and also is an event consultant.
For ticket and additional information, visit: anthonykearnsperrybelmont.eventbrite.com
Related Articles View More Washington, DC

Stories

Shows
More Hot Stories For You