Charles Dickens' GREAT EXPECTATIONS Joins Mercury Theatre's Spring/Summer Season
Great Expectations opens 17 May, with previews from 12 May, and runs until 27 May, with full cast yet to be announced.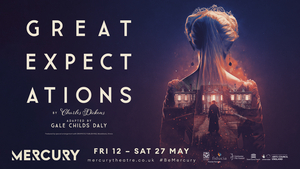 Ahead of opening the world première adaption of Manjeet Mann's Carnegie Medal-winning young adult novel Run Rebel, Mercury Theatre has announced their new production of Charles Dickens' novel, Great Expectations, as part of their Spring/Summer season. Directed by Mercury Theatre's Creative Director Ryan McBryde and adapted by Gale Childs Daly, further creatives include James Button (designer), Rajiv Pattani (lighting designer), CHIHIRO KAWASAKI (movement director) and Natalie Gallacher (casting director), with more to be announced.
Following the childhood and young adult years of a blacksmith's apprentice, Dickens' much loved protagonist Pip comes into a large fortune from a mysterious benefactor and moves to London where he enters high society. Great Expectations opens 17 May, with previews from 12 May, and runs until 27 May, with full cast yet to be announced.
Creative Director Ryan McBryde said: "The reason Dickens' classic tale remains so popular today is because it's themes of obsession, revenge and class mobility still feel so startling relevant. It's the ultimate coming of age story as Pip learns that his "great expectations" - social status and wealth - are less important than loyalty and compassion. Gale's script reads like a thriller; the atmosphere just leaps off the page, pulls you in and doesn't let you go until the very last word is uttered."
The production completes Mercury Theatre's Spring/Summer season, alongside the previously announced co-production with Pilot Theatre, Belgrade Theatre, Derby Theatre and York Theatre, Run Rebel; Dario Fo's They Don't Pay? We Won't Pay! as adapted by Deborah McAndrew; Mercury Creatives alumni Mia Jerome's Mercury Original The Instrumentals for young audiences; and Derren Brown's Unbelievable, directly ahead of the show's West End run.
Charles Dickens' best-loved novel is brought to life on stage in this thrilling adaptation from Gale Childs Daly, directed by Mercury Theatre's Creative Director, Ryan McBryde.
Pip, a blacksmith's apprentice and orphan, dreams of becoming a London gentleman. When his wish is granted by a mysterious benefactor, his life becomes one extraordinary encounter after another. He is plunged into a world of dark secrets and cruel twists of fate, where beautiful girls are used as weapons, and nothing is more important than knowing who you are and remembering where you came from.
A compelling and dramatic treat for a new generation of theatre lovers.
Ryan McBryde is the Creative Director of Mercury Theatre. His productions for the Mercury include The Comedy of Errors, Aladdin, Baskerville, Oliver!, Moll Flanders and Pieces of String (the latter was nominated for UK Theatre Award for Best Musical Production and won Best New Musical at the Stage Debut Awards). Other recent credits include Romeo and Juliet (Theatre Trier, Germany), Faust, 1984 (Alte Schauspielhaus Stuttgart), Love on the Links, Before the Party, Beauty and the Beast, Cinderella, Aladdin, Jack and the Beanstalk (Salisbury Playhouse), The Invisible Man (Queen's Theatre, Hornchurch), Saturday Night Fever; Angus, Thongs and Even More Snogging (West Yorkshire Playhouse), The Who's Tommy (European tour), A Day at the Racists (Finborough Theatre/Barking Broadway), The House of Mirrors and Hearts (Arcola Theatre), Lia's Guide to Winning the Lottery (Bridewell Theatre), and Terie Vigen (Royal Concert Hall).
Charles Dickens (1812-1870) was an English writer and social critic. He is regarded by many as the greatest novelist of the Victoria era. His most famous novels, many originally published in serial format, include Oliver Twist (1839), The Old Curiosity Shop (1841), A Christmas Carol (1843), David Copperfield (1850), Bleak House (1853), Little Dorrit (1857) and A Tale of Two Cities (1859). Among his accomplishments, he has been lauded for providing a stark portrait of the Victorian-era working class, helping to bring about social change.
Gale Childs Daly is a playwright, director, teacher, text coach and actor. A graduate of the Goodman School of Drama at the Art Institute of Chicago (now DePaul University), Daly has worked at The Goodman Theatre, The Alley Theatre, the Great Lakes Shakespeare Festival, the Great River Shakespeare Festival, and the Pacific Conservatory of the Performing Arts, among others. As a playwright, she has also adapted The Secret Garden, The Story of Opal and The Lament for Ignacio Sanchez.