Interview: Seth Black-Diamond of A CHRISTMAS STORY, THE MUSICAL 2018 NATIONAL TOUR DEBUTING at Lutcher Theater
When interviewing the eloquent young actor debuting in the beloved "A Christmas Story, The Musical" it's nearly impossible to believe Seth Black-Diamond is only 12 and he has just 6 years of experience under his belt. This charismatic young man has journeyed from Patel Conservatory and community theatre to being cast as the "triple-dog darer" Schwartz in the national tour of this holiday favorite beginning November 19.
Opening in Orange, TX, the Tony-nominated Broadway musical will also play in Knoxville, TN, Louisville, KY, Charlotte, NC, Dallas, TX, Davenport, IA and Detroit, MI.
Full of fun songs and production numbers, "A Christmas Story, The Musical" tells the tale of the bespectacled, young Ralphie Parker and his goal to get the official Red Ryder Carbine-Action 200-Shot Range Model Air Rifle for Christmas.
"From a really young age, we tried to find opportunities for Seth to do creative things. We signed him up for a local production and he came out of it asking 'when's my next one?' He was about six years old," said his mom, Hilary Black. "We've been going ever since."
Patel Conservatory was recommended to Hilary to provide additional resources for Seth to study theatre. Ironically, she had already been taking adult ballet for exercise at the Conservatory and saw the kids' theatre class information pinned to the hallway bulletin board. Seth went to his first audition, initially unprepared, but since that first opportunity, has become a consummate professional, eager to learn and perfect his craft.
Audrey Siegler, Seth's teacher and a director at Patel described him as wanting to learn everything.
"He knew this is what he wanted to do from an early age. Though he was there to have fun, he had a deeper desire to pursuit this," she said. "That's not something you typically get from an elementary school student. He always stood out vocally and as an actor. He has the passion, drive and desire to do the work. We are very excited for him and we know that this is just the beginning."
In 2017, music teacher Linda Switzer is credited with introducing Seth to the national musical tour. He participated in a Broadway workshop in Florida and a manager from New York City called Hilary and asked Seth to audition for "A Christmas Story, The Musical." He re-auditioned in 2018 and was cast.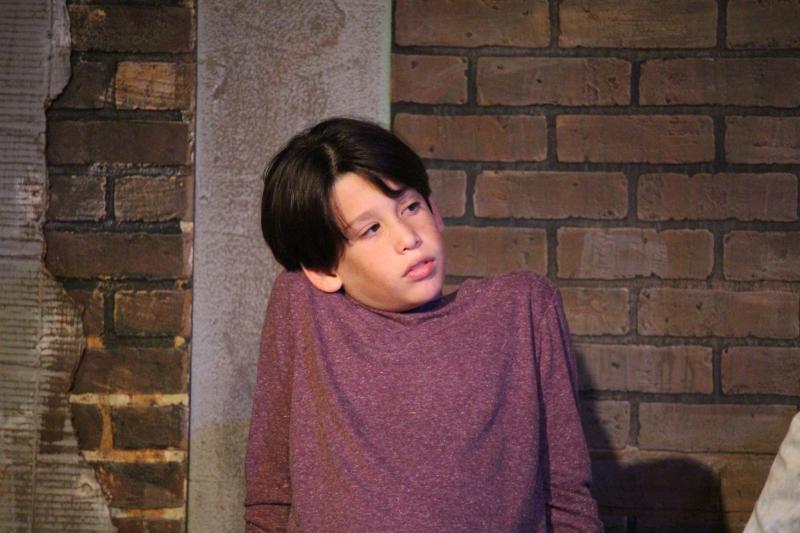 "I find it hard to believe," said Seth. "Knowing what I wanted at six and six years later, it happened. I like telling stories. I love singing and dancing is a lot of fun."
Seth offered sage advice to anyone interested in becoming an actor.
"You have to keep trying. Sometimes, if you get rejected, you feel a little discouraged, but you have to keep trying. I wouldn't have gotten here if I had given up."
During the tour, Seth and the other young actors have school from 9am to 12pm, lunch followed by six hours of rehearsal.
When asked if this life is something he wished to do for a career, Seth answered without pause. "One hundred percent."
Hilary added, "I'm not surprised in the least. He's had some wonderful teachers at Patel and some amazing opportunities and experiences in all of the performance genres. We are very fortunate to have Patel in Tampa. To be able to get that kind of training and experience has really been invaluable. We are grateful for everyone who has helped us along the way - Patel, the community theatre, and Tampa Prep who has been great working with us to let him have this opportunity. We've had so many wonderful people help us, support us and get us to this point."
His bucket list role is to play the Genie in "Aladdin," but for now, he is content and quite busy rehearsing his role of Schwartz.
"It's been amazing and I'm very grateful," he said. "I want to thank my whole family for this opportunity - my sisters, my dad, my mom, my grandma, my grandpop, my other grandma, my other grandpop and my dog."
Learn more at http://achristmasstoryontour.com/cast/ and follow Seth on Instagram at sethblackdiamondofficial.
| | |
| --- | --- |
| Vote Now for the 2022 BroadwayWorld Tampa Awards | |
| voting ends in | |