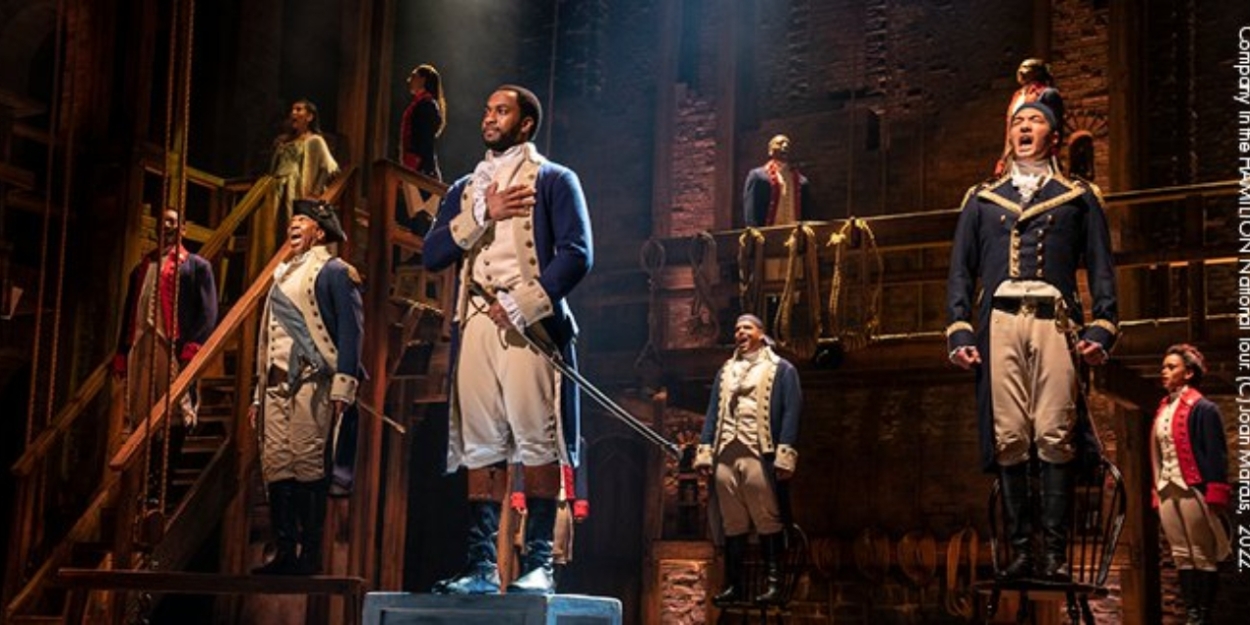 Review: The Angelica Tour Puts You 'In the Room Where It Happens...' with HAMILTON at the Straz Center
Hamilton is at Morsani Hall through January 22, 2023. Do Not Throw Away Your Shot! 
"I have thought it my duty to exhibit things as they are, not as they ought to be."
-Letter of August 13, 1782
"The passions of a revolution are apt to hurry even good men into excesses."
-Essay of August 12, 1795
"Men are rather reasoning than responsible animals, for the most part governed by the impulse of passion."
-Letter of April 16, 1802
"Opinion, whether well or ill founded, is the governing principle of human affairs."
-Letter of June 18,1778
From the opening drum sequence to the first note, Lin-Manuel Miranda's behemoth musical that changed the course of the Modern American Musical as we have come to know it completely draws you in, and the silence of the room waiting with bated breath is almost extinguished by the deafening roar of excitement exuded from the audience.
We all wish to be in "The Room Where it Happens," but until you're actually there, and physically reveling in all its masterful work, does Hamilton even exist besides merely in history lessons we learned about in American History class?
Thus, what the musical itself attempts to achieve by dusting off history books of the past is a new form of an American History lesson to not only those already versed on the subject but a new generation as well. Blending styles of Hip/Hop, R&B, and Contemporary Musical Theatre, with explosive, yet concise Choreography by the ingenious Andy Blankenbuehler, Hamilton proves its not just a dusty old lesson, but a current, and cohesive experience that needs to be witnessed in all its grand fashion.
Hamilton is a biographical musical that is sung/rapped through from start to finish and was composed over a seven-year period from 2008-2015. The musical tells the story of the life and times of Alexander Hamilton, one of America's Founding Fathers. Miranda himself came upon the idea after reading Ron Chernow's 2004 Biography entitled Alexander Hamilton. Originally seen as a hip/hop album in his head, Miranda wanted to tell the story of "...America then, as told by America now," and in doing so Hamilton casts non-white performers in the roles of the Founding Fathers.
Hamilton first premiered Off-Broadway to near-universal acclaim in 2015 at The Public Theater. Miranda himself portrayed the title role and was completely sold out for its run. Winning eight Drama Desk Awards including Outstanding Musical, Hamilton then transferred to its current home at the Richard Roger's Theatre where it opened on August 6, 2015. Hamilton then proceeded to break records by garnering a whopping 16 Tony Award Nominations and winning 11. It also received the Pulitzer Prize for Drama in 2016. A pro-shot version starring the Original Broadway Cast was released in 2020 on Disney's Streaming Service Disney+.
Hamilton last traveled to Tampa in 2019 in February to be exact. The show itself was supposed to arrive back in Tampa the following season, however, we all know what happened, as the fate of our very nation was at war with a Global Pandemic and completely shuttering all we knew. So finally after a warranted pause, Hamilton made its triumphant return back to Tampa at the Straz Center's Carol Morsani Hall.
Now, to break down Hamilton from a perspective for those of us wondering, "...will I understand what is onstage in front of me?" can be a task of daunting proportions. Understanding that the musical itself is comprised of 22,000 words is also daunting in and of itself. By now, if you have not heard the soundtrack, or watched the pro shot on Disney+, I would say brief yourself on the summary of the musical, and go in for an experience you will never forget. Having taken someone with me to the show who has not heard the soundtrack in its entirety, they wanted to experience the performance as it would be handed to us, not with an understanding of how the Original Cast performed it. So with fresh eyes, and fresh ears we made our way to the Straz Center.
Earlier this season I had done the same thing when SIX was in town. I had not yet listened to the show and went in completely blind outside of knowing the premise and was blown away. Having practically memorized Hamilton inside and out, read Ron Chernow's Biography on which the musical was based, and having seen Hamilton previously on its last tour stop in Tampa, I knew what I was about to experience. For me, it was all about the excitement of those who have yet to experience Hamilton, as it is, which is a ground-breaking tour-de-force.
The cast is explosive from first note to final bows. Led by Edred Utomi as our Alexander Hamilton, and Tampa native Deejay Young as Aaron Burr, Hamilton came in swinging and swung for the fences on all counts. I always tell people who are witnessing Hamilton for the first time, to not only watch the Principal performers but make sure to watch everyone onstage at least once. The brilliant Thomas Kail's direction utilizes everyone to their fullest extent. The Principals and Ensemble members making up the company work as a cohesive unit, will draw your eyes left, right, up and down for the entire performance.
As Alexander Hamilton, Edred Utomi has the power to lead the fate of the nation forward, even if it takes those around him some time to warm up to his ideals. His vocals are outstanding, and his My Shot was sheer genius. All the while you see the torment, and the struggle of rising to the task that Hamilton himself faces with the weight of the nation on his shoulders. For me, it's his performance of Hurricane in Act 2 that seals the deal. The rest of the show, I found myself not really rooting for Alexander Hamilton, but rather struggling with his plight. I merely saw him as the namesake of our story and had a hard time seeing the other side. This is no regard to the work Edred accomplished here, because that in and of itself is a daunting task, even by the most seasoned performer, but for me, his Hamilton was lacking in areas where I felt power, fight, willingness to succeed and to prove his worth should have driven his plight.
Tampa's very own Deejay Young, a graduate of Blake High School, and a swing/standby on the Angelica Tour, makes his triumphant return as the undeniably vile Aaron Burr. Small in stature, his stage presence is dynamic in every moment. His vocals are undeniable, and his concise and clear thru-line makes for a very stirring turn. Normally I have experienced Aaron Burr as a towering figure, completing a vast difference between Hamilton and Burr, but this Company was the exact opposite. This also rings true with who I found myself most in tune. I found myself rooting for Burr and DeeJay goes above and beyond to make you root for him, and his performance is outstanding. I wonder what would happen if the tables were turned, so to speak, and roles were flipped. Noticing in the program he is also a standby for Alexander Hamilton, it makes me wonder where my heart would lie in the end. All I can say is Welcome Home DeeJay, and what a homecoming it is! Bar none Best in Show hands down.
Alysha Deslorieux as our Eliza Hamilton is grand in voice and stage presence, you feel for her plight and her love for Alexander, even amidst his infidelity. Her performance of "Burn" was exceptional.
As our other Schuyler Sisters, Stephanie Umoh as Angelica, and Yana Perrault as Peggy were wonderful in their roles. Stephanie's Angelica is captivating in her plight to win the heart of Alexander, and Yana's turn as Peggy though brief allowed for Comic Relief. For me in this instance, its Yana's turn as Mariah Reynolds that is truly remarkable. Her moments with Alexander in "Say No To This.." were captivating and alluring, and created a moment seared in my memory for time to come. A truly captivating turn from both of these incredible women.
Carvens Lissaint as our General George Washington was towering over the competition. His vocals are strong, and his presence is dynamic. One of my favorite moments of the night came from his "One Last Time," the Opt-Up moment at the end of the number was something I have yet to hear and was not only surprising but undeniably perfect. Carvens produced masterful work with his turn as George Washington.
As Lafayette/Jefferson, David Park is outstanding. His "What Did I Miss," at the top of Act 2 was a great moment of the night, and his moments with Burr and Hamilton are top notch. His vocals are outstanding, and his skill with choreography is unmatched.
Tyler Belo as Mulligan/Madison is great in both moments. His Madison is aloof, and his Mulligan is strong and powerful, an outstanding performance from Tyler.
As John Laurens/Phillip Hamilton, Jon Viktor Corpuz is no stranger to Tampa Area Stages. His performance as John Laurens though brief is a great turn for the young performer, however, it's his turn as Phillip that is masterful. In the moments as Phillip, he completely captures the youthful innocence of a boy missing his father, and he shows how much he will do to make his father proud.
As our King George, Peter Matthew Smith, tackles one of the most beloved roles in the show. His first number, "You'll Be Back," and the follow-up, "What Comes Next," both were accompanied by roaring laughter from the audience. Peter makes his turn as King George memorable and adds comic relief to the show, and his vocals are unmatched here.
Rounding out the Principals are Jorrel Javier (Phillip Schuyler/James Reynolds/Doctor), Patrick Garr (Samuel Seabury), Adriel Flete (Charles Lee), and Taylor N. Daniels (George Eacker). Each performer takes on the roles they have been tasked with mounting, and do so with gusto, adding wonderful additions to the company.
I would be remiss, if I didn't mention the exceptional Ensemble performers of the Company who do just as much, if not more work than the Principals, helping to create a cohesive story from start to finish. Everywhere you look, there is always something going on, someone to watch, each driving the thru-line of the story in their own unique way creating a character that not only stands out, but blends seamlessly with the world of the story. The Ensemble is truly the backbone of the production, and not one performer is out of sync with the next. The moment-to-moments created help propel the story at a rapid pace, and create beautifully rendered moments in the lives of these characters. All should be commended for their exceptional work here, Carey Channing, Taylor N. Daniels, Karlee Ferreira, Adriel Flete, Patrick Carr, Kellie Jean Hoagland, Jorrel Javier, D. Jerome, Kourtney Keitt, Josh Marin, and Raven Thomas. Swings and Universal Swings (Reanne Acasio, Carey Channing, Karlee Ferreira, Andre Malcolm, Terrance Martin, Bedlla Rusli, Avery Soback, Kennan D. Washington, Connor Wince, Adam Ali- Perez, Amanda Braun, Taylor Broadard, Yossi Chaikin, Tyler McKenzie).When I tell you, you need to watch this ensemble, take a moment and watch each and every person on that stage because the company as a whole delivers ten-fold.
Technically speaking, Hamilton is a marvel of epic proportions. From the stunning set, to the exquisite period costumes, and the lighting, all work to seamlessly blend the world of these characters together into one finite moment. David Korns Scenic Design, Paul Tazwell's Costume Design, and Lighting Design by Howard Binkley come together masterfully to create the world of Hamilton as we know it. With Music Supervision and Orchestrations by Alex Lacamoire, and Choreography by Andy Blankenbuehler Hamilton is like a locomotion full-steam ahead.
One quandary I have been battling with since seeing the show was this idea of momentum. Another colleague asked me recently what I thought of the production compared to last time it was in town. I had one word to describe the experience....Interesting, and here in lies the quandary. I felt throughout the show, there was this momentum that was lacking. From its start Hamilton should and always has seemed to take off like a rocket, until its final note. In this production, however, the constant was this never-ending feeling of a battle. Not a battle in a sense of a war being waged, not to point out the obvious, but it felt like the Company as a whole was battling the show. Albeit, this is no fault to the performers, but rather a technical aspect. I felt like I was in a car or train that took off and then had mechanical malfunctions along the way proceeding to give off a chugging-like effect. Each of the characters tries to one-up the other along the way. Then the other issue I had was the levels of the mics, some were incredibly louder than others, and if someone was in the audience who had never experienced the show, then they would miss out on the storyline in moments where it was hard to hear. I began to wonder if it was just a chance moment in time that this happened, or a struggling issue. Either way not to take away from the performances, but rather raise awareness to the technical issues facing the performance on the evening in which I experienced the show.
Lin-Manuel Miranda's behemoth Hamilton is onstage at The Straz Center through January 22, 2023. DO NOT THROW AWAY YOUR SHOT! Spend your New Year with our Nations Founding Fathers, as they continue to, "Tell history as it was then, by the way history is now." You can visit The Straz Center's website at www.strazcenter.org for tickets, or by calling the box office. You can always apply to win lottery seats either via HAM-4-HAM through the Hamilton App found in either Google Play or Apple App Store, or by visiting LuckySeat.com for their lottery. Should you take a shot, you could win a pair of tickets for $10 a piece. Hamilton makes it not only affordable, and convenient, but also relevant to experience a new way of telling history both old and new, to generations across the map. Experience this show-stopping experience today! Don't wait as tickets to Hamilton: An American Musical, won't be available for long, and this is one experience you absolutely cannot miss!
"Are we a nation of states, what's the state of our nation?" -My Shot
Photo Credit: Joan Marcus