BWW Review: THE MUSICAL OF MUSICALS (THE MUSICAL!) Hilariously Skewers Sondheim, Lloyd Webber, Herman, Rodgers & Hammerstein, and Kander & Ebb at freeFall Theatre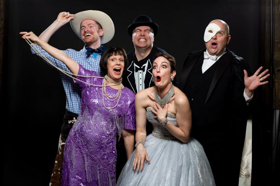 Never trust an individual who dislikes dogs or musical theatre. The dog part of this piece of advice is obvious; to not like dogs is akin to shunning the epitome of loyalty and love. And as over the top as this may sound, to not like musicals is really to not like life, to reject a certain joie de vivre that gets us through the hard times. If some Debby Downer who openly detests musicals is coming your way, then it may be best to quickly cross to the other side of the street.
I adore musicals (beware of any reviewer who doesn't). Musical theatre, like baseball and jazz, started as a truly American phenomenon. THE MUSICAL OF MUSICALS (THE MUSICAL!), with music by Eric Rockwell and lyrics by Joanne Bogart, celebrates and disses with loving barbs the greats who made musical theatre what it is. It's a whip-smart mash-up, a musical lover's dream show.
For those purists who were disappointed that freeFall didn't mount a specific Sondheim production this year (after three Sondheim shows in a row--Into the Woods, Sondheim on Sondheim, and Assassins), they need not fret because there's a healthy dose of Sondheim here. Actually, this parody of parodies focuses on five musical powerhouses (all Americans except for one Brit)--Sondheim, Richard Rodgers & Oscar Hammerstein, Jerry Herman, John Kander & Fred Ebb, and Andrew Lloyd Webber. It imagines what each composer (or team) would do with the classic "I can't pay the rent!" shtick and teasingly goes for the jugular. Each composer or team gets their comeuppance, with the most severe gags reserved for Lloyd Webber (including stealing Puccini references and a Starlight Express roller skating moment). This is, quite simply, a laugh riot, one of the funniest, smartest blasts I have seen in recent years. The more you live and breathe musicals, the more you'll laugh.
The fun starts immediately. The pre-show music gets us in the mood (including "There's Nothing Like a Dame" with a disco beat and Little Richard crooning "I Feel Pretty"). Then the audience gets to be a part of the show by filling our scraps of paper to be used later on (the name of a Broadway composer or team and the title of one of their shows, pulled from a hat). It's all in good fun, even though the order of the shows at hand is predetermined: The hopelessly corny Corn! as if written by Rodger & Hammerstein (the weakest of the segments); the obtuse A Little Complex as if written by Stephen Sondheim; the cheesy Dear Abby as if written by Jerry Herman; the redundant and infectious Aspects of Junita as if written by Andrew Lloyd Webber (by far the funniest); and the forced cool of Speakeasy as if written by Kander & Ebb (centering on Cabaret and Chicago with a wink to the song "New York, New York," which they wrote, and even The Rink). The same characters--renters and landlord--appear in each of the mini-productions.
A show like this must survive on its players, and this production boasts four stars who sing and act like there's no tomorrow and who make each joke smack the bulls-eye of their targets: Matthew McGee, Ann Morrison, Jennifer Byrne and Robert Teasdale.
There's a reason Matthew McGee is so beloved: He was obviously born to entertain. He can just stand there, an exasperated look on his face, and it's funny. But here, he plays everyone from a Curly-like cowboy, to a bizarre-looking killer artist (Sweeney meets George in Sondheim Land), to a bulbous woman, to the Phantom of the Opera. It's like watching McGee's greatest hits reel in a single show. As the killer-artist-landlord, he dons a Beatles wig and round glasses, and resembles Marcie from the "Peanuts" comic strip as played by Joey Ramone. And McGee gets to display his notorious drag chops in the Jerry Herman segment, looking like Werner Klemperer meets Dolly Levi. He even gets to do a Carol Channing imitation with a lampshade on his head (I'm not kidding). And his pained Phantom-landlord showcases a marvelous singing voice. This is a tour de force of tour de forces, displaying a versatility that is unmatched.
Ann Morrison scores so many wondrous moments, especially her Mother Abby from the Rodgers & Hammerstein parody, combining "You'll Never Walk Alone," "Bali Ha'i" and "Climb Ev'ry Mountain" in one song called "Follow Your Dream." Her Sondheim creation--Mary Flynn from Merrily We Roll Along meets Joanne from Company (martini in hand)--is not to be missed. And her cat from Cats, interrupting the Phantom's boat journey in Andrew Lloyd Webber World, is something I can't (or don't ever want to) erase from my "memory."
Jennifer Byrne, so good in The Light in the Piazza at freeFall two years ago, continues to be a showstopper here, with an out of this world singing voice and amazing dance moves. Every part of hers is sensationally realized, and her Junita gives any Evita (Elaine Paige or Patti Lupone) their run for the money. And Robert Teasdale gets to play so many leading man types, from a cowboy to Che, all performed mightily, showing off his tremendous talent.
Perhaps the real star of the show is musical director Michael Raabe, who is onstage the entire time, playing the piano and, like an unofficial emcee, running the party.
Director Eric Davis squeezes every last ounce of comedy in the proceedings. Davis is known for his exquisite direction of serious works, twisting well-worn shows into something new, but he's equally adept when it comes to comedy. Cheryl Lee's choreography is perfect for each composer (especially the Kander & Ebb section), and David Covach's costumes once again score. Yes, the elaborate Evita and Phantom of the Opera wardrobe take-offs are funny (as is A Chorus Line joke near the end); but for me, the loudest applause goes to the misguided Merrily We Roll Along costume in-joke where the cast members don t-shirts with their character's generic parts written on them ("The Boy," "The Girl," "Landlord," etc.).
Sean McClelland's set, appropriately lit by Tom Hansen, is exceptionally busy, like the world's classiest, albeit cluttered collectibles shop. In it you will find everything from Broadway books and DVD's to posters of Sunday in the Park with George, Oklahoma!, Company, Follies, La Cage Aux Folles, and Merrily We Roll Along. Littering the shelves rest stuffed animals (Kermit the Frog as well as The Little Mermaid's Flounder and Sebastian), a Wizard of Oz lunch box, a Fosse coffee cup, and a Bette Midler figurine. There's even a Liza Minnelli pillow (which immediately hit home with me, the proud owner of a Patti Lupone "Evita" pillow). For musical theatre buffs, this is heaven.
I have one qualm, or perhaps question, with the show: How will non-musical theatre fans actually like THE MUSICAL OF MUSICALS (THE MUSICAL!)? Will they understand any of the references? Will it make any of them converts? Is one's enjoyment of the show mirrored solely by one's musical theatre acumen? Is this such a specific show, with specific targets, that it may leave those who don't follow musicals or musical theatre history in an unenviable land of confusion?
Fear not; the audience I saw it with, an older audience, loved every minute of it.
But maybe the ultimate answer to those questions can be found with the following information: THE MUSICAL OF MUSICALS (THE MUSICAL!) is such a hit with audiences that freeFall has extended its run (originally, it was supposed to end July 15).
This is one production that musical theatre aficionados have been waiting for. And in these dark days, we need this type of show. It's so funny, so painfully accurate, that I wondered if maybe Rockwell and Bogart should make a sequel, featuring "I can't pay the rent!" parodies of Lerner & Loewe, David Yazbek, Schonberg & Boublil, Bock and Harnick, and of course Lin-Manuel Miranda. But for the time being, there are so many references and in-jokes in the current MUSICAL OF MUSICALS (THE MUSICAL!) that you may need to see it twice.
For tickets and for more information, please call (727) 498-5205.