BWW Review: SLICES OF LIFE Debut at One Act Weekend at Carrollwood Players Theatre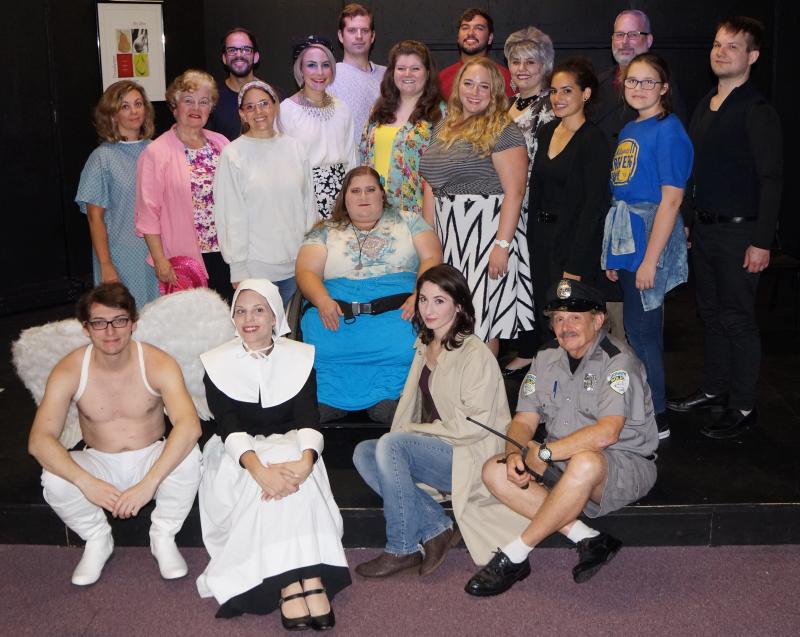 Out of the hundreds of submissions received, eight short plays were selected for their Florida debut at Carrollwood Players Theatre's One Act Weekend, May 18-20. Produced by Victoria Richards and David Fraga, One Act Weekend was like going to a taste testing before a wedding. You get to sample a bunch of different flavors to decide your favorite.
The night started out strong with the relatable "Playgoing," directed by Judy Landis. Sharon Price was exceptional as the oblivious, rude Jersey theatre-goer suffering from what her best friend-or-maybe-not Bethani Imhoff described as "oral incontinence." Constantly ignoring shushes by frustrated patron Katie Owens, the improvised "sword" fighting made me and the audience laugh a lot.
Next was "Shoelaces," directed by Chris McDermott. Featuring bespectacled Josh Cagle and Kaedin Cammareri, the play told what happened when a bored young girl starts a conversation with an older man in a train station. Is he an innocent guy manipulated by a teenager's words? Is he a stalker... a pedophile... or just a genuinely nice, lonely guy? Josh plays the ambiguous role well and you may remember Kaedin from her role as Helen Keller in The Miracle Worker. Her performance here is no less intense.
Directed by William Chamblee, "The Third Person," was brilliantly acted by Becki Mallet and John Cammareri. If my life had to have a narrator, I would want it to have John's voice. Combining humor and heart ache, the story's ending was definitely not what I anticipated.
Directed by Crystal Marie, from audience reaction and actors' hold for laughter, "Don't Call Me Cupid" stole the night. Whether it was Alexa Sheppard's deep growl, Cheyna Alexander's reactions, Dan Allmond's dead body or Hippie Griswold's anything, this show was like finding the wedding cake design of your dreams and discovering it was both delicious and calorie-free. With Hippie's body language and facial expressions, though "oops" brought a deluge of laughter, truly not a word needed to be spoken to make you literally laugh out loud at this hysterical trio (and dead body).
Act Two opened with "A Simple Question," directed by Israel Rivera. Looking like they stepped off the cover of a fashion magazine, Maya Quinones and Austin Figueroa smoldered during a very strange, provocative job interview and probably, a future sexual harassment lawsuit. I will never look at dark chocolate the same way again.
"The Quick Start Guide to Booting Your Man-Bot," directed by David Collins proved that Artificial Intelligence cannot replace the real thing. Suzy Duic was every lonely, frustrated, lovelorn woman. Devin Hughes was perfect as the Man-Bot striving to provide her everything she requested, whether it be sexy accents, hugs, or facial hair. "We have an app for that," Devin said. Though someone that didn't argue and was compliant to your every whim may sound perfect in theory, (the husbands in the back row narrated and thought it sounded way too close to home), in actuality, was a subservient man really ideal? With the opportunity to get exactly what she wanted, was what she wanted really what she wanted? Or was it the nerdy-cute tech guy that came to repair the Man-Bot?
"Chasing the Dragon," directed by Ronni Moses, told a sadly way-too-familiar tale of drug addiction after returning home from war. Set in an alley way, having just shot up heroin, John Cammareri was discovered by fellow addict Kimberly Schwartz, who tried to be a support system - a connection. Brian McCreight's entry revealed an unexpected twist.
"Meeting Acute," directed by Thomas Pahl featured a manipulating not-an-angel-yet strange pilgrim Sasha Beers. She's a director of sorts in the place before the afterlife trying to make a love connection between two coma patients, Dan Allmond and Karen Tepfenhart. Dan's backing out off the stage was laugh out loud funny. It was an odd little piece, complete with head banging, but the perfect close of a perfect evening.
One Act Weekend has only two more performances, so like the ending of a delicious taste testing, I savored each bite and I know you will too, so get your tickets now before it's too late.