BWW Review: Powerful Cast Moves Audiences With RAGTIME at Plant City Entertainment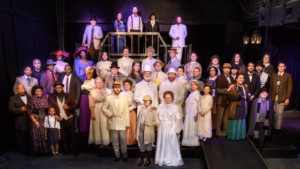 A classic musical based on a novel of the same name by E.L. Doctorow, with a stunning book by Terrance McNally, music by Stephen Flaherty, and lyrics by Lynn Ahrens is something of a poignant resonance that the audience of Friday evening's performance was to bear witness to. Leading the cast of a whopping 45 people was Orchestra Conductor Joseph Scarborough. From the moment the overture began you were swept away into a moment in history not much unlike the current climate in which we find ourselves today. The actors hit the stage donning varying shades of white period pieces and they looked stunning. Props to the costume crew and Beverly Mercer for the stunning display that carried on throughout the production, donning actors/actresses in period wear is no easy feat and this is one truly worth commending.
Accompanying the beautiful costumes was the blend of beautiful voices heard on stage throughout the production. April Golombek director and musical director Michael Mercer truly cast this show fitting and the voices rang through. It was an exceptionally nice touch to have the members of the cast coming through the audience several times throughout the production, a wise use of a small space with such a large cast. I will say that from the start; however the band was too loud making it hard to understand several actors. Maybe creating or positioning a plexi-glass partition would have been more effective as to not blast the audiences in moments where the voices needed to be heard. The cast seemed to wait for the music in between cues a few times, there were moments where it looked as if the cast seemed to be counting the entrances and it could often be read on their faces.
Tateh portrayed powerfully by Michael Peacock was almost heartbreaking witnessing the true pain from his plight to make a better life for him and his daughter. There were times I truly felt for him and his powerful performance was definitely a stand out in my opinion. Coalhouse portrayed by the always exceptional Jason Mann commanded the stage from the moment he appeared. His booming voice and tender heart truly rang through in his character. Every time Jason opened his mouth to sing you knew the audience was very present to accept his testimony and there were moments of ache that we as the audience felt right along with Coalhouse. Commendable job by Jason in his stunning and moving performance that truly captured the essence of this story, and we were along for the ride.
Ragtime is an interesting piece of theatre, and one of those pieces you either love or you could do without. However you take it this story has an important plight that in the current climate is one that needs to be told. Matching a beautiful score with recognizable pieces such as, "Wheels of a Dream," "Sarah Brown Eyes," "Your Daddy's Son," and "Make them Hear You," the story resonates with theatre patrons old and new. The story of race, love, hate, discrimination, and the plight of the human condition are all themes any one of us can connect to, and the cast brings out each of these themes with stunning candor. The difference in the African American ensemble group and that of the Caucasian are truly commendable. The Caucasian ensemble sets out to be a little more daft, staunch, and downright set in their ways. The African American ensemble is more relaxed and with the progression of the times. They are trying to change the world in which they live through music and love all while making their stamp on a truly backwards nation. The stage came to life through numbers like "Gettin' Ready Rag" where you truly felt the spirit of Ragtime music a blend of different jive rhythms sweeping the nation up until the implementation of the Jazz Era.
The choreography led by standout Doug Buffaloe was a moment of up and down for me. Like a rollercoaster on its movement down the track there were moments where my heart was in my throat and in my stomach. Doug was a standout in the ensemble and one I always wanted to watch. However there were moments when the choreography displayed on stage seemed a little stagnant and somewhat disjointed. Sometimes it fit, other times it seemed a little campy to the point of an almost, "I'm going to break out into song and dance now," kind of notion. Ragtime evoked a feeling within the music, a feeling you could honestly and easily move to, and sometimes I felt like the choreography was just thrown in for spectacle. One way this could be more effective in the future, is to maybe consider finding an outside member to produce the choreography. This allowing the actors time to focus on the moments in the show in which need to be focused. I find using a well versed dancer in the cast and nominating them as dance captain allows others to learn from that individual instead of relying on a cast member to produce the choreography as well as remember lyrics, blocking and all the comes with being in a show. Though in the end sometimes sloppily and haphazardly placed, I commend the efforts of this production and their choreographer.
Another major standout in the cast was the beautiful and alluring Lena Morisseau. Lena beautifully captures the essence of Sarah a slave girl lost on love, as her beloved Coalhouse was often on the road leaving Sarah to fend for herself and the child she was to raise. When she sings "Your Daddy's Son" a haunting resonance fell over the room and you could hear a pin drop. Her beautiful voice lent itself to the unmistakably important words uttered in every line. I was mesmerized every time she stepped onto the stage. She is a talent that is one to be watched, and truly one I will follow for time to come. Madeline Hebert captured the old world ideas of the Mother with zeal of progression that made her a force to be reckoned with. Her beautiful vocals on number such as "Goodbye My Love," and the show-stopping "Back to Before," showed her power, her ache, and her determination to leave the old world ideals for the new progressive world with the upmost power. I was stunned at one point in the show when she looks at Thom Miller's Father and said, "Didn't expect you to come home a changed man, but I did expect you to be a kinder one." Bravo to Madeline and her outstanding performance from the moment she stepped on the stage you saw her heart, understood her plight, and you wanted her to win, and win she did.
Throughout the performance there were many breakout stars. One in particular stole the scene every time in way that should be commended. Allan T. Anderson most recently seen in the area in MAD Theatre's production of 9 to 5 makes his PCE debut and he did so with gusto. His breakout vocal moment of the show came during, "The Night that Goldman Spoke at Union Square, vocally a force to be reckoned with and one performance I will take away from this production as a standout. Allan's plight as the Younger Brother in his need to help Coalhouse seek justice is very progressive amongst the old world ideas and with candor he stands up for his beliefs.
The show-stopping powerful moment of Act one was the magnificent duet between Coalhouse and Sarah. The two have a child and sing to it about their hopes and wills for the child in, "Wheels of a Dream." In any classic theatre performance there is always one or two numbers in the show that are standouts, and walking away from the performance Friday night, I still found myself singing these immortal words of hopes and dreams every parent wants for their newborn child.
With accolades also comes a few pitfalls and like any live theater production there are bound to be a few. Amidst some mic issues where it made some of the vocals almost impossible to hear, the band could have been pulled back a little to make these moments a little clearer. Another possible remedy would be to hang floating mics from the ceiling as a way to pick up those without mics. Projection is key, especially in a smaller venue when a live orchestra though wonderful was a little too over-bearing at points. Another moment of pitfall was in which an actor clearly carried note-cards and as an audience member you could see them reading from them to remember lines. A key use of costuming in which he carried a hat turned up towards the ceiling disguised this better; still it deemed ill-effective. Now we have all had that moment on stage when an actor forgets their place, however hard the situation is, recovery is key and there was a brief moment in which this fell short. Other than that the accolades of this beautiful production far outweigh the pitfalls of any performance, and I commend this company.
"What a Game," was a number needed at the top of the act to add much needed comic relief in a show so based in drama and heartbreak. The spit take throughout the number was a nice touch and we felt like truly a part of a ball game. "Our Children" the duet between Tateh and Mother was truly poignant and a standout of the act. It truly showed a mother and father in want and need for a better life, and better world in which to raise their children. "Sarah Brown Eyes," was heartbreaking and reminiscent of a memory play, in which Coalhouse looks back on the time in which he first met Sarah. Beautifully captured in a time-stopping duet the voices of the two actors blended perfectly together and I loved every second.
The final moments of the act are poignant and true as well as heartbreaking and unforgettable. "Make them Hear You," is a powerful number performed by the company and an anthem to unify and solidify a change in the times. The words are powerful and the message behind this moment in the show brings a sobering feeling to the sucker-punch left in our gut before intermission. You see a society so stuck that wants to move and progress but unsure of the will, the way and if the change will be the upmost accepted. A moment in classic musical theatre that will be forever treasured is an anthem for the ages, and a moment I soon won't forget. At the close of the show a heartbreaking moment happens that one has to see to believe, in the end Ragtime is dead but a new vision of America is slowly upon us. Sarah and Coalhouse lead a reprise of "Wheels of a Dream," and a poignant ending is seen by all. Through the expert use of stark white costuming we see a change on the horizon, and it a change long needed.
Through a simple set, a unique Model-T making its own appearance, beautifully captured vocals and harmonies, and stunning costuming Ragtime is a beautiful piece. Sitting in the audience you could truly tell this is a labor of love for all involved. Through many hurdles that were far outweighed by powerhouse vocals and standout performances, this cast came together and set out to accomplish one mission. The mission to move audiences in their plight and bring a sobering and beautiful change much needed in today's current climate. I commend this company for bringing such a classic piece to life at a time when it's needed more than ever, and it is one production I will remember for some time.
Photo credit: Plant City Entertainment, INC.