BWW Review: Palm Harbor University High School Shows Off with a Wonderful DROWSY CHAPERONE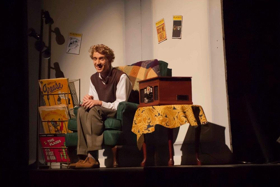 "Back then the theatre was the only place where stupid people could make a living. This was before television, of course." --Man in Chair
If you are reading this, then chances are you more than relate to the Man in Chair, the pithy narrator in THE DROWSY CHAPERONE (book by Bob Martin and Don McKellan; Music and lyrics by Lisa Lambert and Greg Morrison). He's a connoisseur of musicals, an obsessive trivia hound who focuses on the most minute details. We identify with his need for the breath of life that the best of musical theater brings to us. He sits among the playbills and albums in his dingy apartment, where the lights go out without warning, and enthusiastically gushes over his favorite musical of all time, a faux 1928 show called THE DROWSY CHAPERONE. Man in Chair is a part to die for, and if you don't have a good actor in the role, then you don't have a show. That's like Man of La Mancha missing a strong Cervantes/Quixote, or Cabaret with a forgettable Emcee. So when I saw Palm Harbor University High School's production of THE DROWSY CHAPERONE, the first thing I waited for was to see how good their Man in Chair would be.
Don't worry, the Man in Chair in this production is nothing short of brilliant. The young actor's name is Chris Loving, and he's so entertaining with spot-on timing that we can watch him read our electric bills and he would make it sound fun. What Loving gets is that Man in Chair, hilarious and whip-smart as he obviously is, is also a lonely soul with a blurry backstory. He's very likable and funny, and we are thankful that we take the journey through this cast album with him...an album that comes to life on stage, literally.
A show like THE DROWSY CHAPERONE gives each performer a stunning song to showcase their characters as well as the performers' whopping talents (that's why so many of the numbers are popular in thespian festivals). And this is certainly the case with the PHUHS production. Sarah Duren, as bride-to-be Janet, gets to show off her sizable talents in a song called, you guessed it, "Show Off." And as good as she performs it, it doesn't reach the dizzying heights that it potentially can. Robert the Groom, winningly played by Isaac Clark, has a killer-diller smile and reminds me of a young Jack McBrayer. He and Bryant Paez (as George) shake the stage with their infectious "Cold Feets." Scene-stealers Ryan Le and Andres Nino play gangsters pretending to be chefs, and their cute number, "Toledo Surprise," got plenty of laughs and applause, but again, these two talents can take things to the next level of outrageousness if they wanted. THE DROWSY CHAPERONE is a perfect high school musical, and these kids are so talented, they can even go further...as far as the songs will permit (which is pretty darn far).
Sarah Flaherty is a standout as Kitty, looking like a Lemon Meringue Strawberry Shortcake doll and graced with a helium-high voice that's something like Betty Boop mixed with Lily St. Regis. She's always in character, always a hoot. Lucas Wilson as Underling and Eva Campuzano as Tottendale offer fine support. Bailey Mienik is a belter worth her weight in gold when she comes on at the end as Trix the Aviator. She's quite a songstress, and the show closes on a strong note with her vocal power (the microphones went out and you could still hear her).
Quality work is also provided by Brandon West, Allison Calabrese, James Callahan, Mallory Clark, Molly Durnas, Elise Gomez, Sierra McCreary, Catherine Proia, Matthew Ricketts, Jose Sempio, Lexi Stephens , Molly Durnas, Gabby Hines, Ashley Kelly, John Curley, Clint Cuthbertson (great name!), Shayna Gilberg, Julia Menke, Theo Milnes, and Kristin West as an enthusiastic maid.
One of the finest in the cast is Riley Walker as the skunk-haired vain lothario, Aldolpho. Donning a crazy costume, with psychedelic sleeves like something out of a Peter Max painting, his "I Am Aldolpho" is nothing short of a scream. Just terrific.
My award for Best in Show goes to Alex Groth, who portrays the titular drunk escort. She's stunning, head and shoulders above most high school performers I have seen (and I have seen thousands). Her "As We Stumble Along" radiates with the joy of performing from each note, each over-the-top facial expression. She's an actress to keep on your radar; I will pay to watch her onstage in any show, anywhere.
The PHUHS production of THE DROWSY CHAPERONE is beautifully guided by director Ashlie Timberlake. It's a high school home run of a show. Amy Fee does a fine job with the choreography, though some of the group numbers--like the opening song--were all over the place and difficult to hear over the loud band. But the energy of the young performers and Fee's clever dance sequences cannot be denied.
There were several microphone issues and sound glitches throughout, and the show is too good, and the actors have worked far too hard, for this to occur. It especially affected the first song and Trix's big number at the end.
The set, designed by Karl Landherr, R.J. Latherow, and director Timberlake, is beautifully realized, and we sometimes have to remind ourselves that this is just a high school show. That said, the albums that litter the walls of the Man in Chair's apartment should be re-thought. The character is such a musical theatre snob that he would never --EVER--include the movie version of South Pacific on his wall (the original, yes, but not the hit Mitzi Gaynor film version; that verges on sacrilege). And some of the other Playbills (Miss Saigon? The Phantom of the Opera?) just wouldn't be a part of this aficionado's home. He's too nose-up snooty in his tastes to bother with such mundane entertainment for the hoi polloi. I would rather the scene designers and prop masters went further out into Musical Theatre Cult Land--Kwamina maybe, or perhaps Merrily We Roll Along. This is a nit-picky point, but properties are an important aspect of any show, and in this one, they should underline the character Man in Chair, not undermine him as some of them do here.
The show's music is top-flight, thanks to the talent of music director Justin Havard and his phenomenal orchestra, all donning 1920's outfits. I wish the program listed each musician and their instrument separately, but that will have to be for another show.
I have seen so many high school shows over the years, and I can honestly say that, barring the sound issues, this is one of the finest high school productions I have had the pleasure of seeing. Although this production of THE DROWSY CHAPERONE has ended its successful run, I can't wait for the next Palm Harbor University High School show, whatever it may be. There are so many high school productions going on this spring, but PHUHS stands head and shoulders above the rest. They do things right.
Related Articles View More Tampa/St. Petersburg

Stories

Shows