BWW Review: Marie-Claude Tremblay is Outstanding in Lindsey Ferrentino's UGLY LIES THE BONE, Presented by Innovocative Theatre & Stageworks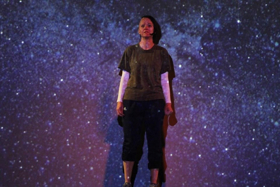 "Beauty is but skin deep, ugly lies the bone; beauty dies and fades away but ugly holds its own." --Albert Einstein
I grew up in the Space Coast of Florida, where shuttle launches always excited and tourism was in the air. We were the area of Ron Jon Surf Shop, Patrick Air Force Base and Cape Canaveral. New Orleans may have jazz; L.A. boasts the movies; New York, of course, has Broadway; but the Space Coast is all about NASA. Streets were named after astronauts and even our school names alluded to the space program (I attended Gemini Elementary and graduated from Satellite High School).
That said, any play taking place in the Space Coast, my old stomping ground, catches my immediate attention. This is the case with Lindsey Ferrentino's UGLY LIES THE BONE, presented by Innovocative Theatre and Stageworks in a joint venture. The show is set in Titusville (about 16 miles from Cape Canaveral), so it immediately hit home with me just by its setting. Although the show's place and time certainly matter here--a shuttle launch figures quite prominently--the focus of UGLY LIES THE BONE is on something else: PTSD.
With a title like UGLY LIES THE BONE, you know you won't be sitting through a jaunty musical. In the show, Jess is a recently discharged soldier, burned in action, who has returned to her Titusville home where she tries to get back into the swing of things. But her sister, her sister's boyfriend, and an old beau don't quite know how to deal with her return. Also, Jess is constantly haunted by the horrors of her tour of duty in Afghanistan, and the scars on her face never allow her to flee those nightmares. She feels saddened looking at old photos of herself and dreads staring in the mirror, knowing that the past and the present have merged into one giant scar much bigger than the one on her face--an emotional one that runs much too deep. Will a virtual reality form of therapy turn out to be her salvation?
Jess is the heart and soul of UGLY LIES THE BONE, and a top flight actress must be cast in the role in order for the overall show to work. Never fear, Marie-Claude Tremblay as Jess is sensational, giving the performance of her life. It's a harrowing portrait that never rings false. Her face sadly scarred on one side, she oftentimes shakes uncontrollably, limping about, trying to find what her new normal will be. Tremblay is always in the moment; we never sense that it's an actress going through the motions. A simple movement to the floor to retrieve a hidden mirror is step-by-step perfection, where Jess, disabled, uses her walker for balance and as a literal crutch. When she ultimately lets go of it, it's a liberating experience. Yes, it's heartbreaking, but Tremblay gives Jess so much soul, so much fight, that we are on her side the whole time. She makes us understand the struggles of combat veterans suffering from PTSD and, alone, is worth seeing UGLY LIES THE BONE.
There is no mention of a makeup designer in the program, but whoever is responsible for the creation of Jess' scarred face needs to be commended.
There are other strong performances. Erin Foster, as Jess' sister, Kacie, whom we are told cries herself to sleep over her close sibling's debilitation, brings it all back home. We see her balancing the try-to-make-things-appear-nice act with the other, more real world--a world of naked emotions. And the moment that she can't mask it anymore becomes Foster's finest moment in her performance.
Dawn Truax, so good in Innovocative's Keely and Du earlier this year, once again shines. For much of the play, she is the "flat, not unkind" disembodied voice in Jess' virtual reality therapy. And she nails the coldness of the part by adding a little bit of humanity to it, just a sliver. She sounds like a female HAL-9000, but with a tad more heart. Truax also gets to play the very small role as Jess' mom, and she nails the older woman's dive into dementia.
The men in UGLY LIES THE BONE fare less well, and perhaps that's as it should be. Jason Hoolihan, with a voice like a radio disc jockey from the 1960's, is a likable presence as Stevie, Jess' obnoxious old flame, but he tries too hard to be goofy. I know the character is attempting awkwardly to cover his true feelings, but it's so over-the-top that it rings false at times. Even if the character rightfully exudes discomfort, we never sense that there's a "real" person there; it's a performance, Acting with a capital A, rather than just "being." His work looks forced, especially in the intimate environment of the Stageworks space. Only in a brief moment of delicacy, a very quiet, private moment that may be the best instance in the play, do we see his façade fall. But I never bought into his character or why Jess kept going back to him after their first encounter.
The same can be said for Jacob Barrens, as Kelvin, Kacie's boyfriend, but on a different level. That both men are so obnoxious is fine; but they seem to be playing the same sort of obnoxiousness, where we are unsure if it's the actor or the character that is uncomfortable. Both seem too exaggerated in the small theater. In Barrens' defense, Kelvin is uncomfortable because he tries too hard, trying to lighten the tension but also sensing that Jess hates him for no apparent reason; it just seemed like acting at times. But Barrens is a brave actor with great energy, and it's probably hard to play the type of character who eats two pizza slices at the same time and make him seem real. But one of his moments, when he sits on the couch in his heart-pocked underwear, a rose in his mouth, will not soon be forgotten. When the lights came up to this memorable image, an audience member blurted out, "Oh Jesus!"
But make no mistake, the show belongs to Tremblay.
Expertly directed by Staci Sabarsky, it's well-paced play that doesn't run too fast nor grind to a halt. Jeannine Borzello's set design re-creates all of those not-so-special Space Coast homes that all of us who grew up in Brevard County know and love. Matt Beil's lighting design works quite well, and Sabarsky's sound design hits the Bull's Eye (I particularly like the tropical rendition of "It's Beginning to Look a Lot Like Christmas" and the use of "Fortunate Son" and Christina Aguilera's "Beautiful"). The video images in the virtual reality world, created by Alex Buffalo and Jim Reiman, cleverly work wonders and are beautifully integrated into the action.
UGLY LIES THE BONE is an important show, harrowing and moving, and it deals with a subject that needs to be tackled and examined thoroughly. There are four more chances to see this strong production, which ends its run on August 19th, and there is an all-important talkback after each matinee performance. Please don't miss it. Although the play may not always work, Marie-Claude Tremblay's performance will be remembered as one of the very best I've seen in a very good year of local theatre.