BWW Review: History Has a Nice Beat and You Can Dance to It in Jim Russell's POP GOES AMERICA at the Carrollwood Players Black Box Theatre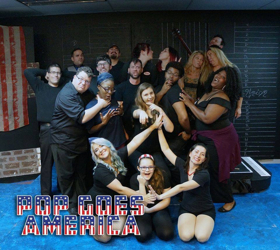 Jim Russell's original POP GOES AMERICA opened to a full house at the Carrollwood Players Black Box Theatre on Friday, June 29th. The audience was an eclectic lot, all ages and ethnicities, a melting pot of sorts. Just like America. They had come to see the odd synthesis of American history and classic pop songs, performed by some of the more talented community theatre performers in the area. Russell, a lover of both history and music, thought the two should be brought together--two great things that oddly work great together, like peanut butter and chocolate in a Reese's cup. According to the program, "One night, [Russell] was listening to Mambo #5 by Lou Vega and wondered what it would sound like to have Thomas Jefferson singing the same melody, but with lyrics changed to tell the story of the Declaration of Independence. The rest, as they say, is history!"
Imagine Hamilton as a sort of jukebox musical, and you'll get an idea of what's in store: The history of America using anachronistic pop songs with lyric changes. The whole thing's a mess, but it's an entertaining mess, filled with an abundance of heart and talent. It's like a musical version of Disney's Hall of Presidents, with a spontaneous let's-put-on-a-show-in-the-basement feel to it. It's in turn inspiring and silly, full of humor and yet, underneath it all, a stoic sadness. It features glorious vocal work by much of the cast, but at other moments it sounds like inebriated karaoke night at the Metro Grill.
POP GOES AMERICA packs a powerful punch at times, pounding us with facts and infectious songs. It's all over the place, but it has something for everyone. Although didactic with too much narration (it oftentimes sounds like TedEx speeches interrupted by hit songs), it's a fast-paced two hours.
Rollickingly directed by Drew Eberhard, and utilizing canned music as well as live musicians (Michael Moses and Israel Rivera), POP GOES AMERICA boasts a large, energetic cast brimming with talent. Leading the way is Topher Warren, stepping in as a Narrator and as a marvelous scene-stealer in his various songs. Warren is always Alive (with a capital A) onstage, and he's a combination of Sylvester, James Brown and Bruno Mars in his highly electric "24K Magic" (about the California gold rush). But his most searing moment arrives in Act 2, when he croons a quiet Depression Era version of "Can You Hear Me, Brother" a cappella. You could hear a pin drop during it.
After the assassinations of their husbands, Mary Todd Lincoln (Erin Ruska) and Jacqueline Kennedy (Georgia Kosloski), one hundred years apart, team up in an odd duet of "Say Something (I'm Giving Up On You)," which sounds like a song you'd find in Stephen Sondheim's Assassins (but written by A Great Big World and Christina Aguilera). "Gangstas Paradise" becomes a cowboy anthem ("Wild West Paradise") in the hands of Ronni Moses, Joel Pablo Ferrer and a dynamic Allan T. Anderson. But "We Are Never Getting Back Together," sung by Warren and Chris McDermott about the British to the upstart Americans, is too similar in theme and attitude to King George's song, "You'll Be Back," in Hamilton.
"What About Us" becomes an ode to Native Americans, sung quite strongly by belter Chonesty Montgomery, with interesting choreography by Eberhard. "Let's Hear It For the Boy," that Footloose staple, is now a World War I salute to the soldiers, performed by Montgomery, Kosloski and Moses, with mixed results. "Party Rock Anthem" represents the Roaring 20's, and there's a certain brilliance in having "Hello," sung by standout Michael C de Baca, during the D-Day section. I'm sure it takes a certain type of warped genius (or insanity) in plopping Adele smack dab in the middle of World War II.
The best number in the show belongs to "Vogue," retitled "Vote," in the women's suffrage section. Well-sung by Erin Ruska and the cast, it had the audience singing along, even though it went on too long for its own good.
Another number also worth noting, "This Is the 60's Now" sung to the tune of "Life in a Northern Town," was quite lovely. Donning beads and head bands, the cast looked like a road company of Hair during it.
The most powerful section belongs to the lengthy 9/11 tribute, which is similar to the "Something Just Broke" number from Assassins. In it, cast members hold candles and recall where they were when they first heard the news of the airplanes hitting the twin towers of the World Trade Center. Interspersed throughout their stories, cast members sing portions of Leonard Cohen's "Hallelujah," made famous by Jeff Buckley. Powerful as this is, I think it was a mistake to change the lyrics of "Hallelujah." It took us out of the moment, and seemed rather heavy-handed, almost piling on unnecessarily, where the simplicity of the original lyrics would have worked even stronger. Still, this is the moment in the show that people will remember and talk about afterwards. You could even hear sobs from the audience throughout it.
The cast also features Kaedin Cammerari, Rae Hoggatt, Crystal Marie, Deb Kelley as a very tall Lady Liberty at the end, and the lovely Chelsie Camaro Smith as one of the narrators who leads the entire show. My vote for Best Ensemble Member goes to Taylor Hendershot, who was always in character, always the liveliest of the dancers. In the group numbers, she's the one that stands out.
Obviously POP GOES AMERICA, which ends its run on July 1st, is a clever idea. Even though the production was sloppy overall, with some missed lines and stumbled lyrics, it had a great feeling to it. A love letter to America using pop hits. I'm sure I'm not alone in suggesting that Russell tweak his script, pare it down and rewrite it, and maybe present it to schools in the Tampa-St. Petersburg area. It will be the most enjoyable history lesson those students will ever have.