CARRIE: The Musical at The Depot Theatre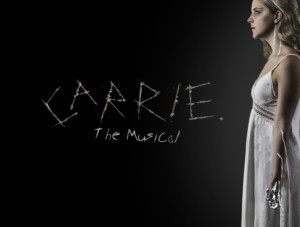 Louis Ellis Productions in conjunction with The Depot Theatre are incredibly proud to announce their production of CARRIE: The Musical. Based on the bestselling novel by Stephen King, CARRIE: The Musical explores the trials and tribulations of high school, however with a unique Stephen King twist to rival any previously seen on the stages of Broadway. The show will have a limited run at The Depot Theatre in Marrickville from July 25th to August 4th.
Whilst many people remember the original story of Carrie as one of gore and horror, Louis Ellis Productions has chosen to take a different route. Utilising the 2012 revival version of the show, Director Hayden Tonazzi has chosen to focus on he humanity of Carrie White with a reworked and fully re-imagined vision of this gripping tale Carrie White is an outcast.
Bullied by the in-crowd, virtually invisible to everyone else, and at the mercy of her cruel and controlling mother. CARRIE: The Musical is a night of theatre that drives home a clear message to today's youth: when pushed to their limits, everyone has their breaking point. CARRIE: The Musical features a book by Lawrence D. Cohen (screenwriter of the classic lm), music by Academy Award winner Michael Gore (Fame, Terms of Endearment) and lyrics by Academy Award winner Dean Pitchford (Fame, Footloose).
The show boasts an absolutely outstanding cast of both celebrated and emerging actors within the Australian musical theatre scene, including Michele Lansdown (Birdie Produc- tions' The Little Mermaid & Squabbalogic's The Drowsy Chaperone) as Margaret White, Carrie's manipulative and extremely overprotective mother. Emerging star Kirralee Elliott (Flaming Howard Productions' The Colour Orange & MUSE's Legally Blonde) shines as the shy unsuspecting lead, Carrie White. These two powerhouse women are backed by a truly incredible cast of young musical theatre up-and-comers including: Lauren Anne Paul, Matt Laird, Rachel Tunaley, Zach Selmes, Heather Campbell, Jasmine Sands, Kristy Hooper, Sinead Cristaudo, Hamish Stening, Nic Savage, Sophie McGregor and Jared Pallesen.
Emerging theatrical director, Hayden Tonazzi (MUSE's PARADE & The Hatpin) leads a stellar team of creatives which include the talents of Producer Lucy Allen (MUSE's PARADE & A Man Of No Importance) and Music Director Zara Stanton (Theatre & Company's Spelling Bee & Flaming Howard Productions' The Colour Orange). With phenomenal cho- reography by Laura Balboni (MUSE's Spring Awakening & Grease), CARRIE: The Musical is to be a sure FIRE hit!
CARRIE: The Musical Production Team
Producer: Lucy Allen
Director: Hayden Tonazzi
Assistant Director/Choreographer: Laura Balboni Music Director: Zara Stanton
SEASON DETAILS
Venue: Season: Times: Price:
The Depot Theatre - 142 Addison Road, Marrickville, NSW 2204
July 25th - August 4th 2018 (Previews 25th & 26th July)
Wed-Sat 8:00pm & Sat 2:00pm
Preview - $22, Concession (incl. students, people with disabilities, MEAA members and seniors) - $27, Adult - $32, Companion Card -$0, CHEAP WEDNESDAY - ALL TICKETS $22
Bookings: bit.ly/CarrieAUTix
For further information please visit http://thedepottheatre.com/carrie-the-musical
Related Articles View More Australia - Sydney

Stories

Shows
More Hot Stories For You